Porsche Window Sticker Lookup
Are you looking to find out all the details of your Porsche? Look no further than Porsche Window Sticker Lookup! Detailed Vehicle History allows you to quickly and easily search for the window sticker of your Porsche. With this service, you can uncover the original features and options of your car, giving you a comprehensive understanding of your car's history. Don't wait any longer, and discover the story behind your Porsche today with Porsche Window Sticker Lookup by VIN!
How to Get the Porsche Window Sticker by VIN?
The best way to get a Porsche window sticker by VIN is to enter your vehicle identification number on the form located within the Window Sticker Page. Detailed Vehicle History will provide you with a digital copy of the sticker instantly.
What Information Can be Found on a Porsche Window Sticker?
A Porsche window sticker, also known as a Monroney label, contains important information about the vehicle such as its make and model, engine type, transmission, standard and optional equipment, fuel economy, suggested retail price, and a list of any additional dealer installed options.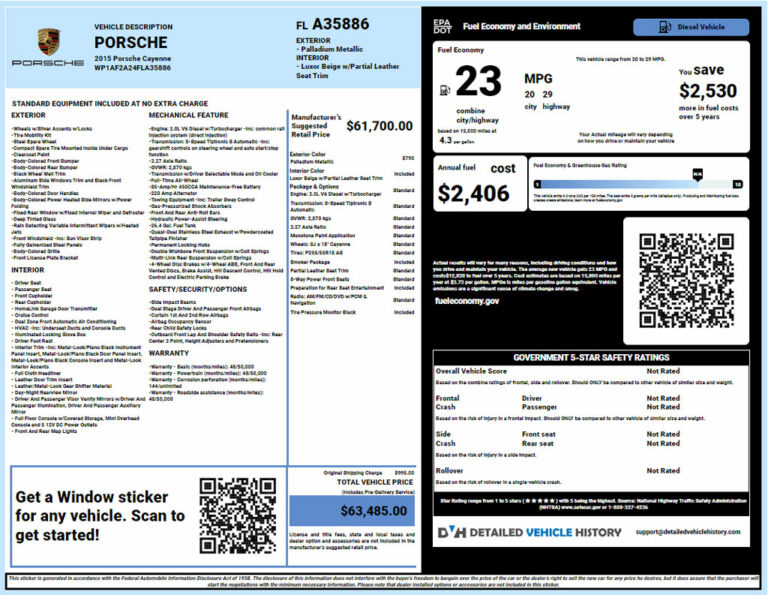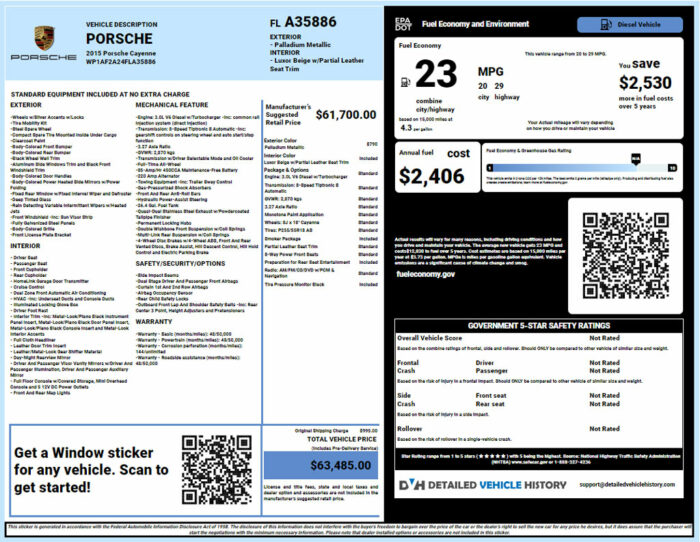 DVH Porsche Window Sticker Lookup
You can now access the Porsche window sticker by VIN using our Porsche window sticker lookup tool. The Porsche sticker lookup can provide you with essential information about any Porsche vehicle,  such as fuel economy, MSRP, and more. Porsche window sticker lookup service is currently available and utilized by various dealerships worldwide. Our window sticker also known as "window sticker DVH" is one of the most affordable  Monroney labels available in the internet today. Some internet searchers use terms such as "Porsche VIN decoder Window Sticker", "Porsche VIN window sticker", and "Window sticker DVH", to find our Porsche window sticker lookup tool, no matter what search term was used.
Benefits of a Porsche Monroney Sticker Lookup
The benefits of a Porsche Monroney Sticker Lookup include the ability to quickly and accurately determine the original MSRP of your Porsche vehicle, as well as the option to view available factory-installed options, the original configuration of your Porsche, and the current market value of your Porsche.
Where to Find Porsche VIN Number?
The Porsche VIN number can be found on the vehicle's registration document, on the driver's side of the dash, or on the vehicle's engine. The VIN will be 17 characters long and can be used to identify the make, model, and year of the vehicle.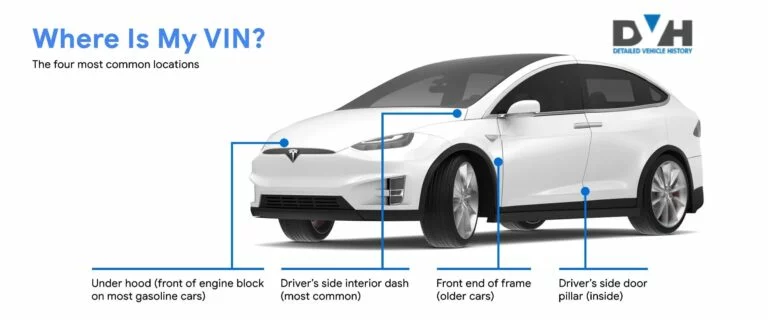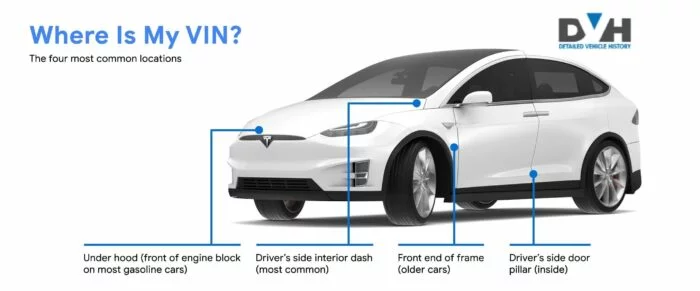 Porsche Window Sticker for Car Dealer
Porsche window stickers are important for car dealers because they provide important information to potential buyers about the car, such as the model, trim, options, and MSRP.
This information helps buyers decide if the car is right for them, and it helps car dealers to set a fair price for the vehicle. The window sticker also serves as an official document that proves the car is an authentic Porsche.
Sticker for Porsche: get the original window sticker for the Porsche Macaan vehicle
Embracing the allure of classic Porsche vehicles is a journey into automotive history. Whether it's the sleek lines of a vintage Porsche or the distinctive silhouette of a rear-engine model, the fascination with these cars is timeless. 
Enthusiasts often gather in Porsche clubs, exchanging stories about their cherished vehicles and reveling in the unique spirit of the brand. For those seeking to capture the essence of their beloved cars, a window into the past can be found through documents like build sheets or the classic car window sticker. This sticker, reminiscent of a bygone era, encapsulates details of a vehicle's original configuration and specifications. 
Thanks to modern technology, enthusiasts can often obtain a PDF version of this sticker for free, allowing them to relive the charm of their classic Porsche and the memories it holds. Whether it's a vintage Porsche or another classic like a BMW, the car window sticker becomes more than just a piece of paper – it's a portal to cherished experiences on the road.
Porsche is a German automotive manufacturer known for producing luxurious sports cars. Founded in 1931 by Ferdinand Porsche, the company has a long and storied history of producing high-performance vehicles. In addition to sports cars, Porsche also produces sedans, crossovers, and SUVs.
The company is one of the most successful automakers in the world, with a long list of motorsports victories, including an impressive 18 overall wins at the 24 Hours of Le Mans. Porsche cars are renowned for their performance, engineering, and luxurious styling. Today, the company produces some of the most advanced and sought after cars in the world and continues to innovate and push the boundaries of automotive technology.
Find Window Stickers for the Following Porsche Vehicle Models
Porsche 911
Porsche Panamera
Porsche Cayenne
Porsche Macan
Porsche Taycan
Porsche 718 Boxster
Porsche 718 Cayman
Porsche Cayman GT4
Porsche 911 GT2 RS
Porsche 911 GT3 RS
Porsche 911 Turbo S
Porsche 911 Carrera
Porsche Boxster Spyder
Porsche 911 Speedster
Porsche 918 Spyder
Frequently Asked Questions
Lookup Window Sticker by all manufacturer