Tesla Window Sticker Lookup
Are you looking for the perfect way to find out the details of your Tesla? Look no further than Detailed Vehicle History's Tesla Window Sticker Lookup! With this easy-to-use tool, you can quickly see all of the key details about your Tesla, from the engine size to the trim level. Plus, it's completely free and takes just minutes to get the information you need. So don't waste time searching for the specs of your Tesla – check out the Tesla Window Sticker Lookup by VIN tool today and get the answers you need!
How to Get the Tesla Window Sticker by VIN?
One of the easiest way to get Tesla window sticker by VIN, is to just enter your Tesla vehicle identification number on the form found above on our Window Sticker page. Once you submit, you will get access to the Tesla window sticker instantaneously and a digital copy will be sent to your email. You can also download PDF.
Also, you can please contact local tesla dealer to get the window sticker copy for your car, they may have it available although you may need to present ownership proof to access depends upon dealers' policy,
Which Key Details Can be Found on a Tesla Window Sticker Report?
The original Tesla window sticker is a sheet showing useful information about any new or used Tesla. It includes pricing, standard and optional features, options and packages with OEM codes, specifications, MSRP (retail price), shipping fee, destination charges, and safety ratings. Additionally, it will fully detail information about warranties and other applicable services offered by Tesla. You can buy and sell with confidence, thanks to the window sticker, which provides a comprehensive response.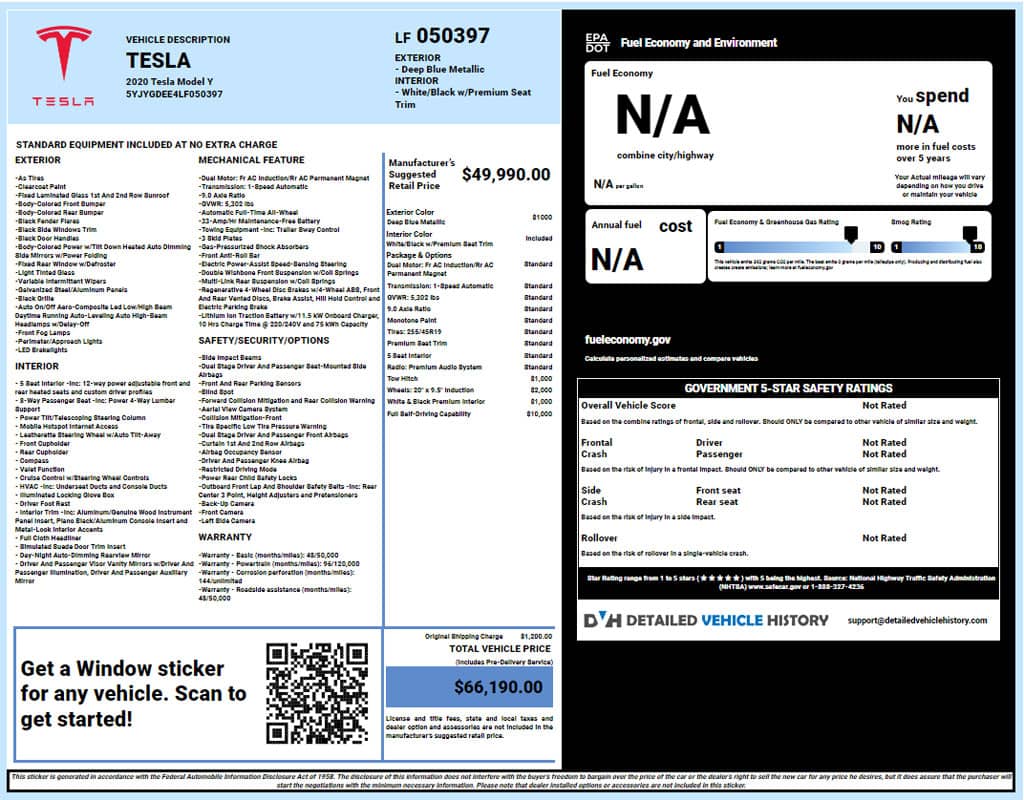 Benefits of a Tesla Monroney Sticker 
A Tesla Monroney Sticker is a great tool for those who are considering purchasing a Tesla. This tool allows potential buyers to view the Tesla  purchase price of a Tesla model in their area before making a purchase. The Tesla Window Sticker will give consumers an accurate estimate of the cost of a Tesla and can help them make an informed decision about their purchasing decision. We check regularly with every new Tesla models and make sure all of our products fit the newest model.
Additionally, the Tesla window sticker Lookup provides valuable information about the standard features and available options for each specific Tesla model, allowing buyers to make an educated choice about the car that best suits their needs. 
Where to Find Tesla VIN Number?
The VIN for a Tesla can be found on the dashboard, near the windshield on the driver's side. It is also printed on the inside of the driver's side door jamb. You can locate the VIN on the vehicle's registration card, title, and insurance documents.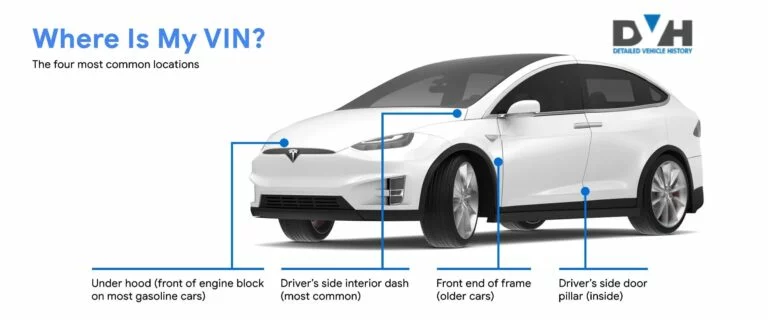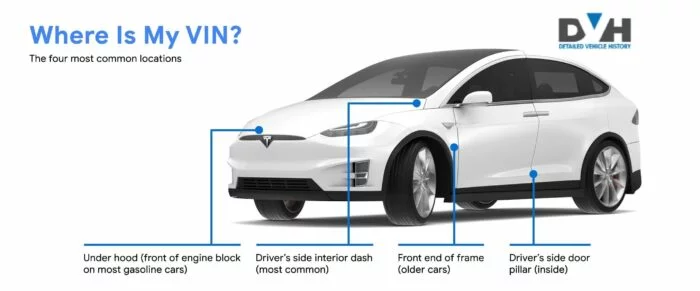 Importance of Tesla Window Sticker Lookup for Car Dealer
Tesla window stickers for car dealers are important because they provide customers with critical information about the car and its options. The window sticker includes the car's make and model, price, engine size besides standard, and optional features, and safety ratings. 
Additionally, the Tesla window sticker may list any factory installed options, and any extended warranties or service contracts that are available. This information helps customers make an informed decision when choosing a vehicle and serves as a reference for the dealer when pricing the vehicle. Presenting window sticker at time of sale will provider a better experience to customers and they will love to shop again at your dealership.
Tesla is an American electric vehicle and clean energy company that was founded in 2003 by engineers Martin Eberhard and Marc Tarpenning. It is headquartered in Palo Alto, California, and is one of the leading automotive manufacturers in the world. Tesla focuses on designing, developing, and manufacturing electric vehicles, as well as energy storage systems and solar power systems.
Tesla's most popular models are the Model S, Model 3, Model X, and Model Y. These vehicles are powered by electric batteries and are among the most popular electric cars in the world. As of December 2020, Tesla had a market capitalization of $634.57 billion and is one of the most valuable companies in the world.
Window Stickers Tesla Models
Tesla Model S
Tesla Model 3
Tesla Model X
Tesla Model Y
Tesla Roadster
Tesla Cybertruck
Tesla Semi
Frequently Asked Questions
1- Contact your local tesla dealer they can help you with your window sticker for your tesla
2- Use your VIN number to get tesla window sticker from detailed vehicle history website 
To find out when your Tesla was made and get a window sticker, you can look up the Vehicle Identification Number (VIN) on the Detailed Vehicle History website. This will provide you with the vehicle's production date, as well as register other information about the car for the owner.
A Tesla VIN number can be used to identify the make, model, and year of production of a particular Tesla vehicle. It can also be used to access vehicle history information, such as any reported accidents or service records. Additionally, you can use the VIN number to receive the Tesla build sheet item, which provides detailed information about the vehicle's specifications and features. This can be especially useful during the delivery and update process.
Lookup Window Sticker by all manufacturer