MINI Window Sticker Lookup
Looking to sell your MINI, or do just want to know more about it? Look no further! Use our MINI Window Sticker Lookup tool. With just the VIN, you can access the original window sticker for your MINI, listing all factory options and pricing. It's like having a time machine that takes you back to when your MINI was brand new. Plus, it's a subscription service, so you can access the window stickers for as many MINIs as you like, as often as you like. All are online, so no waiting for physical documents. Don't miss out on this essential tool for MINI enthusiasts.
How to Get the MINI Window Sticker by VIN | MINI Cooper and more
To get the MINI window sticker by VIN from DetailedVehicleHistory.com, follow these steps:
Go to the Detailedvehiclehistory.com website.
Click on the "Window Sticker" tab on the top menu.
Enter the VIN of your MINI in the search field.
Click "Get window sticker"
Review the information on the window sticker and print it out if desired.
Information Found on a MINI Window Sticker
A window sticker, also known as a Monroney label, typically includes the following information:
Vehicle's make and model
Trim level
Engine type
Standard and optional equipment
Fuel economy rating
Safety ratings
Vehicle's warranty coverage.
Vehicle Identification Number (VIN)
Transmission Type
Exterior and Interior Colors
MSRP (Manufacturer's Suggested Retail Price)
Emissions Ratings
Factory installed equipment
Interior and exterior features
Mechanical features, and more.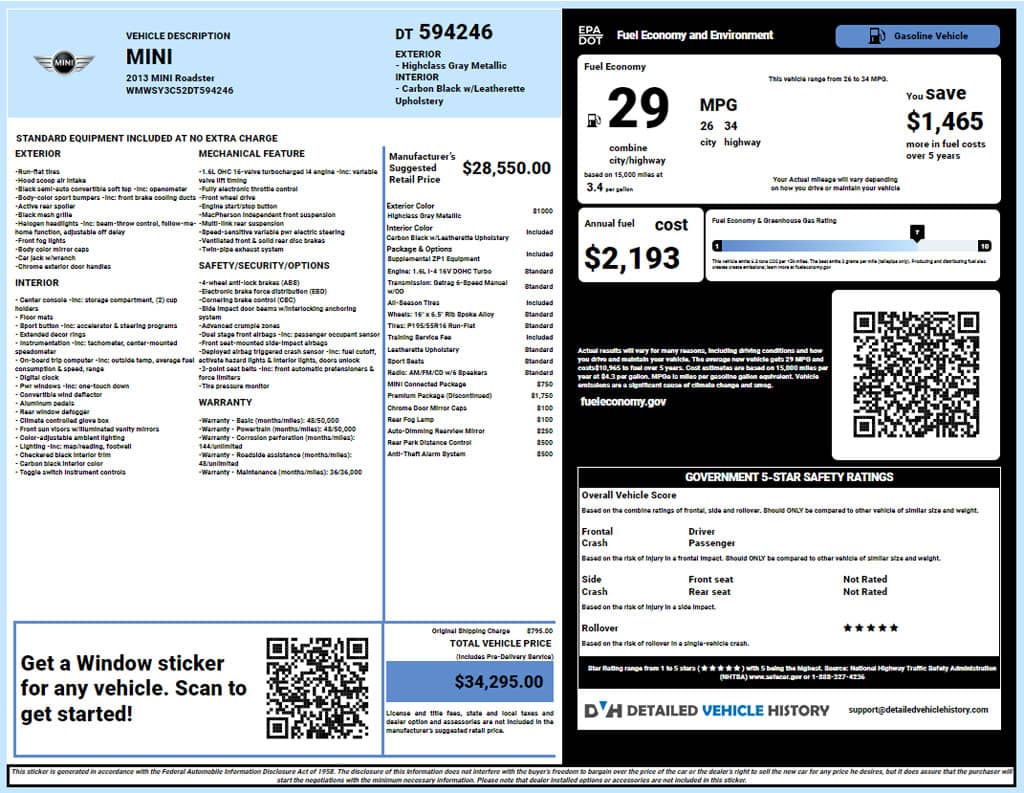 Benefits of a MINI Monroney Sticker Lookup
Here are some potential benefits of a MINI Cooper window sticker lookup:
– Verify the original options and pricing of a MINI vehicle, which can be helpful when selling or purchasing a used MINI
– Confirm that all advertised options are present on the vehicle
– Determine the value of a MINI for insurance or financing purposes
– Get a better understanding of the features and amenities that came with the MINI from the factory
– Help with vehicle maintenance and repair by knowing which parts and features are original to the vehicle
– Satisfy curiosity about the details and history of a MINI vehicle.
Where to Find MINI VIN Number?
The MINI VIN number (or Vehicle Identification Number) can typically be found on the driver's side dashboard, just below the windshield. It is also printed on the vehicle's registration documents and insurance card. Additionally, it can be found on the vehicle's title documents.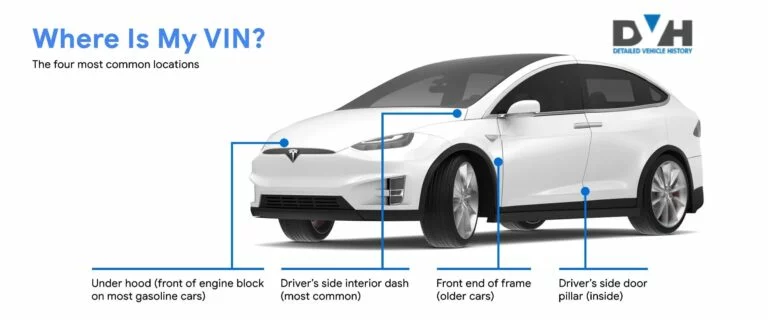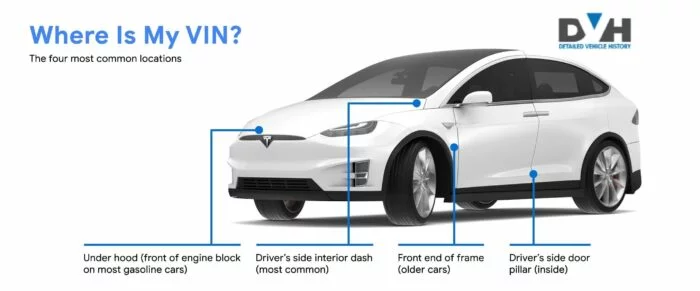 MINI Automobile Window Sticker Lookup For Car Dealers
Attention Car Dealers:
Looking to offer your customers the most comprehensive information on their potential MINI purchases at your dealership? Look no further than DetailedVehicleHistory.com's MINI Window Decal Sticker service. With just the VIN, you can access the original window sticker for any MINI (including MINI Cooper build sheets), listing all factory options and pricing. It's an essential tool for both you and your customers, helping to verify the features and value of the vehicle.
Sign up for DetailedVehicleHistory.com's MINI Window Sticker service today and take the guesswork out of your MINI sales. Your customers will thank you for your transparency and attention to detail. Don't miss out on this opportunity to elevate your dealership's reputation with decals and close more sales.
MINI is a British automaker known for producing small, stylish, and sporty cars. The brand was originally owned by the British Motor Corporation but is now a subsidiary of the German company BMW. MINI cars are known for their retro design, compact size, and energetic driving experience. The MINI line-up includes a range of hatchbacks, convertibles, and SUVs, all of which are designed to offer a fun and unique driving experience.
In addition to their standout style, MINI cars are also praised for their fuel efficiency, technology features, and customization options. Verify your MINI's packages and features with our MINI Cooper window sticker lookup tool.
Get MINI Cooper Build Sheets For The Top MINI Car Models
MINI Cooper Hardtop
MINI Cooper Convertible
MINI Cooper Clubman
MINI Cooper Countryman
MINI Cooper John Cooper Works (JCW)
Frequently Asked Questions
Lookup Window Sticker by all manufacturer