Infiniti Window Sticker Lookup
Do you want to get a window sticker from the VIN of an Infiniti vehicle? Our user-friendly Infiniti window sticker lookup tool is designed to swiftly retrieve the window sticker of any Infiniti vehicle from VIN in seconds. Whether you're an auto enthusiast seeking insights on a model, or a prospective buyer aiming to understand features and options, our tool supplies the necessary information. Just input the VIN of the Infiniti you're curious about, and it will generate the original window sticker instantly.
How to Get the Infiniti Window Sticker by VIN
There are several ways you may be able to obtain a copy of the window sticker for an Infiniti vehicle using the vehicle's VIN:
Contact the dealership where the vehicle was purchased: The dealership may have a copy of the window sticker on file and be able to provide it to you.
Check with the manufacturer: Infiniti may be able to provide a copy of the window sticker if you contact them and provide the VIN of the vehicle.
Use a window sticker lookup tool: There are several online tools that allow you to enter the VIN of a vehicle and receive a copy of the window sticker. Keep in mind that the accuracy of these tools may vary. To get detailed information, you can get an Infiniti window sticker by VIN from Detailed Vehicle History by navigating to their "Window Sticker Page".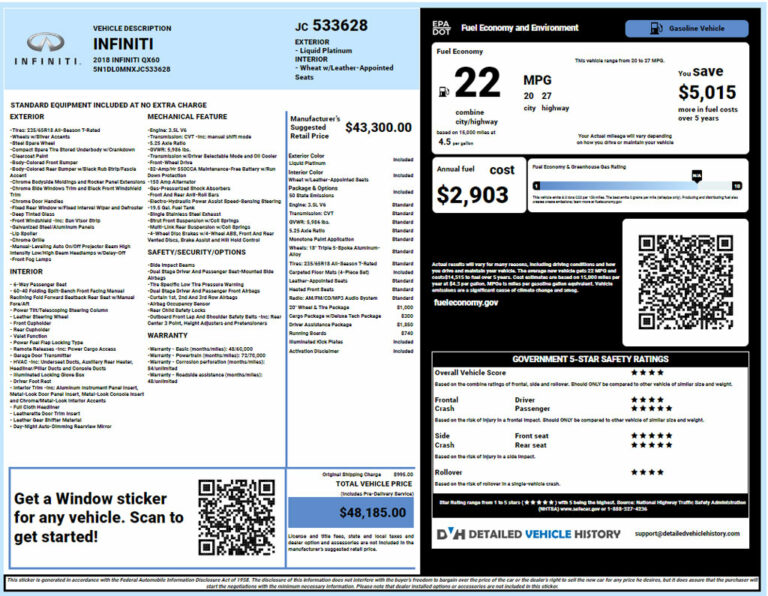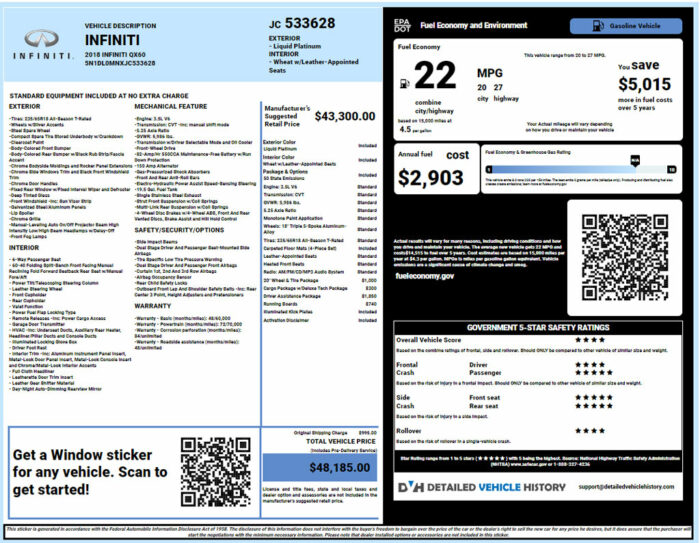 Types of Information on an Infiniti Window Sticker
The Infiniti window sticker or Infiniti build sheet by VIN is a great source of information for car buyers. It contains a variety of information including the vehicle's original MSRP, trim, exterior and interior color choices, standard and optional features, fuel economy and emissions ratings, and more. It also contains the Vehicle Identification Number (VIN), model year, and a description of the engine and transmission.
The Infiniti window sticker by VIN also includes a list of safety features and other features that may be included in the vehicle, such as advanced driver assistance systems, blind-spot monitoring, and active safety technology. The sticker also includes an EPA fuel economy label, which provides an estimate of how many miles per gallon the vehicle is expected to get. Discover the retail price, National Highway Traffic Safety Administration (NHTSA) safety options, and packages with Monroney labels today.
Benefits of an Infiniti Monroney Sticker Lookup
Are you buying a used Infiniti car? Have you gotten a Infiniti original window sticker lookup? What about an Infiniti build sheet by VIN? Using a Monroney sticker lookup tool like the one offered by detailedvehiclehistory.com can provide a number of benefits when it comes to researching Infiniti vehicles.
With this tool, you can quickly and easily access important information about a specific Infiniti vehicle, including its MSRP, standard and optional equipment, fuel economy ratings, emissions ratings, and warranty information.
This can help you make informed decisions when buying or selling a vehicle and can provide valuable insights into the features and options available on different models.
Where to Find Infiniti VIN Number?
The Infiniti VIN number can be found on the vehicle registration documents, as well as on the dashboard of the vehicle itself. It is typically located on the driver's side of the dashboard, just below the windshield. It can also be found on the driver's side door jamb. The VIN number should also be printed on any service documentation given to you by an Infiniti dealership.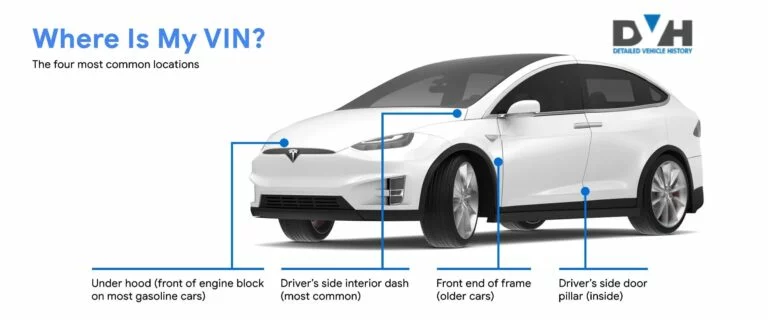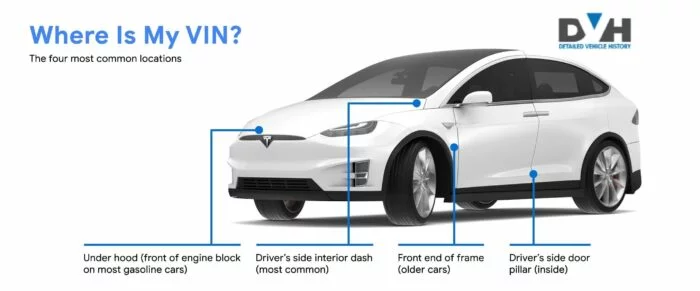 Infiniti Window Stickers for Car Dealer
Window stickers are an important part of the car selling/buying process for car dealers. They provide essential information about the vehicle, including the make, model, year, and trim level, as well as the MSRP, any factory installed options, and any applicable factory warranties.
Additionally, generating window stickers with our Infiniti window sticker lookup tool also provides potential buyers with a list of standard safety and convenience features. This helps them to make an informed decision about their purchase and compare different models.
Window stickers also provide additional marketing opportunities for car dealers, as they can be customized with the dealer's logo and contact information. This can help to increase brand awareness and encourage potential customers to visit the dealership.
Infiniti is a luxury vehicle brand that is owned by the Nissan Motor Company. The brand was launched in 1989 and is known for producing a range of luxury vehicles, including sedans, SUVs, and coupes.
Infiniti is known for producing vehicles with advanced technology and performance features. The brand is also focused on creating a unique and refined driving experience for its customers.
Infiniti vehicles are often equipped with a range of luxurious features and amenities, such as leather upholstery, premium audio systems, and advanced safety technologies. The brand is also known for its commitment to sustainability, with several of its models featuring hybrid or electric powertrains.
Infiniti has a global presence, with sales and production operations in countries around the world. The brand is continually working to innovate and improve its products, and it is known for its commitment to producing high-quality, luxury vehicles that offer a unique driving experience.
Find Window Stickers for the Top Infiniti Car Models
Infiniti Q50: a compact executive sedan
Infiniti Q60: a compact luxury coupe
Infiniti Q70: a full-size luxury sedan
Infiniti QX30: a compact luxury crossover
Infiniti QX50: a compact luxury crossover
Infiniti QX60: a midsize luxury crossover
Infiniti QX70: a midsize luxury crossover
Infiniti QX80: a full-size luxury SUV
Frequently Asked Questions
Lookup Window Sticker by all manufacturer