Volvo Window Sticker Lookup
Are you looking to find the original window sticker of your Volvo? Look no further! With the Volvo Window Sticker Lookup tool, you can quickly and easily access the original window sticker of your Volvo. Our database is constantly updated to ensure you get the most accurate information on your car. With Volvo Window Sticker Lookup by VIN tool, you can find the original factory options, MSRP, and other important information about your vehicle. Get the most out of your Volvo with Volvo Window Sticker by VIN.
How to Get the Volvo window sticker Monroney Label by VIN?
To get the Volvo window sticker by VIN, you will need to contact a Volvo dealer in your area. The dealer should be able to look up the window sticker information and provide you with a copy. They may have in their database. 
Alternatively, you can try using a third-party services window sticker finder such as Detailed Vehicle History, which offers window sticker report also known as volvo build sheet at a reasonable price. Please enter the VIN into the window sticker tool and we will send a link to digital copy of volvo sticker or you can download volvo window sticker PDF.
What key Information Can a Volvo Original Window Sticker provide?
A Volvo window sticker, also known as a volvo Monroney label, contains a wealth of information about a vehicle, including the base price of the vehicle, destination charges, and any additional options or packages that were included at the time of purchase. It also includes standard features, emissions information, and fuel economy ratings.
Additionally, the window sticker will typically include a breakdown of any federal or state incentives that may have been applied to the vehicle's purchase price. It will also have Vehicle Identification Number and production information. The window sticker is typically found on the driver-side door jamb or the rear of the driver-side door.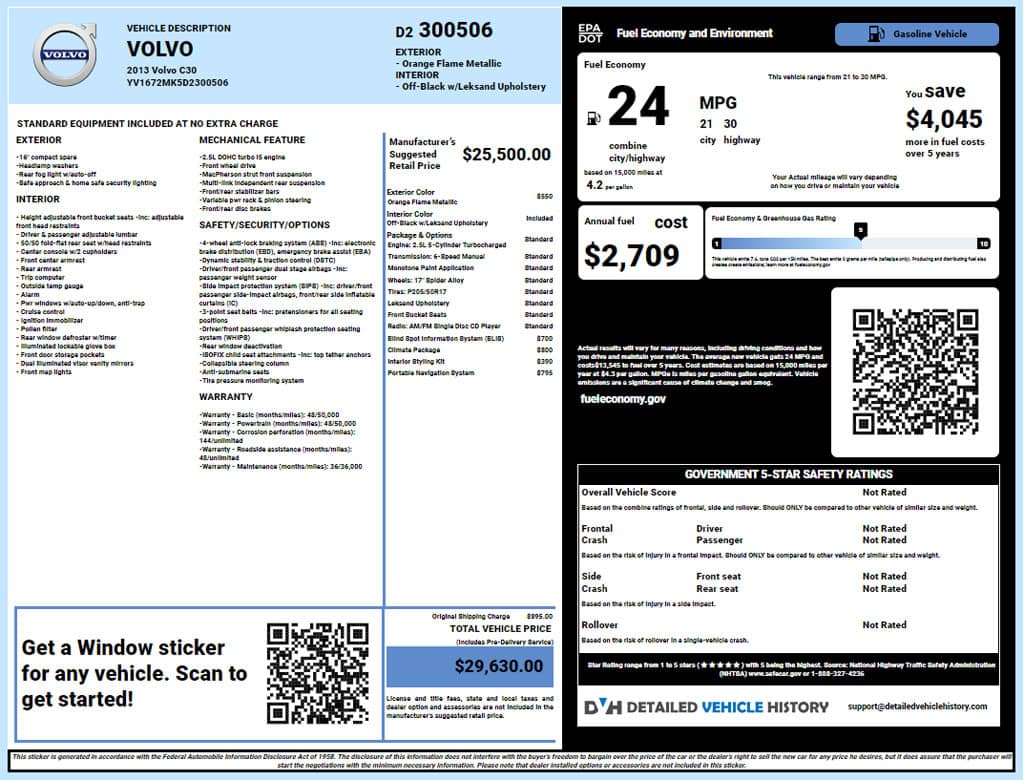 Benefits of a Volvo Monroney Sticker Lookup
There are many benefits to using a Volvo VIN lookup window sticker tool, such as:
Understanding a vehicle's original factory specs: By looking up the Monroney sticker, you can see all the volvo vin decoder options, packages, and features that were included with the vehicle when it was first sold. This can help you understand the vehicle's original value and whether any aftermarket modifications have been made.
Setting a fair price for a used vehicle: When buying or selling a used Volvo, the Monroney sticker can be used to determine the vehicle's original price and any added options, allowing you to set a fair price for the vehicle.
Getting a full view of the car information: Monroney sticker gives the full view of the car features, warranty, fuel efficiency, and other information which is not known to the buyer who is buying a car without proper knowledge
Making an informed decision: By using the Monroney sticker lookup tool, you can make an informed decision when buying or selling a used Volvo vehicle and make the most out of your Volvo ownership.
Where to Find Volvo VIN Number?
The Volvo VIN number can be found on the driver's side dashboard of the vehicle, usually on the corner of the dashboard just by the windshield. It can also be visible on the inside of the driver's side doorjamb, on the engine itself, or on the vehicle registration documents.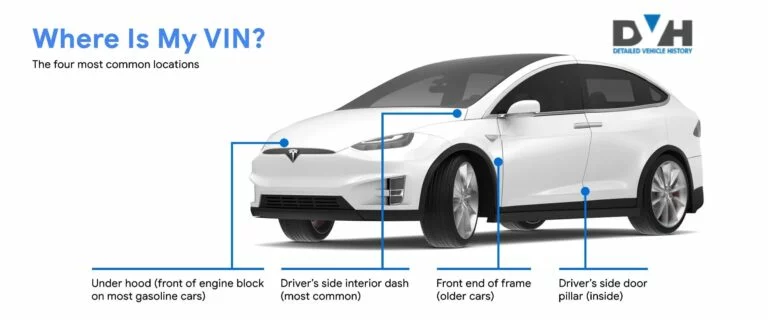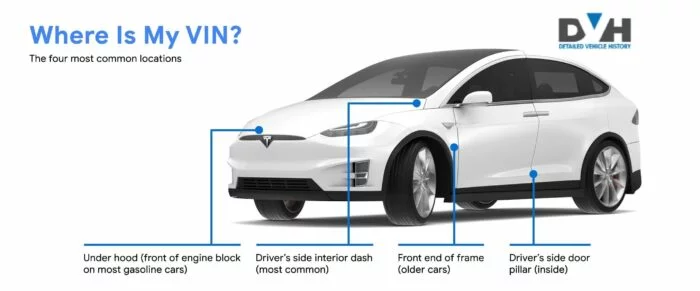 Volvo Window Sticker tool for Car Dealer
Are you a car dealership looking for a way to provide accurate and detailed information about the vehicles on your lot? Look no further than our window sticker volvo program.
Our Volvo window sticker lookup program allows you to easily create and print window stickers for all of your Volvo vehicles, ensuring a better experience. These stickers include all of the information that was originally included on the factory window sticker, including the trim level, options, and package information, as well as the original MSRP of the vehicle.
Not only does this give your customers a complete understanding of the vehicle they are interested in, but it also adds transparency and credibility to your dealership.
Plus, providing this level of detail with Volvo window sticker lookups can give you an edge over your competitors by setting a fair price and providing a full view of the vehicle's features.
Volvo Cars is a Swedish luxury vehicle company founded by Assar Gabrielsson and Gustaf Larson in 1927 and headquartered in Gothenburg, Sweden. It is a subsidiary of the Chinese multinational automotive company Geely.
The company manufactures and sells a wide range of vehicles, including sedans, SUVs, wagons, and station wagons. Volvo is known for its focus on safety and innovative technology and has a reputation for building high-quality, reliable vehicles. Many of its models have received numerous awards and accolades for their safety features and overall design.
Over the years, Volvo cars have introduced many safety features, such as the three-point seatbelt, the side impact protection system, and the blind spot information system. In addition to safety, the company has also placed a strong emphasis on environmental sustainability and has developed hybrid and fully electric vehicles.
Volvo cars are sold in more than 190 countries globally, and it has manufacturing plants in Sweden, Belgium, China, and other countries.
In recent years, Volvo cars have expanded their model range, which includes the compact XC40, the midsize S60, the full-size S90, and the luxury XC90. It also offers many other models, including V60, V90, V60 Cross Country, and V90 Cross Country.
Find Window Stickers for the Following Volvo Models List
XC90
XC60
XC40
S90
S60
S40
V90
V60
V40
V90 Cross Country
XC70
S80
C30
C70
V50
S40 (2004-2012)
V50 (2004-2012)
C30 (2006-2013)
C70 (2006-2013)
S80 (1998-2016)
XC70 (2007-2016)
V70 (1998-2016)
XC90 (2002-2014)
S90 (1998-1998)
850 (1991-1997)
960 (1991-1998)
V90 (1998-1998)
Frequently Asked Questions
Lookup Window Sticker by all manufacturer