Aston Martin Window Sticker Lookup
Aston Martin Window Sticker Lookup is a service that allows users to search for and find the original factory window sticker that came with their Aston Martin vehicle. The window sticker, or Aston Martin Monroney label, contains important information such as the vehicle's original options, packages, and prices. This information can be very helpful in finding out the original value of an Aston Martin vehicle.
How to Get the Aston Martin Window Sticker by VIN
1.  Visit the Detailed Vehicle History window sticker page and locate the "Aston Martin Window Sticker lookup" form.
2.  Enter the Aston Martin VIN number and provide other necessary information to get access.
3.  Make payment to get redirected to your personalized customer account and generate the Aston Martin window sticker, also known as Aston Martin Monroney label
4.  View and print out the window sticker for use by you or the buyer (if you're a seller)
Types of information on an Aston Martin Window Sticker
An Aston Martin window sticker will typically include the following information:
Model Year and Name
Vehicle Identification Number (VIN)
Exterior & Interior Color
Trim Package
Engine, Drivetrain & Gearbox
MSRP
Fuel Economy
Emissions Ratings
Safety Ratings & Options
Standard Features
Warranty Information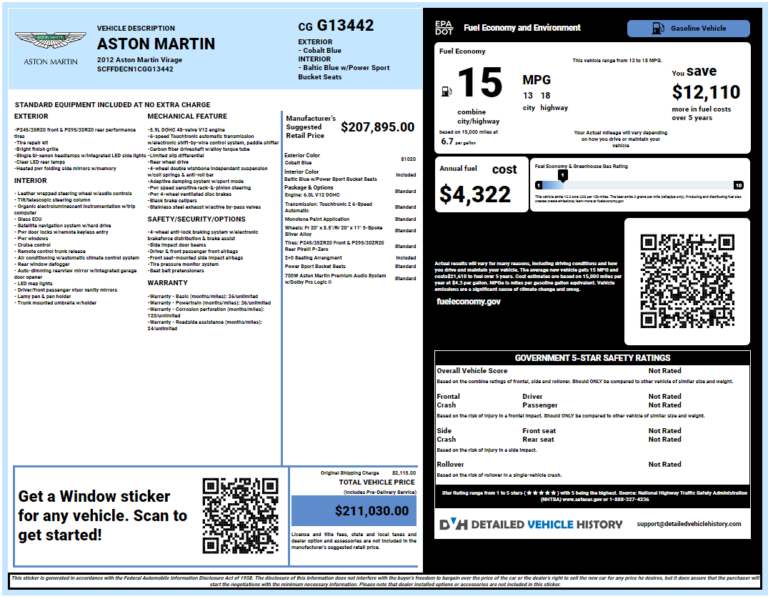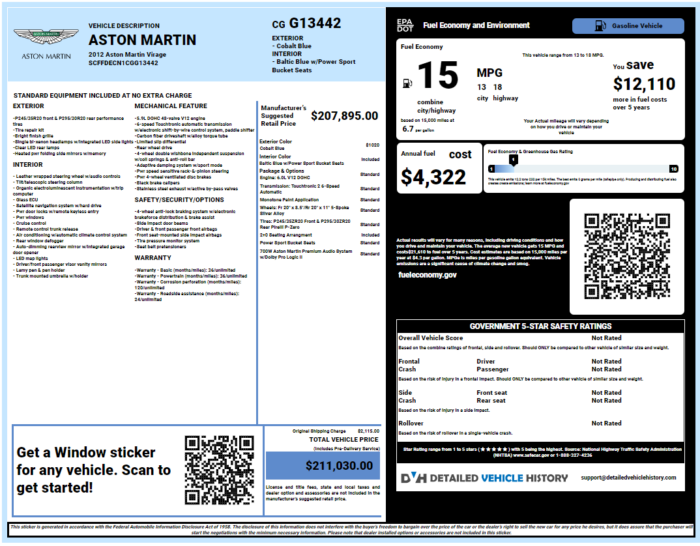 Benefits of an Aston Martin Monroney Sticker Lookup
1. The primary benefit of using an Aston Martin Monroney sticker lookup is that it can help you make a more informed decision when choosing a car. By looking up the sticker, you can get a better sense of what the car is worth, what features it comes with, and what type of gas mileage you can expect.
2. You can use the Monroney sticker to compare different models and trim levels, allowing you to make an informed decision about which car best meets your needs.
3. Another benefit of an Aston Martin Monroney sticker lookup is that it can help you identify any potential problems with the car. If a car has been recalled, or if there are any known repair issues, you can use the sticker to determine whether they affect the car you're considering. This can help you make sure you're buying a car that's in good condition and unlikely to require expensive repairs.
4. Lastly, an Aston Martin Monroney sticker lookup can also help you determine the car's resale value. By looking up the sticker, you can get an idea of how much the car is worth, which can help you set a fair price when you go to sell it.
Where to find Aston Martin VIN Number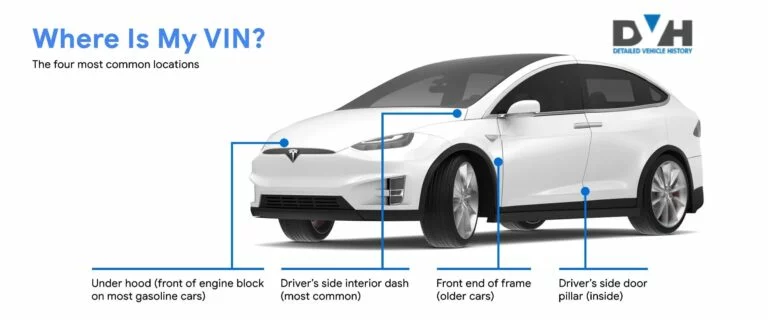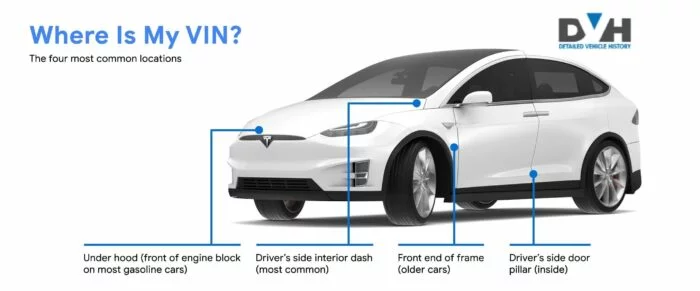 Aston Martin Window Sticker for Car Dealers
Aston Martin window stickers are important for car dealers because they provide important information about the car to potential buyers. The window sticker includes information such as the vehicle's make and model, exterior and interior colors, trim levels, options packages, standard features, and more. This information helps potential buyers make an informed decision about the car they are considering.
The window sticker also serves as a legal document, providing evidence of the terms and conditions of the sale between the dealer and the buyer. This information is also used to verify the car's value if the car needs to be traded in or sold.
Additionally, the window sticker provides the official name of the dealership where the car was purchased, which can help prospective buyers determine the authenticity of the car.
The window sticker also helps to protect the buyer from any discrepancies between what is advertised and what is actually delivered.
Aston Martin is a British luxury car manufacturer that was founded in 1913 by Lionel Martin and Robert Bamford. It is based in Gaydon, Warwickshire, England. Aston Martin is best known for its high-performance sports cars and grand tourers, and has a reputation for producing some of the most beautiful and iconic cars in the world.

The company has a long and storied history, with its vehicles being featured in numerous films and television shows, including the James Bond franchise. Aston Martin cars are known for their sleek and stylish designs, as well as their powerful engines and advanced technology. Some of the company's most popular models include the Aston Martin DB5, Aston Martin DBS, and Aston Martin Vantage.
Aston Martin has a strong focus on innovation and craftsmanship, and all of its vehicles are built by hand at its factory in Gaydon. The company is committed to producing high-quality, luxurious vehicles that combine performance, style, and comfort.
Aston Martin Vehicle models list
1. Aston Martin Vantage
2. Aston Martin DB11
3. Aston Martin DBS Superleggera
4. Aston Martin DBX
5. Aston Martin Vanquish
6. Aston Martin Rapide S
7. Aston Martin V12 Vantage S
8. Aston Martin V8 Vantage
9. Aston Martin DB9
10. Aston Martin Virage
Frequently Asked Questions
Lookup Window Sticker by all manufacturer