Chrysler Window Sticker Lookup
Looking for a reliable and easy way to find the window sticker for your Chrysler vehicle? Look no further than our Chrysler Window Sticker Lookup service! With just a few simple steps, you can access all the information you need about your vehicle, including its original equipment, options, and MSRP. Our service is fast, accurate, and user-friendly. Simply enter your VIN number, and our system will quickly retrieve the window sticker for your specific vehicle. You'll be able to see the exact features and options that came with your car when it was first built, as well as its original price. Our Chrysler Window Sticker Lookup by VIN service is perfect for anyone looking to buy or sell a used vehicle.
How to Get the Chrysler Window Sticker by VIN?
To get the Chrysler window sticker by VIN from detailedvehiclehistory.com, follow these steps:
Go to the website detailedvehiclehistory.com
Look for a link or button that says "Chrysler Window Sticker Lookup"
Enter your VIN number in the designated field and submit the form.
The website will generate a report that includes the window sticker information for your specific vehicle.
In the report, you will find the original equipment, options, and MSRP of your vehicle.
What Information Can be Found on a Chrysler Window Sticker?
A Chrysler VIN window sticker, also known as a Chrysler Monroney label, contains a wealth of information about a vehicle. It typically includes the vehicle's make, model, trim level, and model year. It also lists the vehicle's standard and optional equipment, including the engine size, transmission type, and any special features or options.
Other information that can be found on a Chrysler window sticker includes the vehicle's destination charge, fuel economy rating, and suggested retail price. Additionally, the Chrysler VIN window sticker includes the VIN number, the production date of the vehicle, and the standard and optional features the vehicle is equipped with.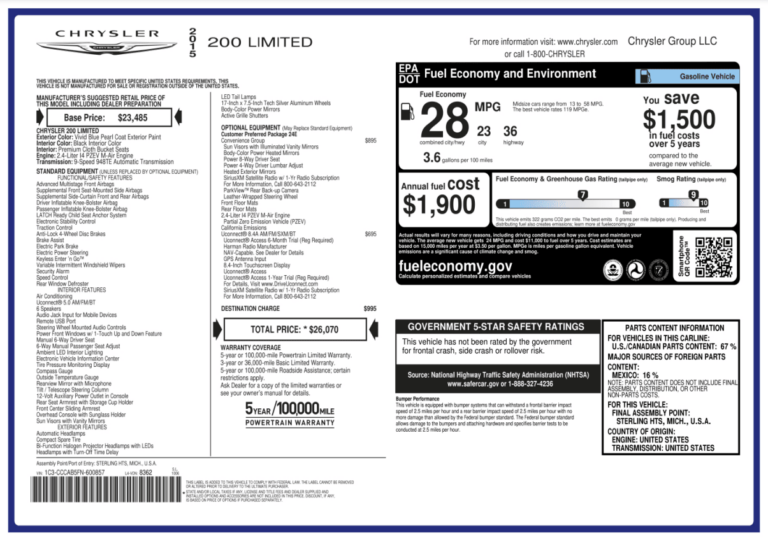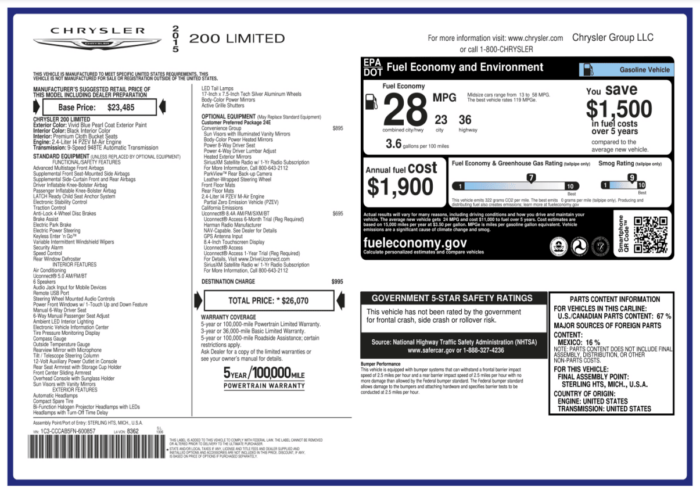 Benefits of a Chrysler Monroney Sticker Lookup
A Chrysler Monroney Sticker Lookup provides a detailed list of information about a vehicle, including its standard and optional equipment, fuel economy, warranty, and suggested retail price.
This can be useful for consumers when researching and comparing different vehicles, as well as for dealers when pricing and advertising their inventory. It can also be helpful in determining the value of a used car.
Where to Find Chrysler VIN Number?
The Chrysler VIN number can be found in a few different locations on the vehicle. It is typically found on the driver's side dashboard, on the driver's side door jamb, and on the vehicle title/registration document. It is also located on certain insurance documents.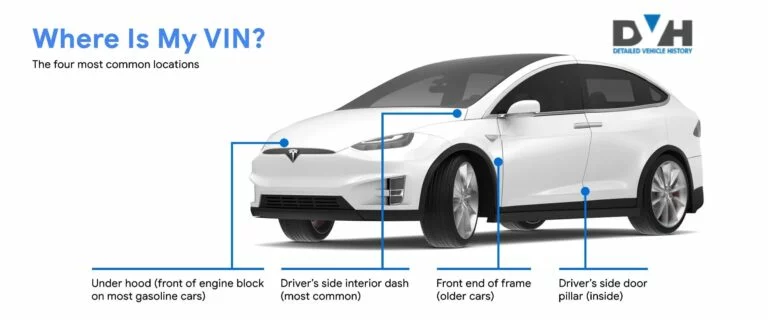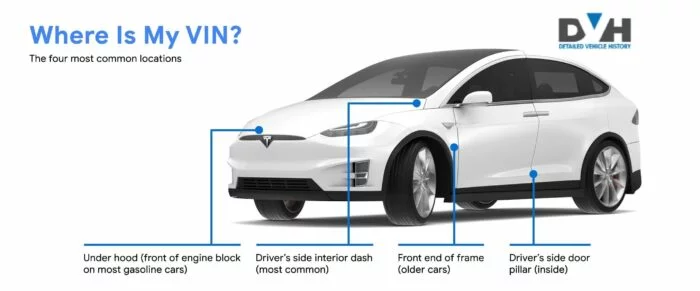 Chrysler Window Sticker Search for Car Dealers
Introducing the Chrysler Window Sticker program for car dealerships! With this program, you can easily create professional and informative window stickers for any Chrysler vehicles. Our Chrysler window sticker search program includes all the necessary information required by law, such as the vehicle's make, model, year, and VIN, as well as optional features such as fuel efficiency, warranty information, and more.
The stickers are easy to use and can be printed quickly, making it a convenient and efficient way to inform potential buyers about the vehicles you have in stock. Not only that, it makes your dealership look more professional and organized. Upgrade your dealership's image and streamline your sales process with the Chrysler Window Sticker program today.
Walter Chrysler created the original Chrysler Corporation in 1925 using the Maxwell Motor Company's leftovers. It was bought by Daimler-Benz, which changed its name to DaimlerChrysler in 1998. Chrysler was sold off by Daimler in 2007, and it was thereafter known as Chrysler LLC (2007–2009) and Chrysler Group LLC (2009–2014) until being bought out by Fiat S.p.A. and joining the newly established Fiat Chrysler Automobiles ("FCA") in 2014. In 2021, Chrysler became a division of Stellantis, the business created by the union of FCA and PSA Group (Peugeot Société Anonyme).
Find Window Stickers for the Following Chrysler Vehicle Models
Chrysler 200
Chrysler 300
Chrysler 300C
Chrysler 300M
Chrysler Aspen
Chrysler Aspen Hybrid
Chrysler Cirrus
Chrysler Concorde
Chrysler Crossfire
Chrysler Grand Voyager
Chrysler Imperial
Chrysler LeBaron
Chrysler LHS
Chrysler New Yorker
Chrysler Pacifica
Chrysler Pacifica Hybrid
Chrysler Prowler
Chrysler PT Cruiser
Chrysler Sebring
Chrysler Town & Country
Chrysler Voyager
Frequently Asked Questions
A Chrysler window sticker lookup tool is a tool that allows you to access information about a Chrysler vehicle, such as options, packages, and original MSRP, by entering the vehicle's VIN number.
It depends on the tool and website you are using, some could be free, and others might have a paid version for more detailed information like the Detailed Vehicle History website charge $14.99 for a detailed sticker report.
Using a Chrysler window sticker to compare different cars can be a valuable tool in making an informed decision when purchasing a vehicle. Here's a step-by-step guide on how to effectively use a Chrysler window sticker for comparing different cars:
Identify the Window Sticker: The Chrysler window sticker, often referred to as a Monroney sticker, is typically located on the driver's side window of the vehicle. It provides detailed information about the car's specifications, features, and pricing.
Gather Stickers for Comparison: Collect window stickers for the Chrysler vehicles you're interested in comparing. Ensure that the stickers are for the same model year and trim level to ensure accurate comparisons.
Understand the Layout: The window sticker is organized into various sections that provide important information. Familiarize yourself with these sections before comparing.
Compare Base Price: The base price is the starting point for comparing vehicles. It includes the manufacturer's suggested retail price (MSRP) and any standard equipment.
Check Optional Equipment: The sticker lists optional features and their corresponding costs. Compare which optional features are available on each vehicle and how they impact the total cost.
Fuel Economy and Environmental Ratings: Evaluate the fuel efficiency of each vehicle. Look for details like city and highway miles per gallon (MPG) and any relevant environmental ratings.
Safety and Warranty Information: Review safety features, ratings, and warranty information. Consider elements like airbags, crash test ratings, and warranty coverage to gauge the level of protection and long-term value.
Standard Features: Compare the standard features offered on each vehicle. This can include technology, entertainment, comfort, and convenience features.
Additional Costs: Take note of any additional charges, such as destination fees or dealer-installed accessories. These can vary between vehicles and impact the overall cost.
Calculate Total Price: Use the information on the window sticker to calculate the total price for each vehicle, including the base price, optional features, and additional costs.
Evaluate Resale Value: Research the projected resale value of the vehicles you're comparing. A higher resale value can indicate a better long-term investment.
Consider Reviews and Test Drives: While the window sticker provides valuable information, it's also important to read reviews and take test drives to experience the vehicles firsthand.
Factor in Personal Preferences: Consider your personal preferences and needs. Think about what features and specifications are most important to you and align with your lifestyle.
Make an Informed Decision: After comparing the window stickers, additional information, and test drives, you'll be better equipped to make an informed decision that suits your requirements and budget.
Remember that the Chrysler window sticker is just one tool in the car-buying process. Combine this information with thorough research, expert and user reviews, and personal experiences to make the best choice for your individual needs.
Lookup Window Sticker by all manufacturer