Saturn Window Sticker Lookup
Looking for information about your Saturn vehicle? Our Saturn Window Sticker Lookup tool is the perfect solution! With just a few clicks, you can access all the information found on the original Monroney label for your Saturn. Whether you're looking to verify the original MSRP of your vehicle, check the warranty information, or see the safety ratings, our tool has you covered. Plus, our user-friendly interface makes it easy to find the information you need. Don't waste your time searching for a physical copy of your Monroney label – our tool provides quick and easy access to all the information you need. Try it out today at Detailed Vehicle History!
How to Get the SaturnWindow Sticker by VIN?
To obtain a copy of a Saturn window sticker using the vehicle identification number (VIN) from Detailed Vehicle History, you would need to provide the VIN of the vehicle and pay a fee to access the service. Once you have entered the VIN and paid the fee, the website should be able to retrieve a digital copy of the original window sticker for your Saturn vehicle.
It is important to note that this service may not be available for all vehicles, and the accuracy of the information provided may vary.
Types of Information on a Saturn Window Sticker
A Saturn window sticker would typically include information about the make and model of the vehicle, the trim level, the options and features that are included, and the base price of the vehicle when it was new.
It may also include information about any warranties or service agreements that are included with the vehicle, as well as the fuel economy ratings and other environmental impact ratings.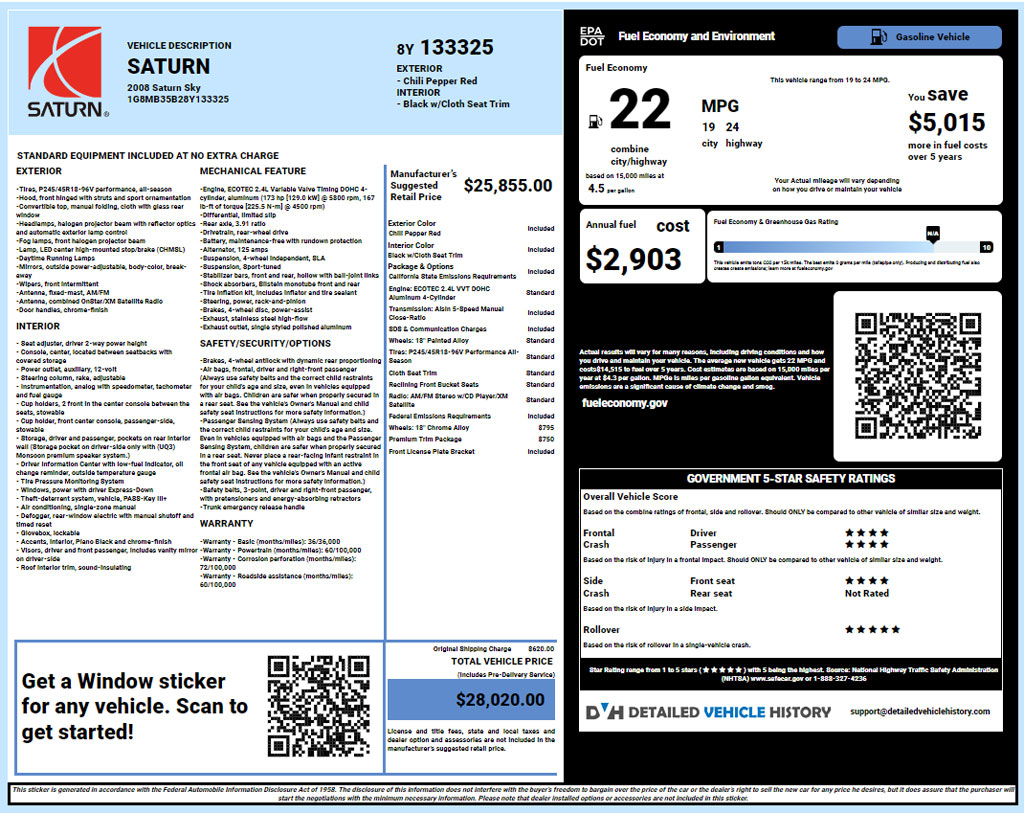 Benefits of a Saturn Monroney Sticker Lookup
A Saturn Monroney sticker lookup with detailedvehiclehistory.com can provide information about a vehicle's original MSRP, warranty coverage, fuel economy, and safety ratings. It can also help verify the authenticity of a vehicle's Monroney label.
Where to Find Saturn VIN Number?
The VIN number for a Saturn vehicle can be found on the lower left corner of the windshield on the driver's side, as well as on the driver's side door jamb. The VIN number is also printed on the vehicle's registration card, owners manual, and insurance documents.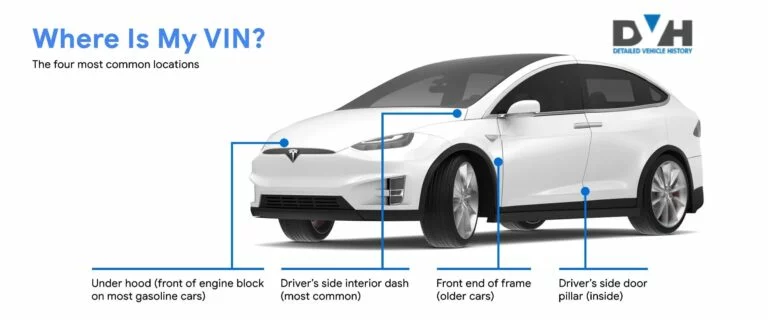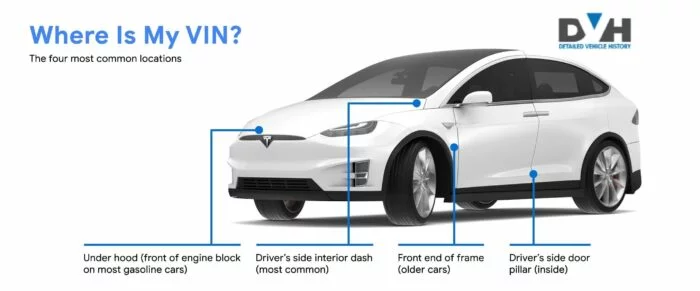 Saturn Window Sticker for Car Dealer
Our window sticker package for dealerships provides access to an online database of Monroney labels for all makes and models. It's easy to use, affordable, and offers valuable information to customers, including original MSRP, warranty details, fuel economy, and safety ratings. Sign up today and give your dealership the edge it needs!
Saturn was an American automobile manufacturer and brand that was owned by General Motors. The company was founded in 1985 and was known for producing small, efficient vehicles, particularly sedans and hatchbacks. Saturn was marketed as a "different kind of car company" and was known for its no-haggle pricing and customer-friendly sales and service policies.
Saturn's first model, the S-Series, was introduced in 1991 and was followed by a number of other models, including the L-Series, Ion, Vue, Outlook, and Aura. The brand also produced a number of concept vehicles, including the Curve, Sky, and Astra.
In 2009, General Motors announced that it would be phasing out the Saturn brand as part of its restructuring plan. The last Saturn vehicles were produced in 2009 and the brand was officially discontinued in 2010.
Find Window Stickers for the Following Saturn Vehicle Models
S-Series: A line of compact cars produced by Saturn from 1991 to 2002, including the Saturn SC, SL, SW, and SC1/SC2 models.
L-Series: A line of mid-size cars produced by Saturn from 2000 to 2004, including the L100, L200, and L300 models.
Ion: A compact car produced by Saturn from 2003 to 2007.
Vue: A compact SUV produced by Saturn from 2002 to 2010.
Outlook: A mid-size SUV produced by Saturn from 2007 to 2010.
Aura: A mid-size sedan produced by Saturn from 2007 to 2009.
Sky: A sports car produced by Saturn from 2006 to 2009.
Astra: A compact car produced by Saturn from 2008 to 2009.
Relay: A minivan produced by Saturn from 2005 to 2007.
Frequently Asked Questions
A Saturn Window Sticker, also known as a Monroney sticker, is a label affixed to the window of a new Saturn vehicle that provides important information about the car, including its manufacturer's suggested retail price (MSRP), standard and optional equipment, fuel efficiency, safety ratings, and more.
You can obtain a Saturn Window Sticker for your specific vehicle by visiting the official Saturn or General Motors (GM) website and using their VIN (Vehicle Identification Number) lookup tool. Simply enter your VIN, and the system will generate a digital copy of the original window sticker for your car.
The Saturn Window Sticker is essential for car buyers as it provides comprehensive information about the vehicle's features, pricing, and specifications. It helps buyers make informed decisions, compare different car models, and understand the car's value. Additionally, it is often required by law to be displayed on new cars, ensuring transparency in the buying process.
Lookup Window Sticker by all manufacturer