Mercedes Benz Window Sticker Lookup
Introducing the Mercedes Benz Window Sticker Lookup tool by Detailed Vehicle History! Now you can get the exact window sticker for any Mercedes Benz vehicle. With this lookup tool, you can get all the details about the car, from the engine size to the features, options, and more. It's easy to use and you can be sure you'll get the most accurate information about the vehicle. Get the original window sticker for your Mercedes Benz today!
How to Get the Mercedes Benz Window Sticker by VIN?
To get the Mercedes Benz Window Sticker by VIN from detailedvehiclehistory.com, follow these steps:
Go to the website detailedvehiclehistory.com
Go to the "Window Sticker" section
Enter your VIN number in the provided field
Click the "Get access now" button to start the search
The Mercedes window sticker will be generated in a matter of minutes and you will be able to see the factory-installed options, original MSRP, and other information about your vehicle.
What Information Can be Found on a Mercedes Benz Window Sticker?
A Mercedes Benz window sticker is a label required by U.S federal law to be displayed on all new cars sold in the U.S. It contains a wealth of information about the vehicle, including the manufacturer's suggested retail price (MSRP), options, and packages installed by the factory, fuel economy ratings, and standard and optional equipment.
The Mercedes window sticker will also include the vehicle identification number (VIN), the year, make, and model of the vehicle, and the destination charge.
Additionally, it will also contain emissions and safety information. It is a valuable resource for anyone looking to buy or sell a Mercedes Benz vehicle, as it provides a detailed breakdown of the vehicle's original specifications and options.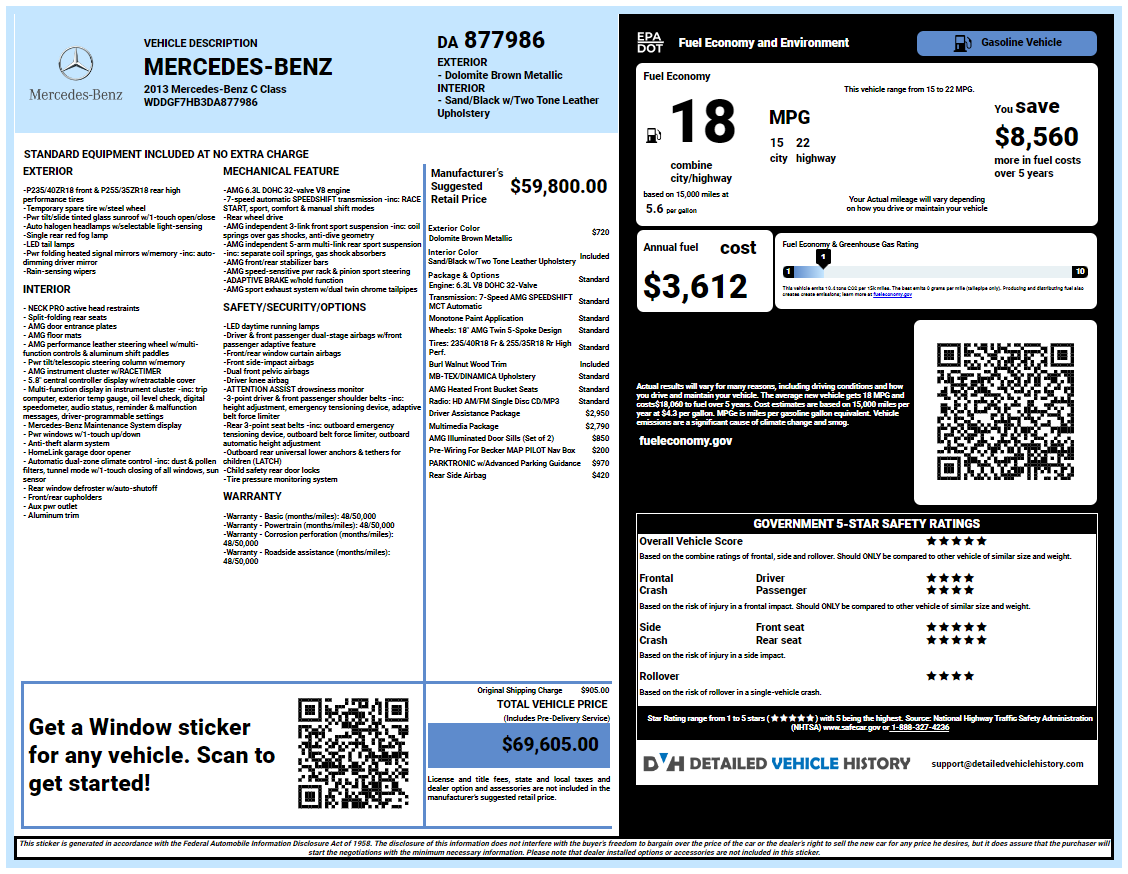 Benefits of a Mercedes Benz Monroney Sticker Lookup
A Mercedes Benz Monroney Sticker Lookup provides several benefits, including:
Original MSRP: The Monroney Sticker Lookup will reveal the original Manufacturer's Suggested Retail Price (MSRP) of the vehicle, which can be useful for determining the vehicle's value when buying or selling.
Factory-installed options: The Mercedes Window Sticker by VIN will show all the factory-installed options and packages that came with the vehicle when it was first purchased, providing an accurate picture of the vehicle's original specifications.
Vehicle History: The Monroney Sticker Lookup can be used to verify the authenticity of a vehicle's history, helping to identify any potential issues or discrepancies.
Vehicle Research: A Monroney Sticker Lookup can be used to research and compare different models and options to make an informed decision when buying a new or used Mercedes Benz vehicle.
Get a Mercedes window sticker by VIN with our Mercedes Benz window sticker lookup tool today.
Where to Find Mercedes Benz VIN Number?
The Mercedes Benz VIN can be found on the driver's side dashboard, on the driver's door jamb, or in the vehicle registration documents. The VIN is also printed on the engine block and transmission, as well as on the vehicle's title and registration documents.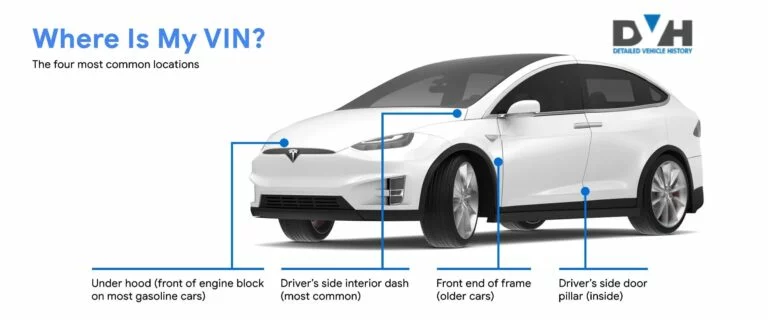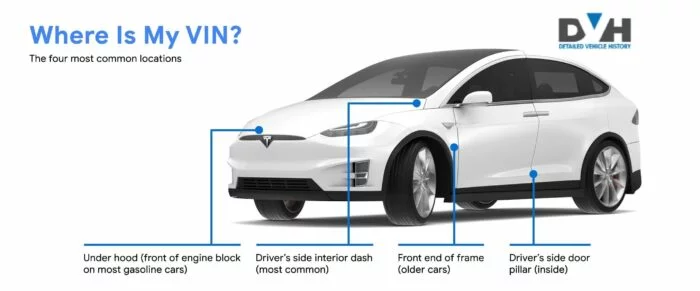 Mercedes Benz Window Sticker for Car Dealers
detailedvehiclehistory.com offers a Mercedes Benz Window Sticker package for car dealers. This Mercedes window sticker by VIN package allows car dealers to access the original window stickers for a large number of Mercedes-Benz vehicles using the VIN number, making them able to generate window stickers for several cars. With this package, dealers can easily access important information about the vehicles they are selling, including the original MSRP, factory-installed options, and other specifications.
This Mercedes Benz window sticker lookup package can be an invaluable resource for car dealers, as it helps them to provide accurate and detailed information about the vehicles they are selling, which can increase customer trust and satisfaction. Additionally, this package can also be useful for determining the value of trade-in vehicles in stock.
For any classic vehicle or classic car owner, delving into the history of their beloved vehicle is an exciting endeavor. To uncover the details that make your classic truly unique, access resources like the OEM window stickers or build sheets. These documents, often referred to as the "reproductions of the original window sticker," offer insights into the trim, build code, and specifications of your classic car. To ensure the accuracy of your records, utilize a free window sticker service to obtain a digital version of this essential card. By examining this reproduction, you can locate the original location where your classic was built and gain a deeper appreciation for its heritage. The classic car experience is enriched when you can decode the past, and the reproduction of the original window sticker service can help you do just that.

Mercedes-Benz is a brand of luxury automobiles, buses, coaches, and trucks owned by Daimler AG. The company was founded in 1926 and is headquartered in Stuttgart, Germany. Mercedes-Benz is known for producing high-quality, luxury vehicles that are synonymous with style, performance, and innovation. The brand offers a wide range of vehicles, including sedans, coupes, convertibles, SUVs, and vans.
Mercedes-Benz has a rich history of innovation and engineering, with notable milestones including the first gasoline-powered car (1886), the first diesel-powered car (1936) and the first hybrid electric car (2009). The company has also been at the forefront of safety technology, with features such as the first airbag and the development of advanced driver assistance systems.
The brand's reputation for quality, durability, and luxury has made it one of the most popular and recognizable car manufacturers in the world, with a broad customer base ranging from individuals to governments, and from small businesses to large corporations. Mercedes-Benz continues to evolve and innovate, with ongoing investments in electric and autonomous vehicle technology, making it one of the most exciting and innovative companies in the automotive industry today.
Whether you're buying a brand-new car or a used one, having a window decal can add a touch of personalization to your vehicle. This decal is designed to complement your car's interior and can be placed on the car window with ease. If you're looking to match a specific style, color, or brand, you can easily get one that suits your preferences. If you've recently purchased a used car and want a copy of its original window decal, don't worry – we've got you covered. Simply reach out to the dealership or seller, and they can assist you in obtaining a copy. Regardless of whether your car is silver, black, or any other color, a well-chosen window decal can enhance its appearance and make a statement. With convenient shipping options available, adding a decal to your car window is a simple way to make your vehicle truly yours.
Find Window Stickers for the Following Mercedes Benz Models
A-Class
B-Class
C-Class
E-Class
S-Class
CLA-Class
GLA-Class
GLC-Class
GLE-Class
GLS-Class
G-Class
GLB-Class
EQC
AMG GT
R-Class
SLC-Class
SLS AMG
B-Class Electric Drive
SLS AMG GT
SLS AMG Black Series
CL-Class
CLK-Class
CLS-Class
R-Class
SL-Class
SLK-Class
SLR McLaren
G-Class Professional
G-Class 6×6
G-Class 4×4 Squared
Frequently Asked Questions
Lookup Window Sticker by all manufacturer