Run a VIN Check and gain access to a detailed vehicle history report
Buying or selling a used vehicle? Get a detailed vehicle history report by running a VIN check and make the best buying or selling decision ever!
Detailed Vehicle History provides you with a detailed Vehicle History Report, which will look up your vehicle's history and bring you up to speed with everything you need to know about the vehicle's past.
Why use our tool to check your VIN?
Most Used Vehicles appear splendid on visual inspection, however, if you intend to buy or sell a used vehicle you need to go beyond physical and mechanical inspection, you need to see an in-depth analysis of the vehicle's past and projected future this is only obtainable via a VIN Check on Detailed Vehicle History.
Best Free VIN Check may be obtainable elsewhere on the internet but we do not offer a free title history report, completely free VIN check is not possible with our Detailed Vehicle History tool. You can download our mobile application to see your VIN check history and PDFs of all the reports you have generated in recent times. The terms " Free title History report", "completely free VIN check", " and VIN check history" are terms users use when searching for affordable VIN check services which they usually find here.
We provide you with the following information.
Auction records
We have access to over 1000 auction sites all around the world and can provide an up-to-date auction record of your used vehicle.
Upcoming maintenance
Our AI-based system analyzes and compares the history and record of thousands of the same vehicle, make, year, and model to predict possible maintenance that you should be aware of! Now that's amazing
Manufacturer's recalls
Here we provide you with all the information you need to know about the vehicle recall and faulty parts that the manufacturer has recommended for change.
Vehicle specifications
Generally, we provide the most detailed and accurate vehicle history report all over the world, if you can't find what you are looking for in our vehicle history report, then you cannot find it elsewhere!
Other information you will see on our vehicle history report includes the following:
Checkout our sample VIN report below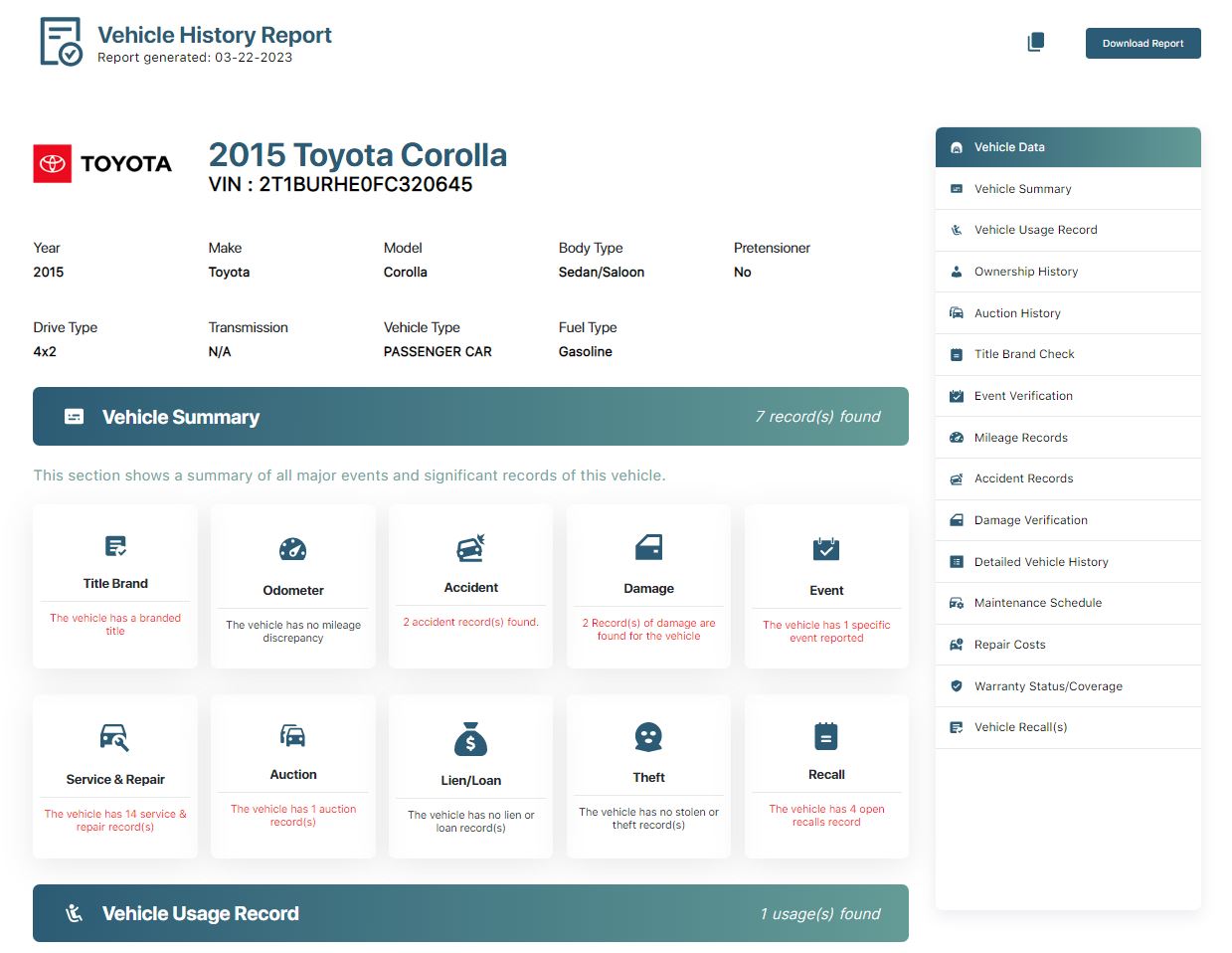 VIN: 2T1BURHE0FC320645
Style / Body: Sedan 4D
Engine: 1.8L I4 EFI
Country of Assembly: Canada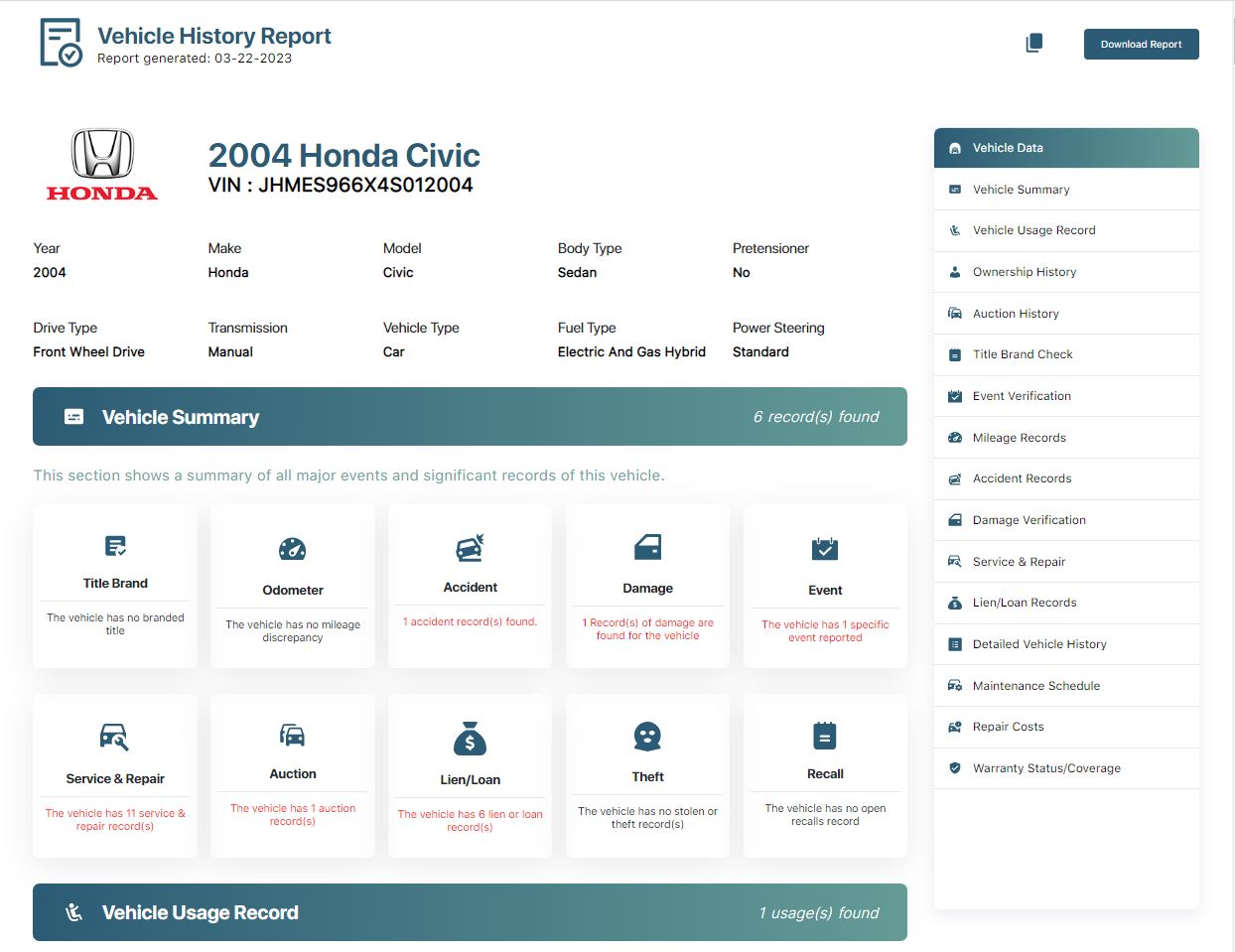 VIN: JHMES966X4S012004
Style / Body: Sedan 4D
Engine: 1.3L I4 MPI
Country of Assembly: Japan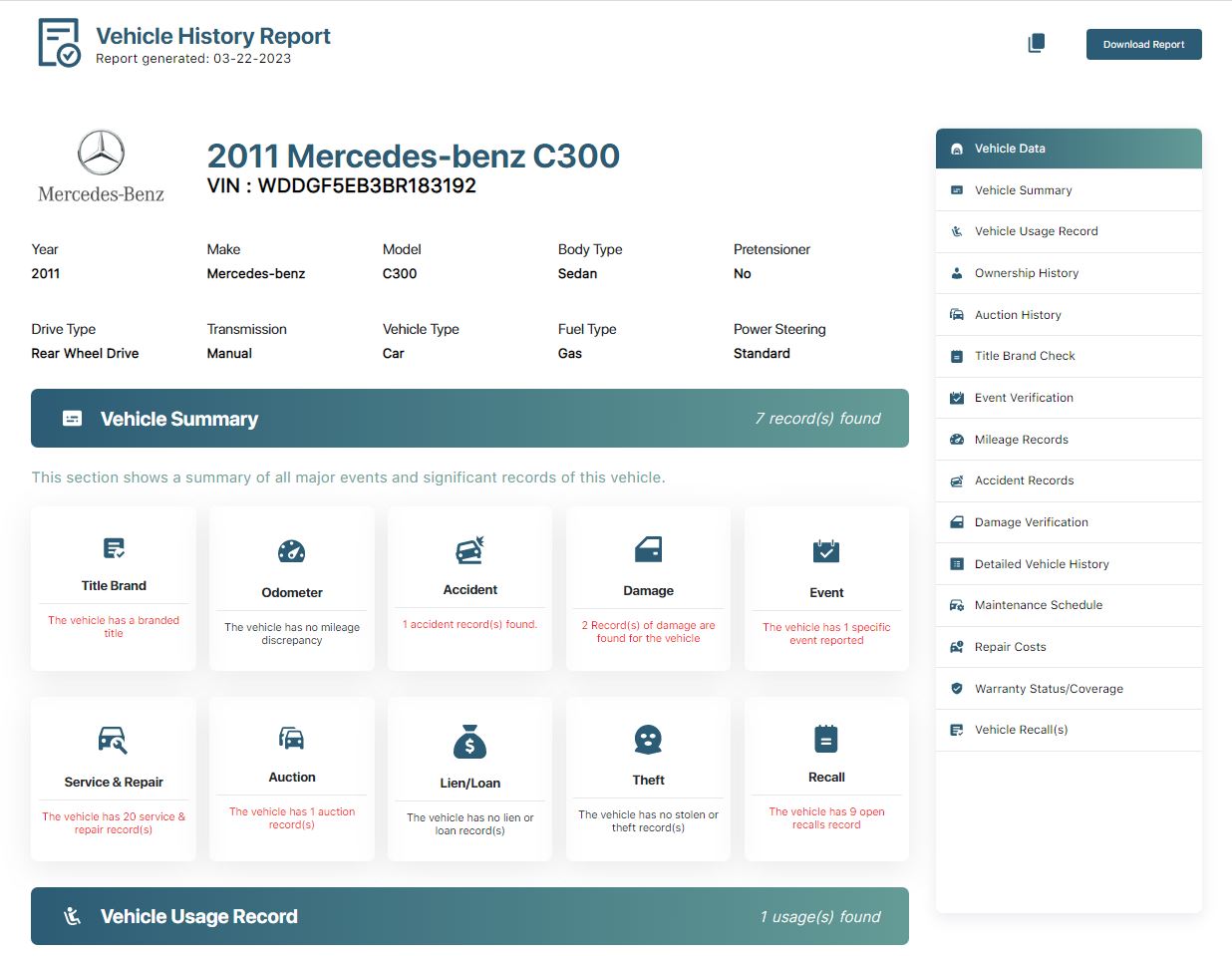 VIN: WDDGF5EB3BR183192
Style / Body: Luxury Sedan / Sedan 4D
Engine: 3.0L V6 FI / SFI
Country of Assembly: Germany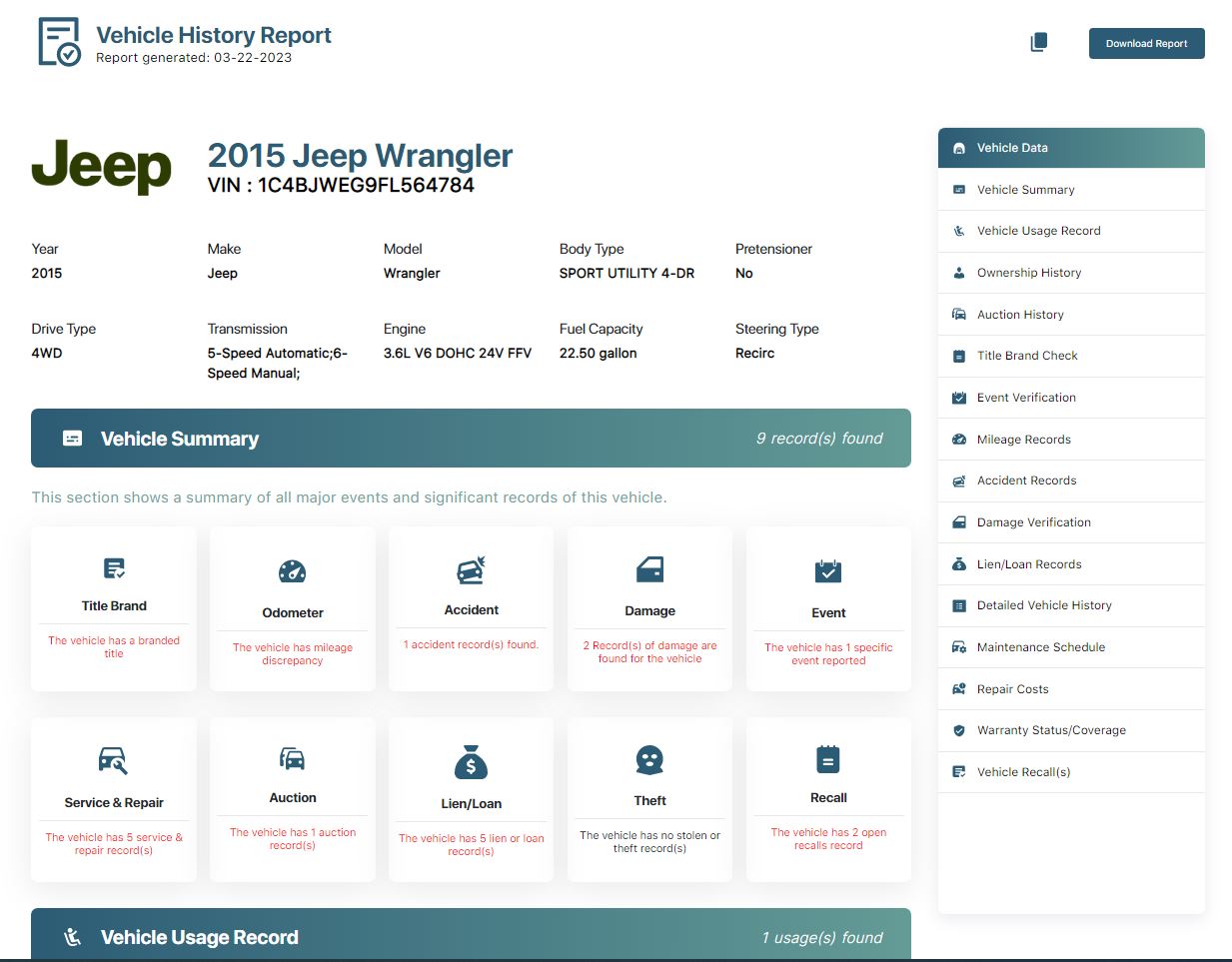 VIN: 1C4BJWEG9FL564784
Style / Body: SUV 4D
Engine: 3.6L V6 MPI
Country of Assembly: United States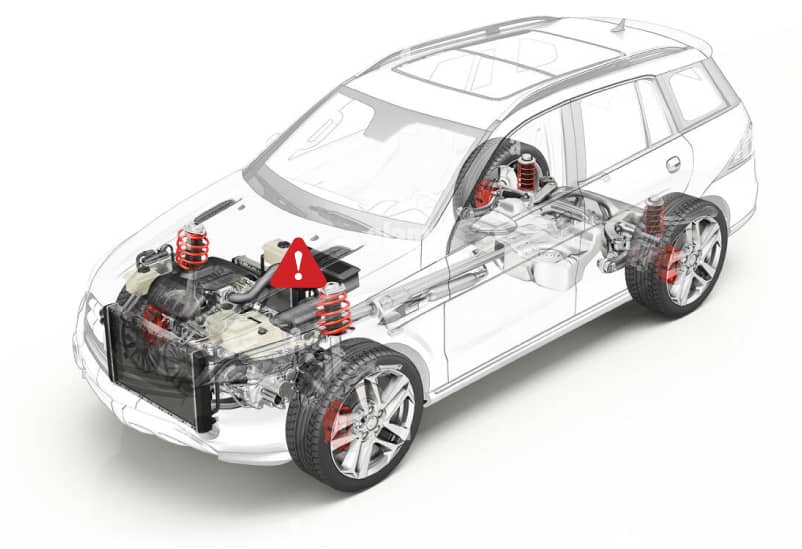 Why do you need a VIN Check?
You need a VIN check because:
A quick VIN lookup will not only give you these insights about the car but will provide you with information about the used vehicle which will help you manage the car more efficiently if you end up buying it.
Think about the problem you could get into if you should buy a stolen car. Or a car that undergoes frequent maintenance or a Car with many previous users, run a VIN check now and experience the joy of getting a good used vehicle.
VIN Check by Manufacturer
Frequently Asked Questions