Mitsubishi Window Sticker Lookup
Are you looking to buy a used Mitsubishi car or truck, but want to know more about its features and options before making a decision? Our Window Sticker tool allows you to quickly and easily access the original window sticker for any Mitsubishi vehicle. Simply enter the VIN number and we'll provide you with all the information you need to make an informed purchase. With Mitsubishi Window Sticker Lookup, you'll be able to see the car's original list price, options and packages, fuel economy ratings, and more. Start your search now and make your next car-buying experience a breeze!
How to Get the Mitsubishi Window Sticker by VIN
To get the Mitsubishi window sticker by VIN from detailedvehiclehistory.com, follow these steps:
– Go to detailedvehiclehistory.com in your web browser.
– Click on the "Window Sticker" tab in the top menu.
– Enter the VIN number of the Mitsubishi vehicle you are interested in.
– Click the "Search" button.
If the window sticker is available, it will be displayed on the screen.
– You can view and save the window sticker as a PDF or JPG file.
Information Found on a Mitsubishi Window Sticker
A Mitsubishi window sticker lookup provides detailed information about a specific vehicle, including its original list price, standard and optional equipment, fuel economy ratings, and vehicle specifications. The window sticker may also include information about any factory-installed options or packages, as well as any dealer-installed accessories or upgrades.
Other types of information that may be included on a Mitsubishi window sticker include the vehicle's paint color, interior trim, and warranty details. Overall, the window sticker serves as a comprehensive reference guide for a Mitsubishi vehicle and shows the following:
Vehicle's make and model
Trim level
Engine type
Standard and optional equipment
Fuel economy rating
Safety ratings
Vehicle's warranty coverage.
Vehicle Identification Number (VIN)
Transmission Type
Exterior and Interior Colors
MSRP (Manufacturer's Suggested Retail Price)
Emissions Ratings
Factory installed equipment
Interior and exterior features
Mechanical features, and more.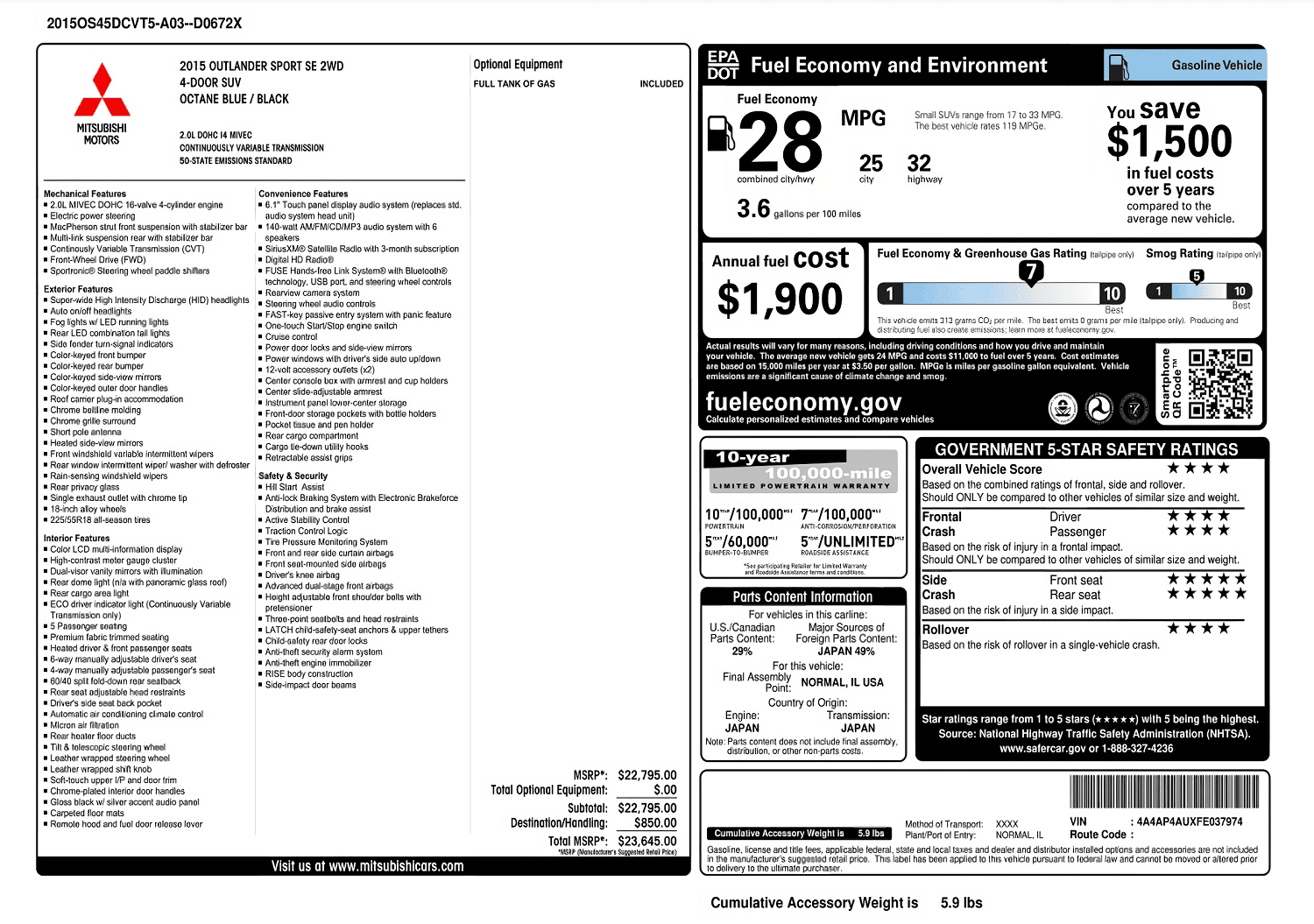 Benefits of a Mitsubishi Window Sticker Lookup
Here are some benefits of a Mitsubishi window sticker lookup, also called a Monroney sticker:
Understanding the original list price of the vehicle: The Mitsubishi window sticker includes the vehicle's base price as well as any additional options or packages that were included at the time of purchase. This can help you get a sense of the car's value and determine if you are getting a good deal.
Knowing the car's features and options: The Mitsubishi window sticker by VIN lists all of the standard and optional equipment that came with the car, so you can get a clear understanding of what you are getting.
Comparing vehicles: By looking up the Mitsubishi window sticker by VIN for multiple Mitsubishi vehicles, you can easily compare the list prices and features of each car to help you make a more informed decision.
Warranty information: The Mitsubishi window sticker from VIN lookup includes information about the vehicle's warranty, including the length of coverage and any exclusions.
Where to Find Mitsubishi VIN Number?
The Vehicle Identification Number (VIN) for a Mitsubishi vehicle can be found on the driver's side dashboard, near the bottom of the windshield. It is also located on the driver's side door jamb, near the latch. The VIN is also printed on the vehicle registration card, on the vehicle insurance policy, and on the vehicle title.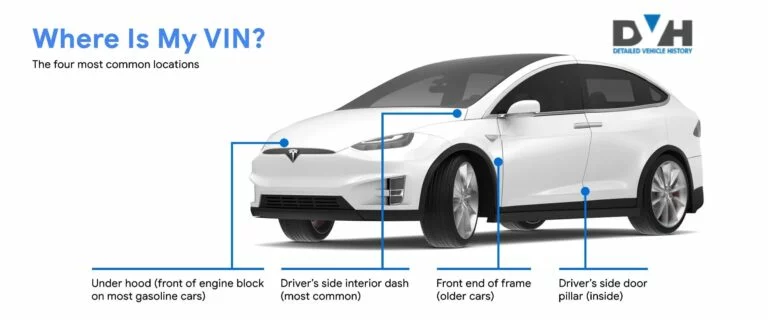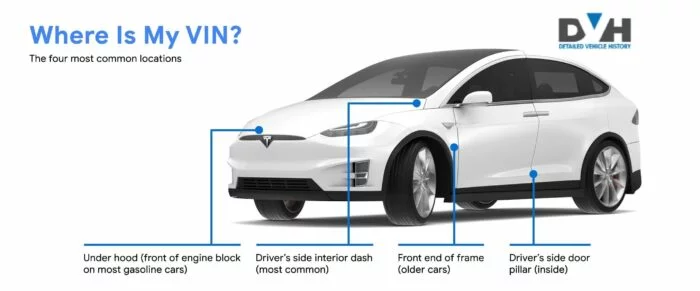 Mitsubishi Window Sticker for Car Dealer
Welcome to Mitsubishi Window Sticker from detailedvehiclehistory.com! As a car dealer, you know the importance of providing potential buyers with as much information as possible about the vehicles you have for sale. That's where our tool comes in. By simply entering the Mitsubishi VIN number, you can quickly and easily access the original Mitsubishi window sticker, which includes a wealth of information about the car's list price, standard and optional equipment, fuel economy ratings, and more.
This information can help potential buyers make an informed decision and can also give you an advantage over other dealers who may not have access to such detailed information. Try it out now and see the difference it can make for your business!
Mitsubishi is a Japanese multinational corporation that operates in a variety of industries, including automotive, aerospace, and engineering. The company was founded in 1870 by Yataro Iwasaki and is headquartered in Tokyo, Japan.
In the automotive industry, Mitsubishi is known for producing a range of passenger cars, SUVs, and trucks. Some of the company's most popular models include the Outlander, Eclipse Cross, and Lancer. Mitsubishi has a strong presence in global markets and is known for producing high-quality, reliable vehicles.
Find Window Stickers From VIN for the Top Mitsubishi Car Models
Mitsubishi Mirage: a compact hatchback
Mitsubishi Outlander: a compact SUV
Mitsubishi Outlander Sport: a subcompact SUV
Mitsubishi Eclipse Cross: a compact crossover SUV
Mitsubishi Lancer: a compact sedan
Mitsubishi Galant: a mid-size sedan (discontinued in 2012)
Mitsubishi Montero: a mid-size SUV (discontinued in 2006)
Mitsubishi Endeavor: a mid-size SUV (discontinued in 2011)
Mitsubishi Raider: a mid-size pickup truck (discontinued in 2009)
Mitsubishi Shogun: a full-size SUV (sold as the Pajero in other markets)
Frequently Asked Questions
Lookup Window Sticker by all manufacturer