Ferrari Window Sticker Lookup
Explore the Ferrari Window Sticker Lookup tool, an online tool that can be used to access key details about all Ferrari vehicles. Discover original MSRP, options and packages, engine type, and more, all in detailed window stickers for cars. How can you get a window sticker for your car? Use our window sticker lookup tool!
How to Get a Ferrari Window Sticker by VIN
You can easily get the Ferrari window sticker by VIN (vehicle identification number) and Ferrari build sheet by using our accurate window sticker lookup tool. You can use the Ferrari VIN number to find out the year, make, model, and other specifications of the car. This information can be used to approximate the Ferrari window sticker information.
You can also get in touch with your local Ferrari dealership. The dealership will have access to the original window sticker and will be able to provide you with a duplicate.
Information Found on a Ferrari Window Sticker
Vehicle's make and model
Trim level
Engine type
Standard and optional equipment
Fuel economy rating
Safety ratings
Vehicle's warranty coverage.
Vehicle Identification Number (VIN)
Transmission Type
Exterior and Interior Colors
MSRP (Manufacturer's Suggested Retail Price)
Emissions Ratings
Factory installed equipment
Interior and exterior features
Mechanical features, and more.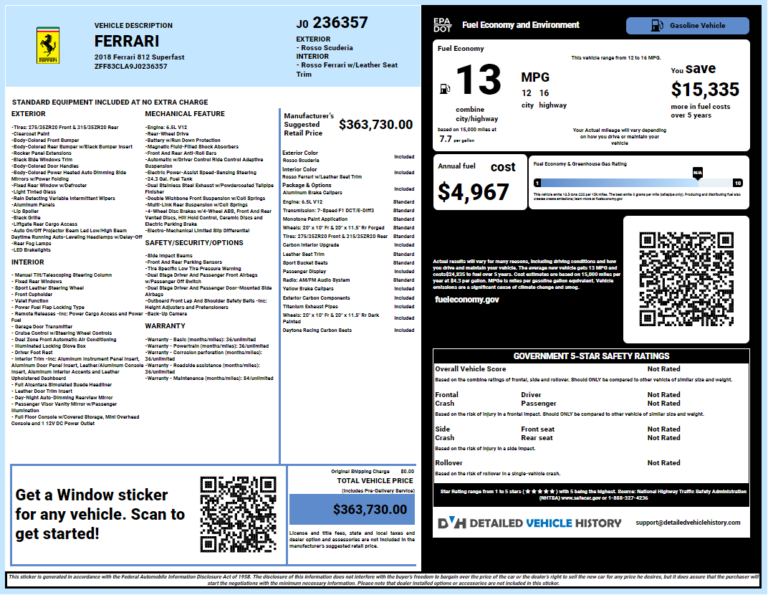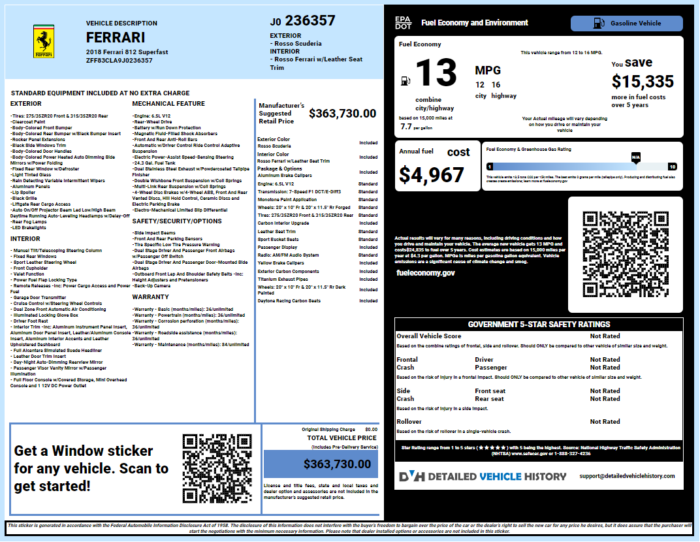 Benefits of a Ferrari Monroney Sticker Lookup
1. To determine the car's Actual value: By getting an original car sticker lookup, you can get an estimate of what a used Ferrari is worth. This can help you decide whether it is a good investment or not.
2. To negotiate a better price: Knowing the car's true value with the original window sticker by VIN or Ferrari build sheet can help you negotiate a better price when buying a used Ferrari.
3. To track down parts: The Ferrari Monroney sticker includes information about the car's make, model, and trim, which can make it easier to find parts and accessories for your Ferrari.
Where to find Ferrari VIN Number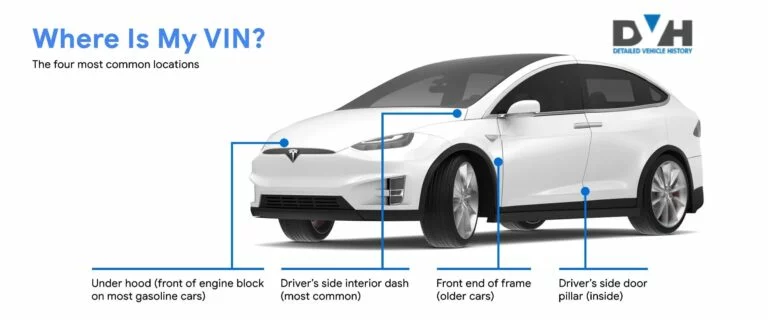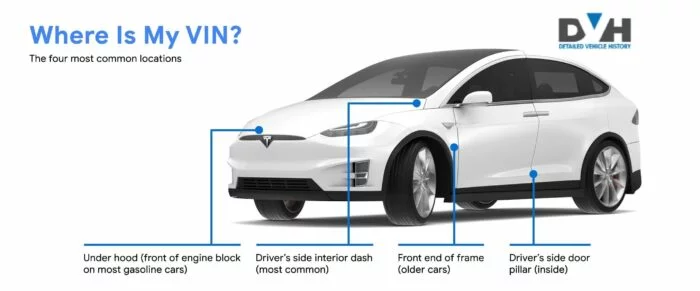 Ferrari Window Sticker for Car Dealers
Creating a sense of prestige and exclusivity: When potential buyers see a Ferrari window sticker in the window of a car, they know that the dealer cares about quality. This can help to set the dealer apart from other dealers that may not have the same commitment to quality.
Increasing visibility: The bright colors and flashy designs of Ferrari window stickers can help to draw the eye of potential buyers, giving the dealer's cars a greater chance of being noticed.
Boost Brand Loyalty: An original window sticker by VIN helps to create an image of quality and luxury that can be associated with the dealer's brand. This can help to create a sense of trust and loyalty among buyers.
Enhancing the resale value of cars: Ferrari window stickers can add a sense of prestige to a car, which can help to increase its resale value. This can be especially beneficial for dealers that focus on selling luxury cars.
Ferrari is an Italian luxury sports car manufacturer based in Maranello, Italy. Founded by Enzo Ferrari in 1939 out of Alfa Romeo's race division as Auto Avio Costruzioni, the company built its first car in 1940. However, the company's inception as an auto manufacturer is usually recognized in 1947, when the first Ferrari-badged car was completed.
Throughout its history, Ferrari has been known for its participation in motorsports, particularly in Formula 1, where it has had great success. Ferrari road cars are generally seen as a symbol of speed, luxury and wealth. The company has had a long history of licensing its brand, including production of branded watches, eyewear, perfume, cologne, and other luxury goods.
Ferrari vehicles are generally seen as some of the most desirable sports cars in the world and are known for their high performance and distinctive design. Some of the most famous Ferrari models include the 250 GTO, the F40, the Enzo, and the LaFerrari. The company is also known for its powerful and highly prized V12 engines. Get a Ferrari build sheet today and get accurate VIN information, features, options, packages etc.
LaFerrari
Ferrari 458
Ferrari 488 GTB
Ferrari California
Ferrari 599 GTB Fiorano
Ferrari F12 Berlinetta
Ferrari FF
Ferrari 430 Scuderia
Ferrari Portofino
Ferrari 812 Superfast
Ferrari GTC4Lusso
Ferrari 488 Pista
Ferrari F8 Tributo
Ferrari Roma
Frequently Asked Questions
Lookup Window Sticker by all manufacturer