Cadillac Window Sticker Lookup
Welcome to our Cadillac Window Sticker Lookup service! Are you interested in purchasing a used Cadillac but need to know its entire history and options? Our service allows you to quickly look up the original window sticker for any Cadillac vehicle. Simply enter the VIN number and we'll provide you with all the information you need to make an informed decision on your purchase. Our comprehensive report includes options, packages, and the original MSRP of the vehicle. Don't make a costly mistake, use our Cadillac Window Sticker Lookup by VIN service today.
How to Get the Cadillac Window Sticker by VIN?
To obtain the Cadillac window sticker by VIN, please simply visit our website and navigate to the "Window Sticker Page." Enter the VIN number in the form. We will generate an accurate window sticker for your Cadillac car in seconds. 
What Details Can be Found in an Original Window Sticker of a Cadillac Car? 
All new vehicles sold by dealers in the United States must have a Window Sticker displayed on them. A Window Sticker is a label that shows the following information about the vehicle:
‒ VIN description 
‒ Interior and exterior color
‒ Factory-installed standard equipment
‒ Optional equipment and packages
‒ EPA Fuel economy 
‒ Greenhouse score and smog ratings
‒ Safety ratings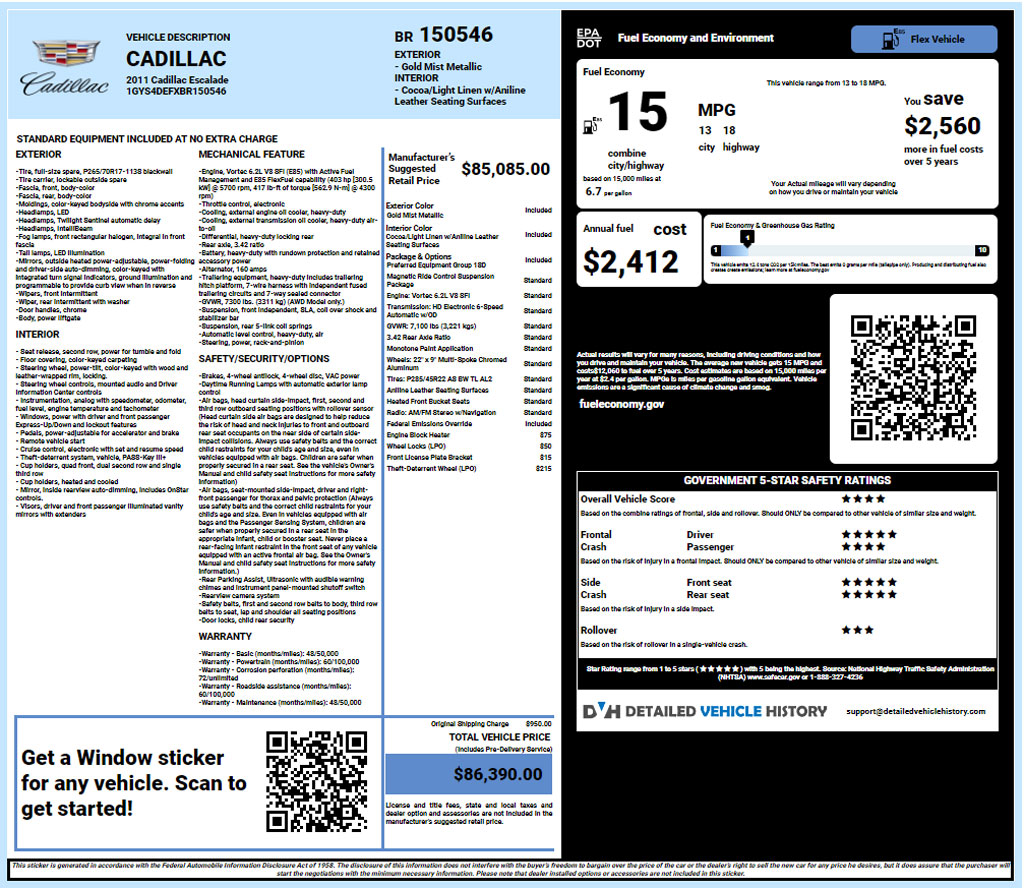 Benefits of a Cadillac Monroney Label Lookup Tool
The Cadillac window label lookup by VIN offers several advantages for used car buyers, owners, and dealerships:
Used car buyers: The window sticker provides valuable insights into the vehicle's features, options, and original MSRP. This information aids buyers in making informed purchase decisions and negotiating fair prices.
Used car owners: Having the window sticker is beneficial for owners who want a complete history of their vehicle, including its original features and options.
Dealerships: Dealerships can utilize the window sticker to precisely present the vehicle's features and pricing to potential buyers. It's also a valuable reference when appraising trade-in vehicles.
Where to Find Cadillac VIN Number for Vehicle?
The Cadillac VIN number can be found on the dashboard of the car, on the driver's side. It is also printed on the registration or title. It is a 17-digit code that includes numbers and letters and can also be found on insurance cards and auto repair invoices.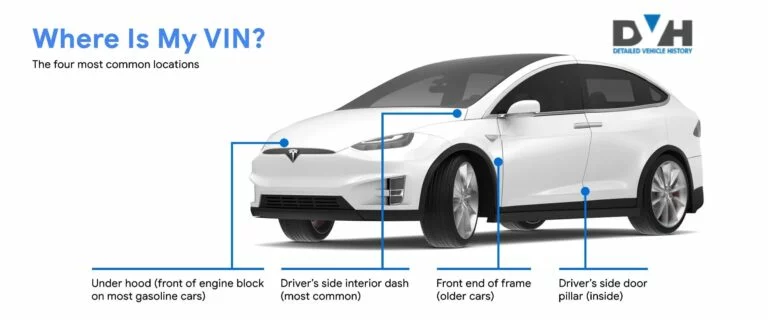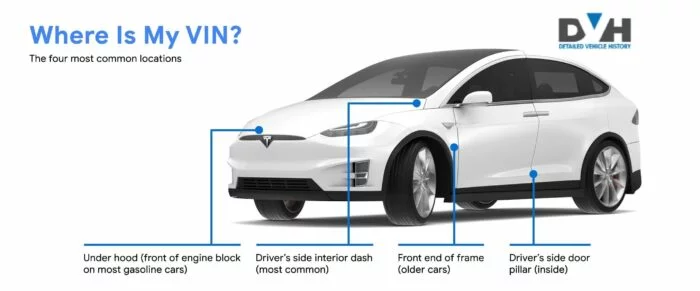 Cadillac Window Sticker for Auto Dealership
Are you looking to accurately represent the features and pricing of the vehicles in your inventory to potential buyers? Our cadillac vin number lookup window sticker service allows you to easily look up  vehicle stickers.
Our comprehensive report includes all the information listed on the original window sticker, including options, packages, and the original MSRP. This can be a useful reference for appraising trade-in vehicles and for setting fair prices for your inventory. 
Cadillac, Headquartered in Detroit, Michigan, is a distinguished luxury vehicle brand. Established in 1902 by Henry Leland, it's now a division of General Motors (GM). It is renowned for producing top-tier sedans, SUVs, and coupes, and is known for its technologically advanced and stylish vehicles.
The brand boasts a legacy of innovation, introducing numerous industry firsts, including the first V8 engine, electronic ignition system, and mass-produced car with airbags. Today, it remains a frontrunner in the luxury vehicle market, acclaimed for performance, comfort, and design.
Find Window Stickers Report for the Following Cadillac Vehicle Models
Cadillac Escalade – full-size luxury SUV
Cadillac CT4 – compact luxury sedan
Cadillac CT5 – mid-size luxury sedan
Cadillac CT6 – full-size luxury sedan
Cadillac XT4 – compact luxury crossover SUV
Cadillac XT5 – mid-size luxury crossover SUV
Cadillac XT6 – full-size luxury crossover SUV
Cadillac ATS – compact luxury sedan (discontinued in 2019)
Cadillac CTS – mid-size luxury sedan (discontinued in 2019)
Cadillac XTS – full-size luxury sedan (discontinued in 2019)
Frequently Asked Questions
Lookup Window Sticker by all manufacturer