Land-Rover Window Sticker Lookup
Are you looking for all the specifications of your Land Rover? Look no further than our Land Rover Window Sticker Lookup! Get the exact details of your Land Rover's original window sticker and get to know your vehicle in depth. Our Lookup service is simple and fast, taking only a few minutes of your time. Enjoy the convenience and accuracy of our Lookup and make sure you get the exact details of your Land Rover!
How to Get the Original Land Rover Window Sticker by VIN?
To get a copy of the Land Rover window sticker by VIN is straightforward. First, you'll need the VIN for the Land-Rover vehicle. The VIN can be found on the driver's side door jamb, the dashboard, or on the vehicle registration documents.
Once you have the VIN, you can visit our window sticker tool and enter the VIN into the appropriate field. Afterward, the window sticker for your Land-Rover vehicle will generate in a matter of minutes. You can then print the window sticker and apply it to your vehicle.
What Information Can be Found on a Land-Rover Window Sticker?
A Land-Rover window sticker typically includes important information about the vehicle, including the year, make, and model of the vehicle, the engine size, the type of transmission, the type of drivetrain, the color of the exterior and interior, the trim level, the MSRP (manufacturer's suggested retail price), and any optional features.
It may also include information about the vehicle's safety features, such as the number of airbags, anti-lock brakes, traction control systems, and governmental safety ratings. The window sticker also includes the VIN (vehicle identification number) and details about the vehicle's emissions and fuel efficiency ratings.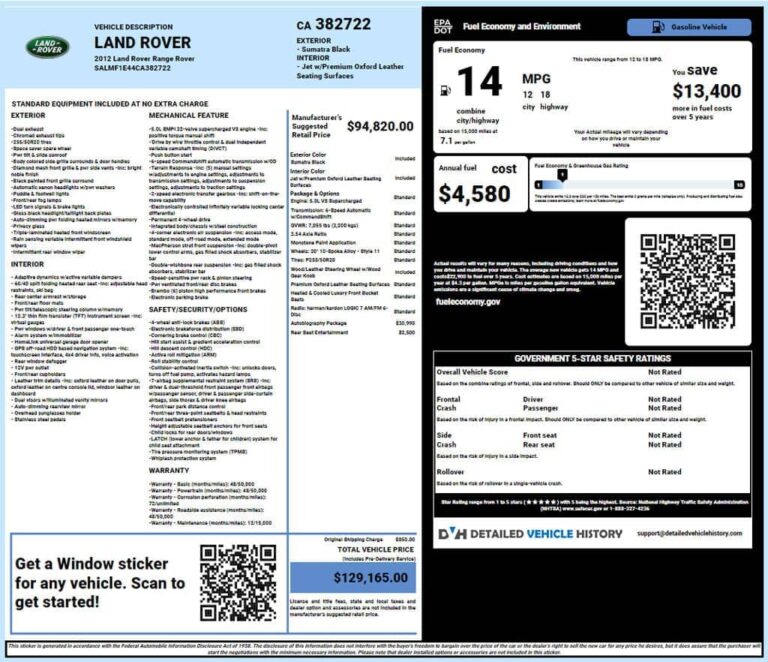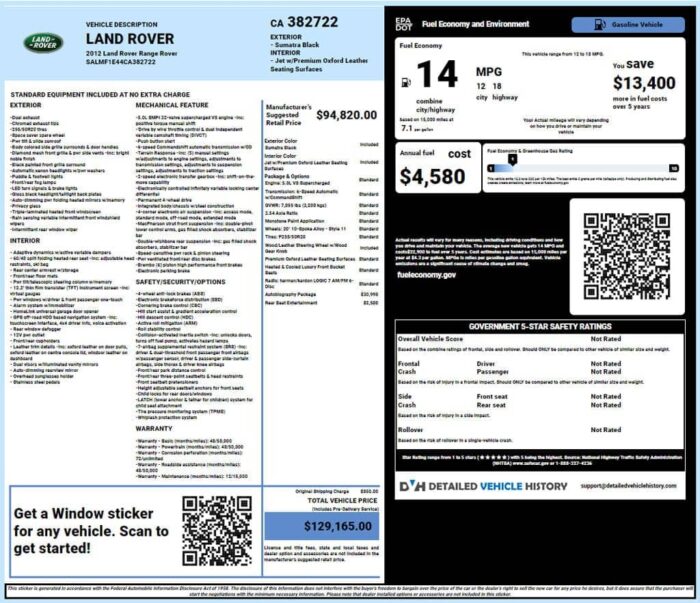 Benefits of a Land-Rover Monroney Sticker Lookup
A Land-Rover Monroney Sticker Lookup can be a great tool for anyone looking to purchase a new or used Land-Rover. This lookup can provide potential buyers with detailed information on the vehicle they are interested in, including the manufacturer's suggested retail price, estimated fuel economy, and key features.
Additionally, buyers can view any warranties that may be included with the purchase. By having access to this information, buyers can make a conscious decision on which vehicle to buy and determine if the price is fair.
Where to Find a Land-Rover VIN Number?
The VIN of a Land Rover can be found on the dashboard of the vehicle, usually located on the driver's side. The VIN is also printed on the vehicle's title, registration card, and insurance documents. If you cannot locate the VIN on the vehicle, contact your local Land Rover dealer for assistance.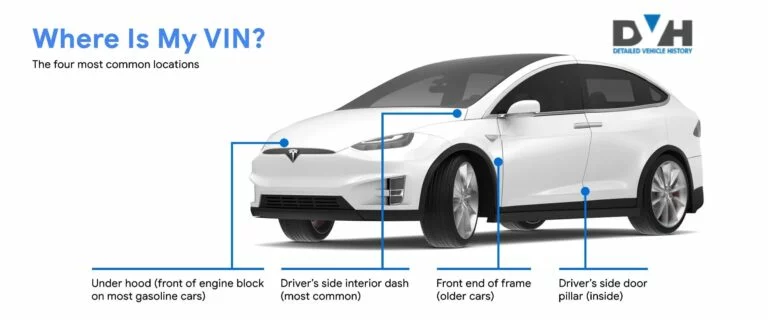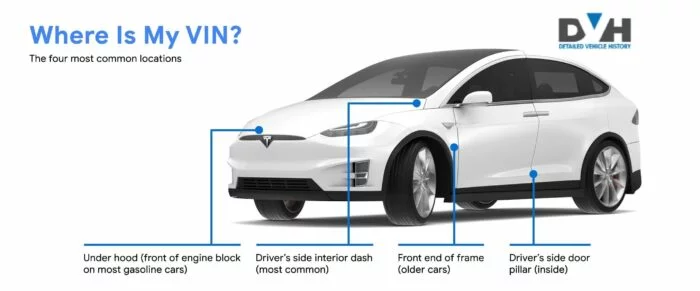 Land-Rover Window Sticker for Car Dealers
Land Rover window stickers are a great way for car dealers to grow their business. By placing them on the windows of the vehicles they are selling, they can increase their visibility to potential buyers and create a memorable, professional look. The stickers include the Land Rover logo and other information that can help draw attention to the dealership and their vehicles.
They also provide a way to provide information about the dealership and their services, such as financing and other offers. By adding stickers to the windows of the vehicles they are selling, car dealers can provide an easy way for customers to learn more about their business and make it easier for them to make a purchase.
Land Rover window sticker is also known as the Land Rover's Monroney label. The
Land Rover window sticker can be obtained through a Land Rover window sticker by VIN check obtainable here on this page
This is also applicable to Range Rover window sticker, this simply means that you can also carry out a Range Rover window sticker lookup.
on this website. to facilitate the location of this tool, internet users have employed a wide range of terminologies which includes:
"Land Rover VIN decoder build sheet", "Range Rover window sticker lookup", Land Rover window sticker lookup, and more just to list a a few.
It is also possible to download the land Rover Window sticker PDF after running land rover window sticker by VIN check. Land Rover Sticker prices are also displayed here.
Land-Rover is a British automotive manufacturer that specializes in four-wheel drive vehicles. Founded in 1948 by Rover Company, Land Rover has been producing off-road vehicles for over 70 years. Land Rover produces a wide range of vehicles, from luxury SUVs and crossovers to commercial 4x4s and military vehicles. Their vehicles are known for their rugged durability, excellent off-road capability, and luxurious interiors.
Land Rover vehicles are sold in over 170 countries around the world, with a large presence in the United States and Europe. The company is owned by the Indian conglomerate Tata Motors and has a market capitalization of over $25 billion.
Find Window Stickers for the Following Land-Rover Models
Range Rover
Range Rover Sport
Range Rover Velar
Range Rover Evoque
Discovery
Discovery Sport
Defender
New Defender 110
New Defender 90
Frequently Asked Questions
Lookup Window Sticker by all manufacturer