Lincoln Window Sticker Lookup
Lincoln Window Sticker Lookup is an online tool that allows users to find detailed information about the original window sticker for their specific Lincoln vehicle. It provides information such as the MSRP, standard and optional features, vehicle production date, and more.
How to Get a Lincoln Window Sticker by VIN
1. Visit the Detailed Vehicle History website.
2. Go to the "Product Section", select "Window Sticker". Select the Lincoln Window sticker. Enter the Lincoln VIN and other information (email address and phone number ) in the space provided.
3. Click on "Get Access Now."
4. Enter your payment information to purchase the window sticker.
Types of information on a Lincoln Window Sticker
1. Manufacturer's Suggested Retail Price (MSRP)
2. Vehicle Identification Number (VIN)
3. Fuel Economy Ratings (MPG)
4. Engine Specifications
5. Standard Equipment
6. Optional Equipment
7. Safety Ratings
8. Warranty Information
9. Emissions Ratings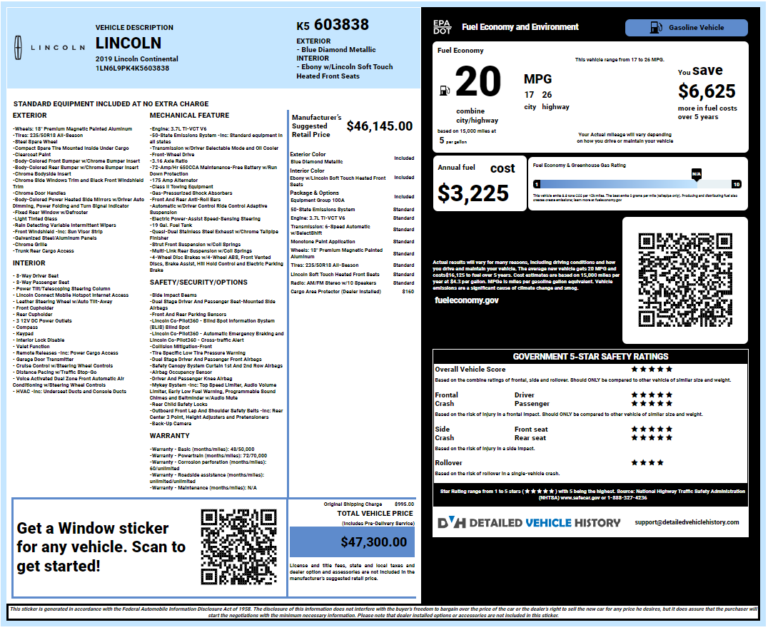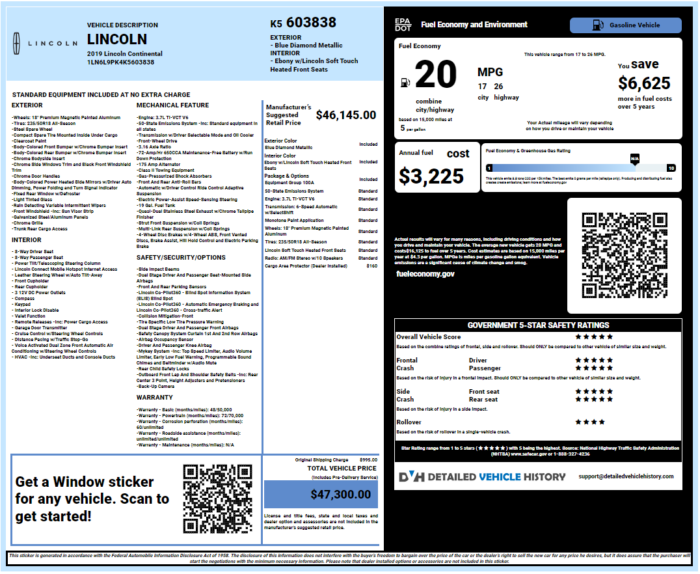 Benefits of a Lincoln Monroney Sticker Lookup
1. Helps you compare vehicles: By researching the Lincoln Monroney sticker for different vehicles, you can compare features, options and estimated fuel economy. This can help you make an informed decision when shopping for a used or certified pre-owned vehicle.
2. Tells you how much the vehicle originally cost: The Lincoln Monroney sticker also includes the vehicle's original sticker price. This can be helpful in determining the vehicle's true value and how much you should expect to pay for it.
3. Reveals the vehicle's safety features: The Lincoln Monroney sticker includes detailed information about the vehicle's safety features, such as airbags, anti-lock braking systems and other safety technologies. This information can be helpful in assessing the vehicle's safety ratings.
4. Shows manufacturer warranties: The Lincoln Monroney sticker also includes information on the vehicle's warranty coverage, including any extended warranties offered by the manufacturer. This can be helpful in determining the vehicle's resale value and your repair costs.
Where to find Lincoln VIN Number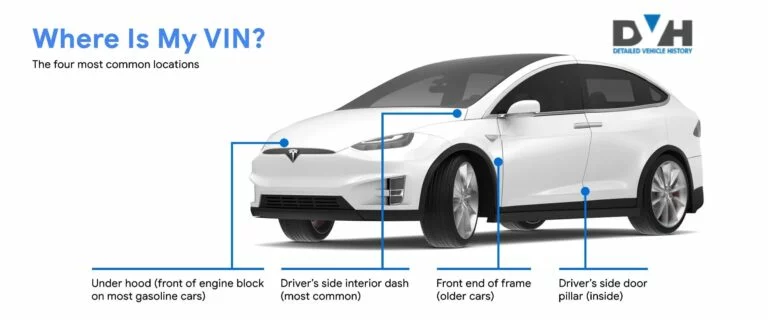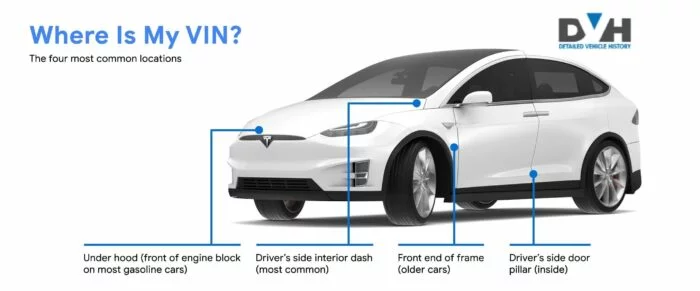 Lincoln Window Sticker for Car Dealers
1. Increased visibility: The Lincoln window sticker provides car dealers with a powerful brand presence, helping to promote the dealership's location and services.
2. Improved customer service: The Lincoln window sticker displays all important information about the vehicle, such as engine size, fuel economy, and safety features, which can help customers make informed decisions about their purchase.
3. Increased sales: The Lincoln window sticker encourages customers to contact the dealership for more information, increasing the chances of a sale.
4. Increased brand loyalty: The Lincoln window sticker serves as a reminder of the dealership's brand and can help to encourage repeat business.
Lincoln is a luxury vehicle brand of the Ford Motor Company. It was founded in 1917 by Henry Leland and is named after the 16th President of the United States, Abraham Lincoln. The brand is known for its high-end sedans, crossovers, and SUVs. It has a long history of providing luxury features and innovative technology to its vehicles. Lincoln vehicles are known for their elegant design, superior craftsmanship, and luxurious interiors. Lincoln vehicles are equipped with a wide range of standard and optional features, such as power-adjustable leather seats, climate control, and an advanced infotainment system. Lincoln also offers a range of driver assist systems, such as active park assist and adaptive cruise control. Lincoln vehicles come with a variety of powertrains, including the powerful EcoBoost engine, as well as hybrid and plug-in hybrid options.
Lincoln Vehicle models list
Lincoln Aviator
Lincoln Corsair
Lincoln Continental
Lincoln MKC
Lincoln MKT
Lincoln MKX
Lincoln MKZ
Lincoln Nautilus
Lincoln Navigator
Lincoln Town Car
Frequently Asked Questions
Lookup Window Sticker by all manufacturer