Ford Window Sticker Lookup
Are you looking for a reliable and easy way to find the window sticker for your Ford vehicle? Look no further than our Ford Window Sticker Lookup tool! Our Ford Window Sticker Lookup by VIN is the ultimate tool for finding the window sticker for any Ford vehicle. With our easy-to-use search tool, you can quickly and easily find the window sticker for your Ford vehicle. All you need is the VIN number of your vehicle and you can get the window sticker in no time.
How to Get the Ford Window Sticker by VIN?
To get a copy of the original Ford window sticker from VIN, kindly visit the Detailed Vehicle History website and navigate to the Ford Window Sticker Lookup Page. Here you will find a form prompting you to enter the Ford VIN number into our VIN finder to research and get Ford window stickers. Additionally, provide your email address to receive the window sticker. Click on the "get access now" button to access the information. You can also print the original window sticker obtained, as we offer print-friendly stickers which can also be downloaded as a PDF file.
What Information Can be Obtained by looking up a Ford Window Sticker by VIN
A Ford window sticker, also known as a Ford Monroney label, typically includes a wide range of information about the vehicle. This can include:
The manufacturer's suggested retail price (MSRP)
The base price of the vehicle
The destination charge
Any options or packages added to the vehicle and their prices
standard features and equipment
Fuel economy ratings
Technical specifications such as engine size, horsepower, torque and transmission
Safety and emission ratings
Warranty and maintenance information
Country of origin
 
Also, it lists the vehicle identification number of the vehicle.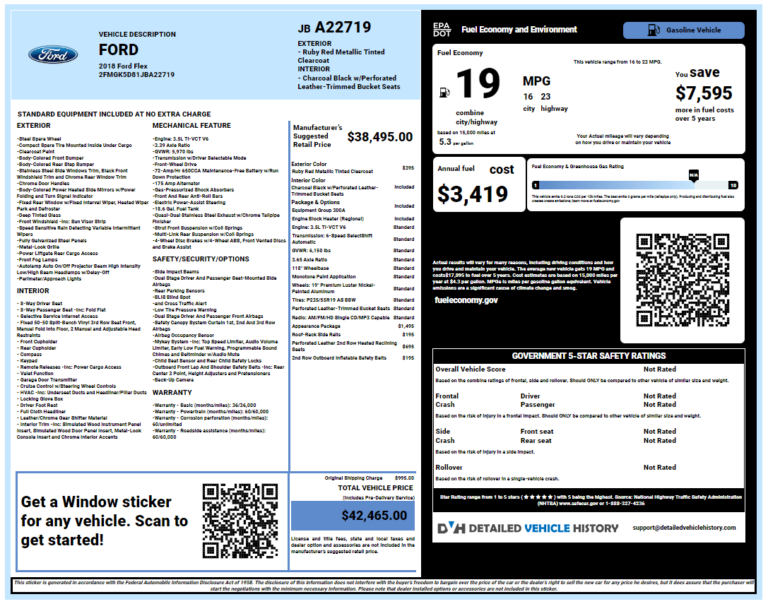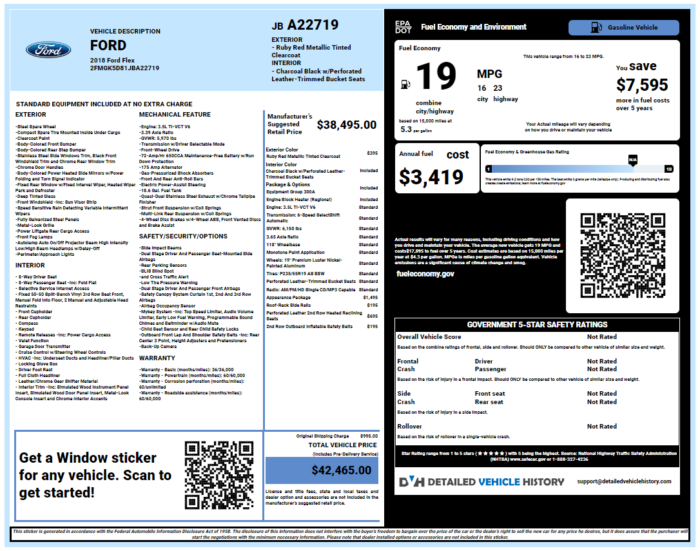 Benefits of a Ford Window Sticker Lookup by VIN
A Ford Window sticker lookup can provide several benefits to consumers, including:
Transparency: A window sticker can provide a clear and detailed breakdown of the options, features, and prices of a vehicle. This can help consumers make more informed decisions when buying a new or used Ford.
Price Comparison: By looking up the window sticker of a specific Ford vehicle, consumers can compare the price and options of that vehicle to similar models and trim levels. This can help them determine if they are getting a fair price.
Vehicle History: By providing the VIN number, A Ford Monroney sticker can be helpful in determining the original factory options, packages, and MSRP when buying a used car. It can help buyers identify if the vehicle has been modified or tampered with after it left the factory.
Warranty and maintenance: The window sticker will also provide information on the warranty, maintenance, and service agreements provided by the manufacturer
Emission and Safety ratings: the sticker also provides information on the vehicle's safety rating and emissions rating, which can be helpful in determining the vehicle's overall environmental impact.
Where to Find Ford VIN Number?
The Ford VIN number can be found in a few different locations. The most common locations are on the driver's side dashboard, inside the driver's side door jamb, and on the engine block near the oil filter. You may also find the Ford VIN number on your vehicle title, insurance card, or registration.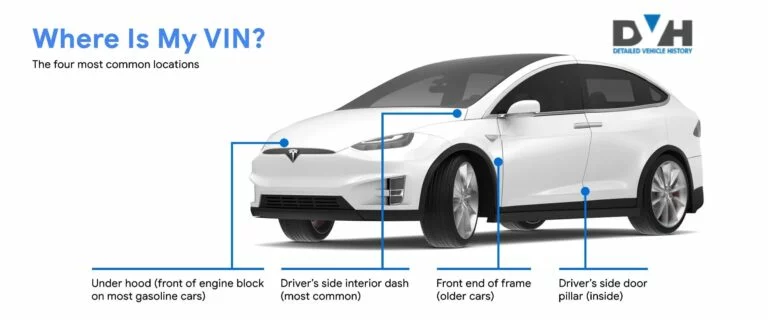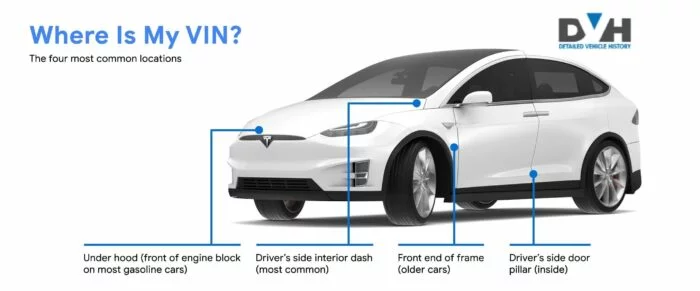 Ford Window Sticker Lookup for Car Dealer
Introducing the Ford Window Sticker by VIN service, now available for all Ford car dealerships! With this, you can easily create professional-grade window stickers for any Ford vehicle. Each Window sticker includes all the important information potential buyers need to know, including the vehicle's make, model, trim level, options, and MSRP.
The Ford stickers are easy to use and come in a convenient, pre-formatted template that you can customize with your dealership's branding and contact information. This service will help streamline the process of creating window stickers for your inventory, and ensure that your customers have the information they need to make an informed purchase. Start using the Ford Window Sticker lookup service today and give your dealership the needed edge!
Ford Motor Company, commonly known as Ford, is an American multinational automaker that was founded by Henry Ford in 1903. Headquartered in Dearborn, Michigan, Ford designs, manufactures, markets, and services a wide range of cars, trucks, SUVs, electric vehicles, and luxury vehicles, as well as commercial vehicles under the Ford brand, and most luxury cars under the Lincoln brand.
Ford is one of the largest and oldest companies in the automobile industry and has been in business for over 100 years. Ford is also known for its role in the development of assembly line techniques, which revolutionized the automobile industry and enabled Ford to produce cars at a rate and price that was affordable for the average consumer. Ford operates manufacturing facilities in various countries around the world and is one of the largest global automakers.
Find Window Stickers for the Following Ford Vehicle Models
EcoSport
Edge
Escape
Expedition
Explorer
F-150
Fiesta
Flex
Focus
Fusion
Mustang
Ranger
Super Duty
Taurus
Transit
Aerostar
Aspire
Bronco
Contour
Crown Victoria
E-Series
Escort
Excursion
Festiva
Five Hundred
Freestar
Freestyle
GT
LTD Crown Victoria
Mustang II
Probe
Puma
Taurus X
Thunderbird
Windstar
Frequently Asked Questions
Lookup Window Sticker by all manufacturer