Buick Window Sticker Lookup
Are you in the market for a new or used Buick? Look no further than the Buick Window Sticker Lookup. With just a few clicks you can instantly access the original window sticker for any Buick model. Get all the details you need to make an educated decision about your next car purchase, including original MSRP, standard and optional features, vehicle specifications, and more. It's the easiest way to get the information you need, so don't hesitate – Get your Buick Window Sticker by VIN today!
How to Get the Original Buick Window Sticker by VIN
To get a Buick Monroney label by VIN, you will need to use our detailed window sticker lookup tool. With this tool, you can access the original window sticker from the vehicle's VIN.  The Window Sticker can also be gotten from the dealership where the vehicle was originally purchased. If the dealership cannot provide you with the original window sticker, they may be able to provide you with a copy.
You can also purchase an original reproduction of the window sticker from us with our Buick VIN Decoder.
Simply visit our website and navigate to the "Window Sticker Page". Here you need to use your vehicle's VIN number and your email address to get the Buick window sticker by VIN and even Buick build sheet by VIN.
Information Found on a Buick Window Sticker
A Buick window sticker contains a wealth of information about the car, especially for those shopping for used cars. It includes the MSRP (Manufacturer's Suggested Retail Price) of the vehicle, its optional packages and features, fuel economy, engine specs, and National Highway Traffic Safety Administration safety ratings. It also has the vehicle identification number (VIN) as well as the date and place of manufacture. You can also access the year, make, and model of the Buick vehicle.
It also contains the total price of the car, including destination and handling fees, taxes, registration fees, and other applicable charges. All of these details are important for consumers when researching and comparing cars.
In summary, here are the details you can find:
Vehicle's make and model
Trim level
Engine type
Standard and optional equipment
Fuel economy rating
Safety ratings
Vehicle's warranty coverage.
Vehicle Identification Number (VIN)
Transmission Type
Exterior and Interior Colors
MSRP (Manufacturer's Suggested Retail Price)
Emissions Ratings
Factory installed equipment
Interior and exterior features
Mechanical features, and more.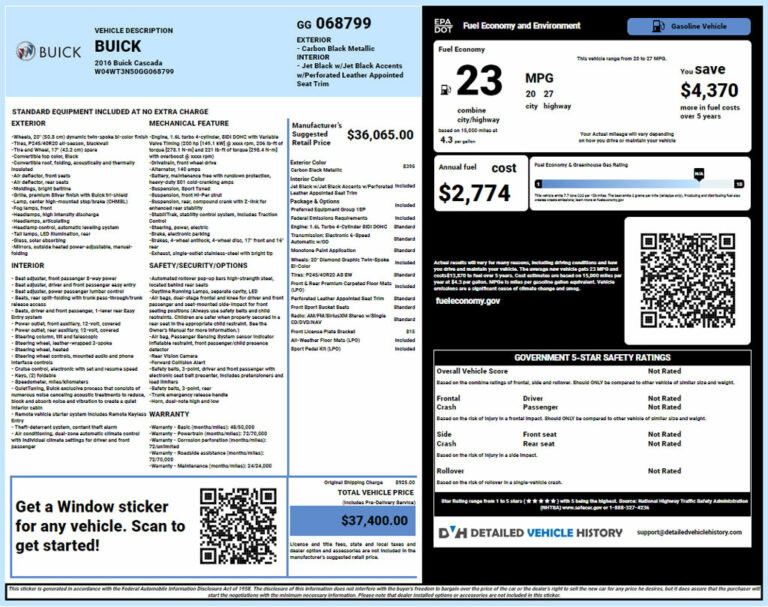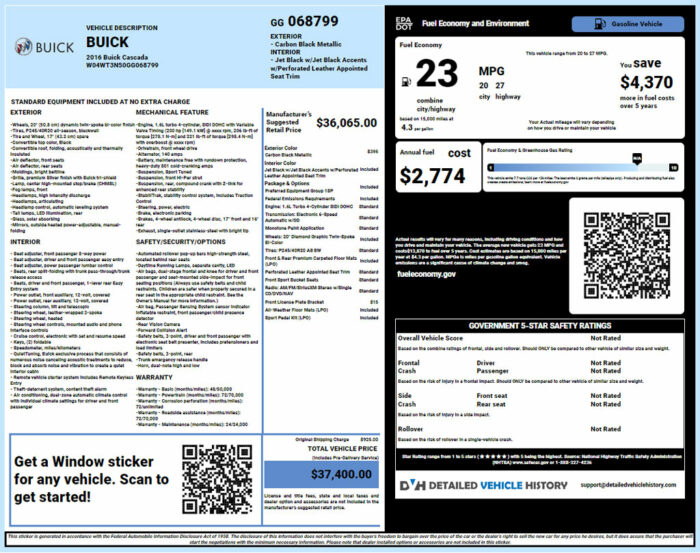 Benefits of a Buick Monroney Sticker Lookup
A Buick Monroney Sticker Lookup can be an invaluable tool for any car buyer. This Buick VIN Decoder allows consumers to check pricing information on any new Buick model. It gives an easy-to-read breakdown of the cost of the car based on the model, trim level, options, and destination fees. It also provides information on equipment, fuel economy, vehicle's safety ratings, and other specifications.
Having this information available before making a purchase can help buyers make an informed decision and potentially save money. The Buick Window Sticker Lookup is a great way for car buyers to make sure they find the best deal possible. For more information on any vehicle you are interested in, you can get a detailed vehicle history report.
Where to Find Buick VIN Number?
The Buick VIN number can be found on a metal plate located on the driver's side of the dashboard. It is visible from the exterior of the vehicle. It can also be found on the driver's door jamb or on the engine of the vehicle. The VIN number is also printed on the vehicle title, registration, and insurance documents.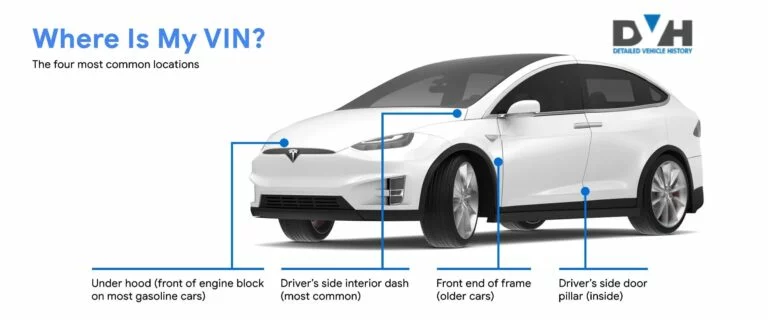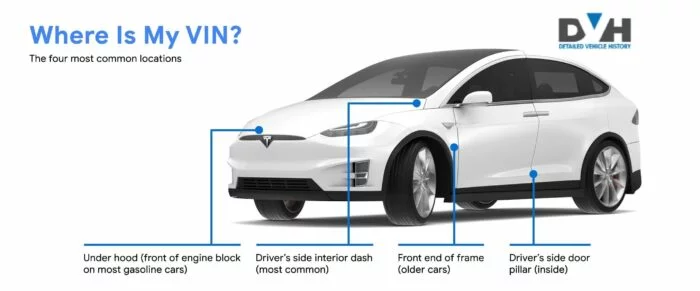 Buick Window Sticker Search for Car Dealers
Buick window stickers are an important part of car dealers' business. They are used to inform potential customers of the features and options available on the car they are looking at. The car window sticker, displayed on the window of the vehicle, can also be used as a marketing tool to show off the features of the car, such as fuel economy, safety ratings, and other features that make the car appealing. Original dealers use window stickers to attract customers and promote sales.
With a Buick window sticker lookup and window stickers with all of the available features, a car dealer can demonstrate the value of a car and encourage the customer to purchase it.
Additionally, the Buick window sticker lookup can provide a way for a car dealer to keep track of inventory and ensure that the cars on their lot are up-to-date and in working condition.
Buick is an American automobile manufacturer established in 1903. It is one of the oldest automobile brands in the United States and is currently owned by General Motors. Buick has always focused on luxury vehicles, and its current lineup includes sedans, SUVs, and crossovers. In terms of market cap, General Motors (which owns Buick) is currently valued at over $50 billion.
Buick has been successful in the luxury car market, with a focus on providing comfort and convenience features while achieving a NHTSA 5-star safety rating. Over the years, Buick has shifted its focus to appeal to a younger market, introducing standard features such as advanced infotainment systems and improved fuel economy.
Find Window Stickers Report for the Top Buick Vehicle Models
Buick Encore
Buick Envision
Buick Enclave
Buick Regal
Buick LaCrosse
Buick Cascada
Buick Verano
Buick Regal TourX
Buick Park Avenue
Buick LeSabre
Frequently Asked Questions
Lookup Window Sticker by all manufacturer