Acura Window Sticker Lookup
Are you looking for an easy and reliable way to look up Acura window stickers? Look no further than our Window Sticker Lookup tool! With our comprehensive window sticker by VIN service, you can quickly and easily find the information you need to make an informed decision about your Acura vehicle.
Our database includes detailed information about the vehicle's standard and optional features, as well as its MSRP and fuel economy ratings. Get all the information you need with just a few clicks of a button! Try our window sticker lookup by VIN today and get the information you need to make an informed car purchase.
How to Get the Original Acura Window Sticker by VIN
Getting the
window sticker by VIN
is a simple process. First, you will need to obtain the VIN for the Acura you're looking for. Once you have the VIN, follow these steps:
– Navigate to the window sticker lookup tool.

– Enter the 17-digit VIN number.

– If your VIN is less than 17 digits, you can use our

classic car build sheet

tool.

– Fill out the provided form.

– Make the necessary payment.

– Review and retrieve your detailed car sticker.
You can also contact your local Acura dealership and provide them with the VIN number. They should be able to print out a copy of the window sticker for you. Our tool however is one of the most affordable online and has helped many to access and download the
printable window sticker PDF
. 
If you are on this page you are just a few clicks away from using the service ultimately acquiring the accurate vehicle sticker for any car.
What's Included on an OEM reproduction Acura Window Sticker?
An automobile sticker is a useful tool that enriches users with important information about your vehicle. It includes the vehicle's year, make, model, style and trim level, as well as the standard and optional equipment included in the vehicle. It also includes information about the vehicle's safety and emissions ratings, as well as its fuel economy ratings.
It also features a comprehensive list of the vehicle's standard and optional features, including the manufacturer's suggested retail price and the vehicle's destination charge, as well as the total price the buyer pays. Here is a list of what you can find:
– Vehicle Identification Number (VIN)
– Make and Model
– Engine Size
– Transmission Type
– Factory installed equipment
– Interior and exterior features
– Mechanical features
– Exterior and Interior Colors
– MSRP (Manufacturer's  Suggested Retail Price)
– Shipping costs
– Standard Equipment
– Optional Equipment/packages
– Fuel Economy Ratings
– Warranty Information
– Emissions Ratings
– Safety Ratings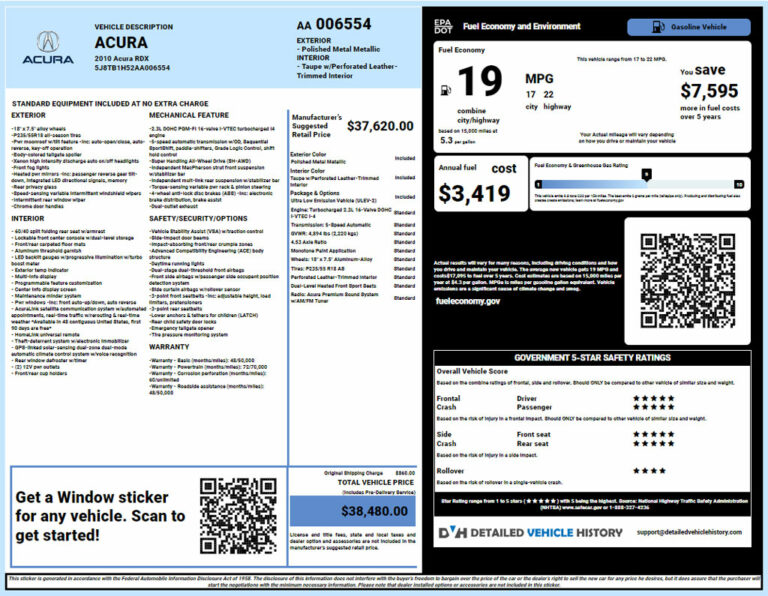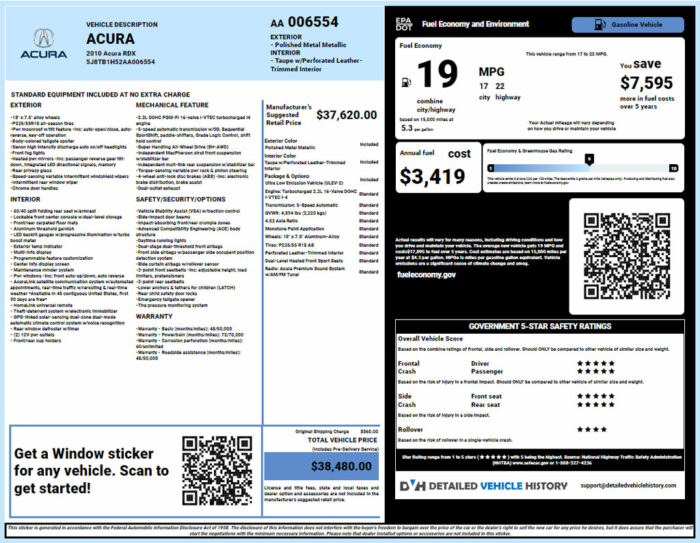 Why Should You Get an Acura Window Sticker?
An Acura Sticker lookup is a great way to get information about the vehicle you are looking to purchase or sell. With this lookup, you can see the original price, standard and optional equipment, emissions ratings, and other important information about the vehicle. This helps you make an informed decision and find the best price for the ride you are interested in.
Here are some of the reasons why buyers, sellers, and dealers should get a sticker lookup with our tool:
Detailed vehicle specifications and features

: With access to accurate vehicle information – features, engine size, optional packages, MSRP, and more gives buyers more confidence in their car purchase journey. For sellers, more confidence translates to more sales.

Comparison Shopping

: With this document, car buyers can check out several vehicles and compare their features within a few minutes. This saves dealers some time and allows for an increased sales rate.

Transparency:

A car sale with a sticker as a point of reference will go smoothly because of the transparency. Car buyers with full information on a vehicle are more likely to make a purchase and even become returning customers.

Fuel Efficiency Insights

: Most car buyers want to know how fuel efficient a vehicle is before purchase. With the City and Highway MPG ratings clearly visible on a sticker, they can make the right choices.
Where can I find an Acura VIN Number?
The Vehicle Identification Number (VIN) for an Acura vehicle can be found on the:
The dashboard

Driver's side door jamb

The engine bay

Vehicle registration documents

Vehicle title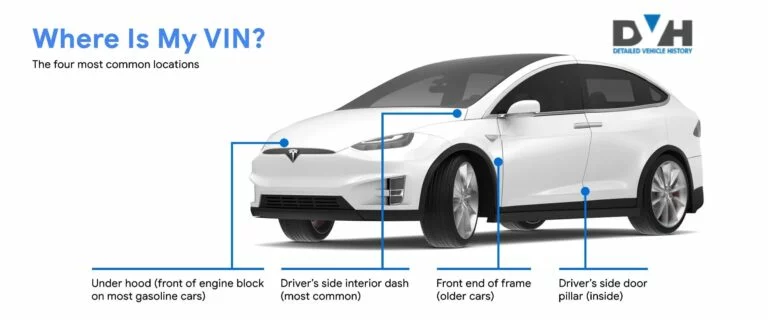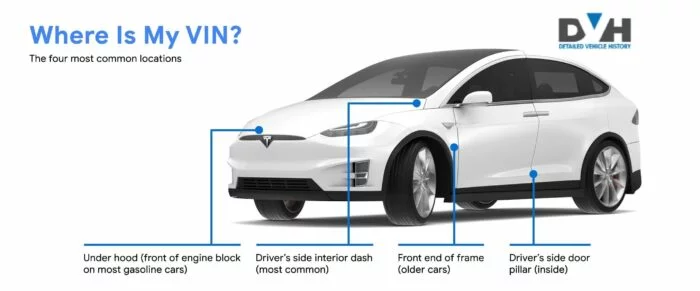 Acura Window Sticker for Dealerships
Did you know that
53% of car shoppers
are more likely to visit a dealership if their online listing includes a sticker? Acura build sheets and stickers are a great tool for dealerships as they contain important information like make and model, engine type, fuel economy, safety features, vehicle color (interior and exterior) and more. Besides, The sticker looks to help in comparing the cars to similar models and determine the best option for their customers. Dealerships can personalize and customize the stickers to their needs for branding.
Also, it can assist enthusiasts to make an informed decision when looking for a new ride. Auto dealers can also use this sticker to better market inventory by highlighting its positive features. This helps dealerships maximize their profits and increase customer satisfaction.
Acura is a Japanese luxury vehicle manufacturer. Established in 1986, it quickly became a household name in Japan. Their models are well known for their high performance and luxury features. Acura is a division of Honda Motor Company and their focus is on luxury cars, crossover SUVs, and performance vehicles.
The company is currently valued at over $4 billion dollars and is one of the most successful Japanese luxury brands in the world. These vehicles are known for their high quality, reliable performance, and luxurious features, making them a popular choice among consumers.
Find Window Stickers for the Following Acura Vehicle Models
Acura MDX
Acura RDX
Acura TLX
Acura ILX
Acura NSX
Acura RLX
Acura CL
Acura Integra
Acura Legend
Acura NSX-T
Acura RSX
Acura Vigor
Frequently Asked Questions
Lookup Window Sticker by all manufacturer