Mazda Window Sticker Lookup
Looking for a no-hassle way to find out the original window sticker details for your Mazda? Look no further than our Mazda Window Sticker Lookup tool! Our easy-to-use service allows you to quickly and accurately get the information you need about your Mazda. All you need is your 17-digit VIN number and our website will do the rest. Get the original window sticker details for your Mazda quickly and easily today!
How to Get the Mazda Window Sticker by VIN?
To get the Mazda window sticker by VIN (vehicle identification number), just enter your 17-digit VIN number at Window Sticker Lookup and fill out the form and submit.
What Information Can be Found on a Mazda Window Sticker?
The Mazda VIN lookup window sticker includes information such as the year, make, model, trim level, exterior, and interior colors, engine and transmission type, standard and optional features, MSRP (Manufacturer's Suggested Retail Price), and the vehicle's VIN.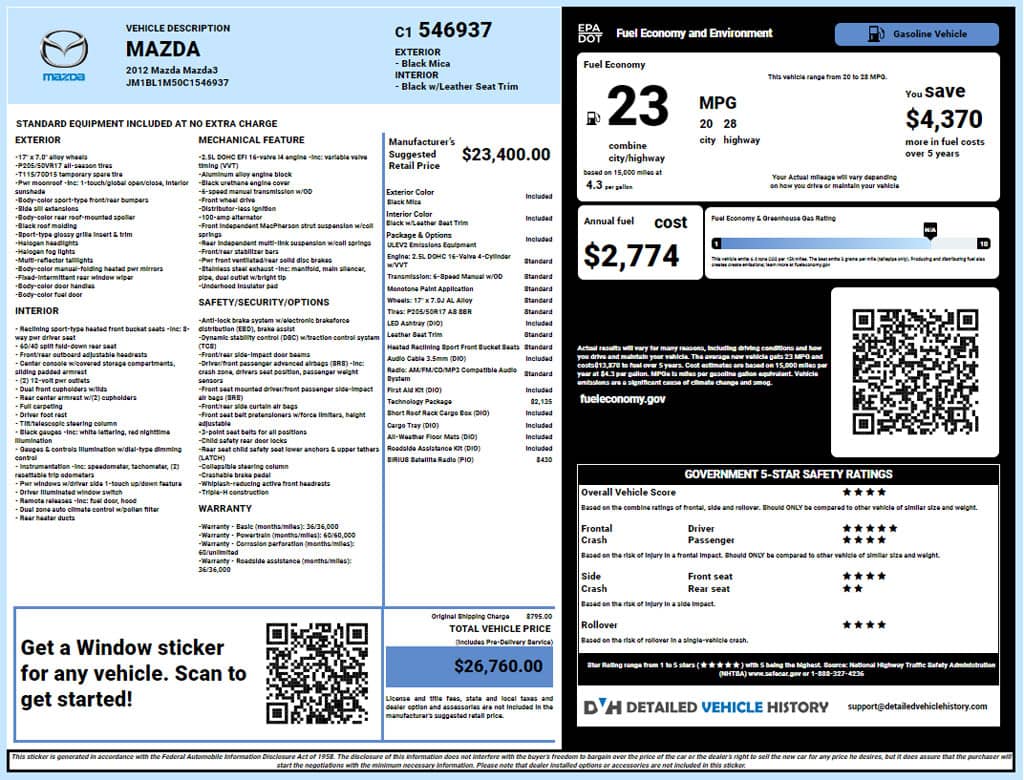 Benefits of a Mazda Monroney Sticker Lookup
The benefits of a Mazda Monroney Sticker Lookup include:
1. Access to accurate information about the vehicle's original retail price, manufacturer's suggested retail price (MSRP), and destination charges.
2. Find out what options and packages are included with the car, as well as the standard features of the vehicle.
3. Comparing prices between different models and trims to determine which vehicle is the best value for your money.
4. Identifying any additional fees, such as taxes, registration, or other fees that may be included in the final cost of the vehicle.
5. Learning more about the car's history and any previous owners.
Get a Mazda window sticker lookup before making payment for any Mazda vehicle.
Where to Find Mazda VIN Number?
The VIN number for a Mazda vehicle can be found on the driver's side dashboard near the windshield, on the driver's side door frame, or on the vehicle registration or title documents.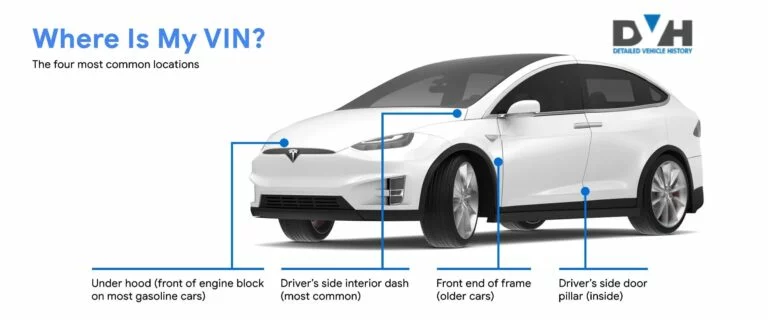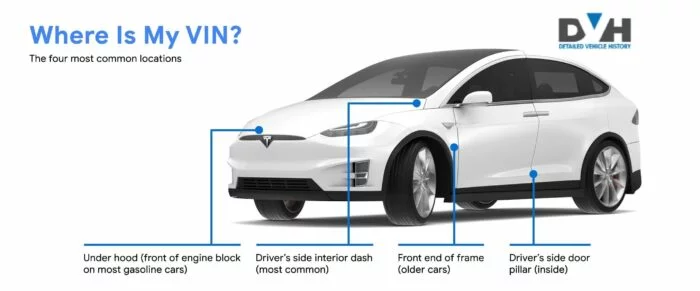 Mazda Window Sticker for Car Dealer
Mazda Window stickers are important for car dealers because they provide potential buyers with essential information about the vehicle, such as its make, model, features, options, and pricing. They are also an effective marketing tool as they can attract attention, create interest, and encourage customers to visit the dealership. Get a Mazda VIN lookup window sticker for your dealership today.
Mazda is a Japanese automotive manufacturer that has been in business since 1920. The company, founded by Jujiro Matsuda, is known for its reliable, affordable vehicles, and its cutting-edge technology. Mazda has earned a reputation for producing cars that are fun to drive and fuel-efficient.
Mazda also offers a wide range of SUVs and crossovers, as well as luxury vehicles. The company is committed to creating an exceptional customer experience and is dedicated to making vehicles that are both stylish and reliable.
Find Window Stickers for the Following Mazda Models
Mazda3
Mazda3 Hatchback
Mazda6
Mazda CX-3
Mazda CX-30
Mazda CX-5
Mazda CX-9
Mazda MX-5 Miata
Mazda MX-5 Miata RF
Mazda CX-5 Signature
Frequently Asked Questions
Lookup Window Sticker by all manufacturer