Volkswagen Window Sticker Lookup
Do you need to know what your Volkswagen's window sticker originally said? Look no further than Detailed Vehicle History's Volkswagen Window Sticker Lookup tool! With our easy-to-use tool, you can get the original window sticker information for your Volkswagen quickly and easily. We provide you with all the information you need to know, from the trim level to the original options and packages, to the original MSRP. Get the information you need about your Volkswagen today with Volkswagen Window Sticker by VIN tool!
How to Get the Volkswagen Window Sticker by VIN?
Getting the Volkswagen window sticker by VIN is a relatively easy process. First, you will need to find your VIN, which is typically located on the lower left-hand side of the windshield or on the driver's side door jamb.
Once you have your VIN, go to the Detailed Vehicle History website and navigate to their "Window Sticker Page", enter your vehicle's VIN, and email address and make the payment to get the sticker.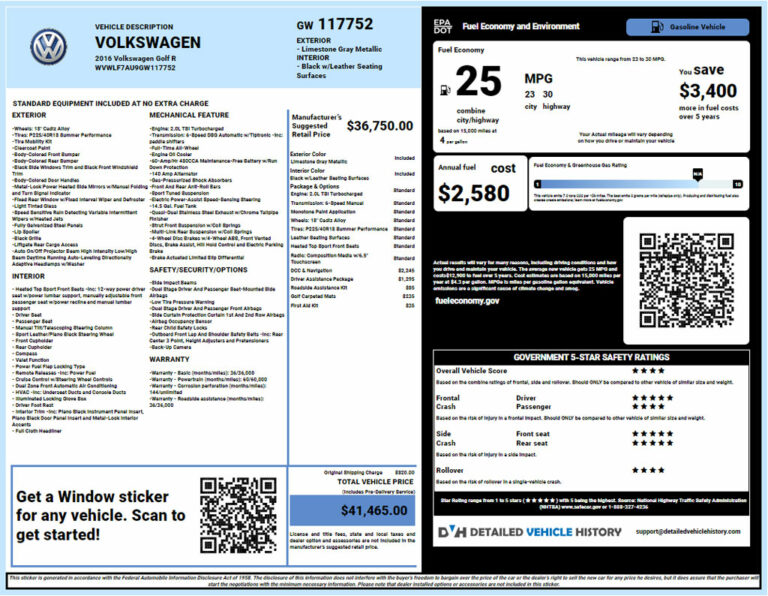 What Information Can be Found on a Volkswagen Window Sticker?
A Volkswagen window sticker typically contains a variety of information, including the vehicle's make, model, year, trim, engine type, and drivetrain.
Additionally, it will include information about the vehicle's features, such as the audio system, navigation system, climate control, and safety features. The window sticker will also show the suggested retail price, destination charge, and any applicable fees.
Benefits of a Volkswagen Monroney Sticker Lookup
The Volkswagen Monroney Sticker Lookup offers many benefits for car shoppers. Car shoppers can use the lookup to compare prices on different models of Volkswagen vehicles, as well as to determine what options and features are included in each car. The lookup also allows shoppers to find out how much the vehicle's MSRP is, as well as what specific manufacturer's incentives are available.
Also, the VW window sticker lookup can provide information about fuel economy and emissions ratings, as well as the manufacturer's suggested retail price. And, the lookup can also provide information on any recall notices or safety ratings associated with each vehicle. This information can be invaluable to car shoppers who want to make an informed decision on their purchase.
Where to Find Volkswagen VIN Number?
The Volkswagen VIN number can be found on the inside of the driver's side door, on the dashboard near the windshield, or on the vehicle registration document. The VIN number is typically 17 digits long and should be unique to each vehicle.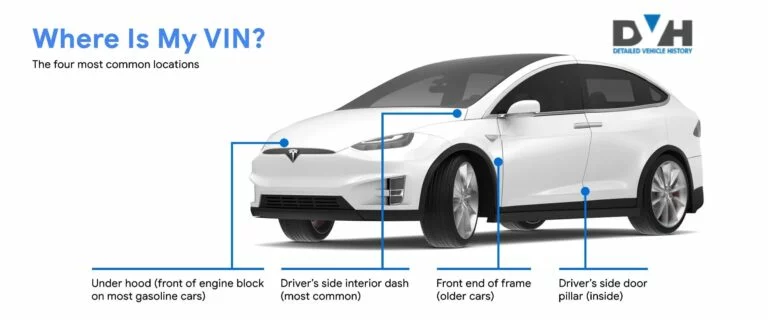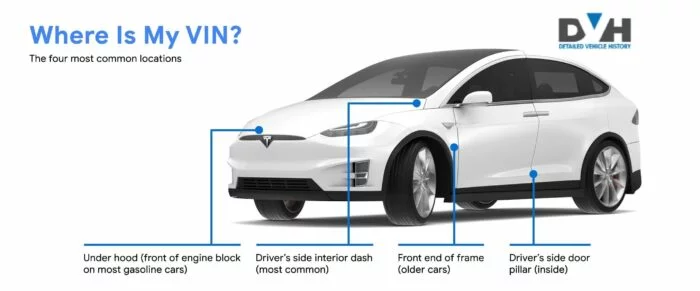 Volkswagen Window Sticker by VIN for Car Dealers
The VW window sticker by VIN is important for car dealers because they provide customers with important information about the vehicle, such as the make and model, features, options, and price.
The Volkswagen window sticker by VIN also provides customers with a sense of security, as the VW window sticker by VIN is a form of identification that lets customers know that the car is indeed a genuine Volkswagen.
The VW window sticker by VIN also helps dealers to establish trust with customers, as it shows that the dealer is a legitimate business and is offering genuine Volkswagen vehicles.
Volkswagen is a German automobile manufacturer founded by the German government in 1937. It is the largest carmaker in the world, selling around 10.7 million vehicles in 2018. Volkswagen is known for its range of cars, from the iconic Beetle to the luxurious Phaeton. It also produces a range of commercial vehicles, including vans and trucks, as well as motorcycles.
Volkswagen has been a leader in automotive technology and innovation, introducing the first turbocharged diesel engine in the early 1970s. The company has also been at the forefront of electric vehicle technology, launching its first all-electric car, the e-Golf, in 2014.
Get ready to accessorize your VW Volkswagen with style! Explore a wide range of options, from vinyl decal stickers to window decal stickers, all available for free on some platforms online. You can easily find PDF downloads for these decals, making it convenient to customize your vehicle. Whether you're interested in adding a distinctive touch to your Volkswagen Beetle or any other model, these VW decals are the perfect accessories. Plus, many websites offer free shipping, ensuring your chosen decal sticker reaches you hassle-free. If you're curious about your vehicle's history and specifications, don't forget to explore the original Volkswagen window sticker. This sticker tool provides important details about your car, ensuring you stay well-informed. With the freedom to personalize your ride and the support of the national highway traffic safety standards, enhancing your VW experience has never been easier.
Find Window Stickers for the Following Volkswagen Models
Golf
Jetta
Passat
Tiguan
Atlas
Touareg
Arteon
Beetle
E-Golf
Golf Alltrack
Golf GTI
Golf R
Golf SportWagen
Fox
Phaeton
Routan
Scirocco
Touareg Hybrid
Vanagon
Corrado
Cabrio
Karmann Ghia
Eurovan
Golf Cabrio
Frequently Asked Questions
Lookup Window Sticker by all manufacturer