Maserati Window Sticker Lookup
Utilize the Maserati Window Sticker Lookup tool provided by Detailed Vehicle History, a service enabling Maserati owners to retrieve their vehicle's original window sticker. Receive a comprehensive window sticker containing details about features, options, and pricing specific to your Maserati vehicle. How do I get the window sticker for my Maserati? Simply enter the VIN into our tool and get the vehicle window sticker.
How to Get a Maserati Window Sticker by VIN
Looking for how to get window stickers from VIN Numbers? For a used Maserati, you can obtain a copy of the original Maserati window sticker by VIN by using our Maserati window sticker lookup tool. To get the vehicle manufacturer's information, enter the Maserati VIN into our window sticker lookup tool, provide your personal information like email address and phone number. You will also be required to pay a small fee before accessing the Maserati window sticker by VIN.
Information Found on a Maserati Window Sticker
The following details can be found on a Maserati window sticker:
Vehicle's make and model
Trim level
Engine type
Standard and optional equipment
Fuel economy rating
Safety ratings
Vehicle's warranty coverage.
Vehicle Identification Number (VIN)
Transmission Type
Exterior and Interior Colors
MSRP (Manufacturer's Suggested Retail Price)
Emissions Ratings
Factory installed equipment
Interior and exterior features
Mechanical features, and more.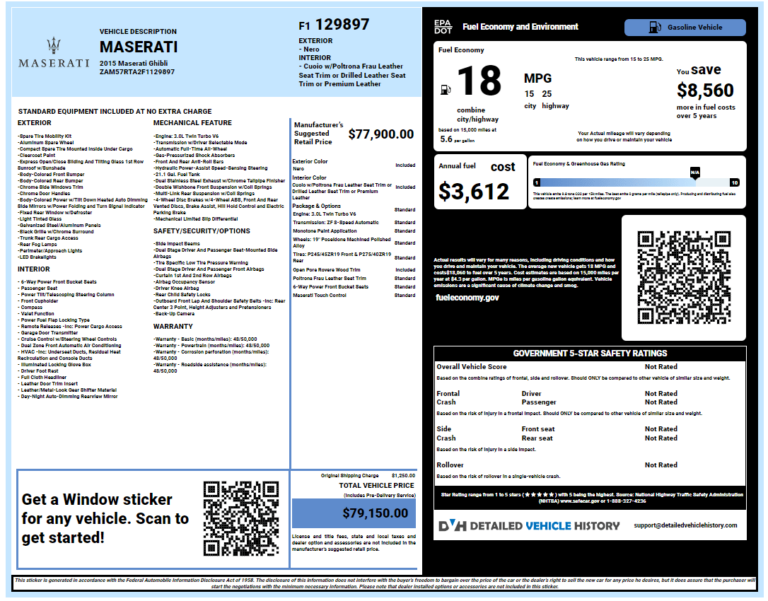 Benefits of a Maserati Window Sticker Lookup
1. Comprehensive List of Features – The Maserati Window Sticker Lookup or Maserati Monroney sticker lookup provides a comprehensive list of features for each Maserati model. This includes information about the engine, transmission, exterior, interior, safety, and other features.
2. Current Pricing Information – The service also includes current pricing information for each Maserati model. This allows buyers to compare prices and make an informed purchasing decision.
3. Easy to Use – The service is user friendly and easy to use. It is developed to provide car buyers with the information they need quickly and efficiently.
4. Reliability – The Maserati Window Sticker Lookup is reliable and up-to-date with the latest information. This ensures car buyers are making an informed purchasing decision.
Where to find Maserati VIN Number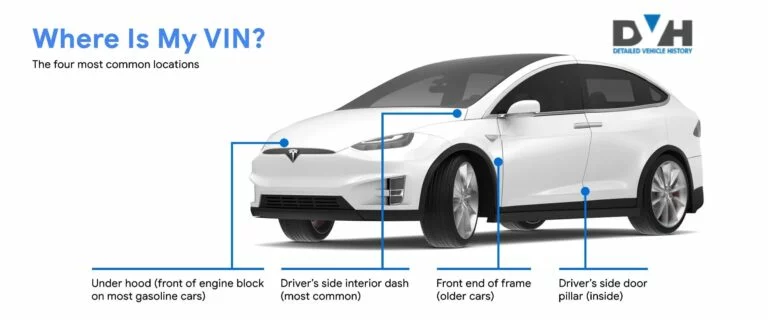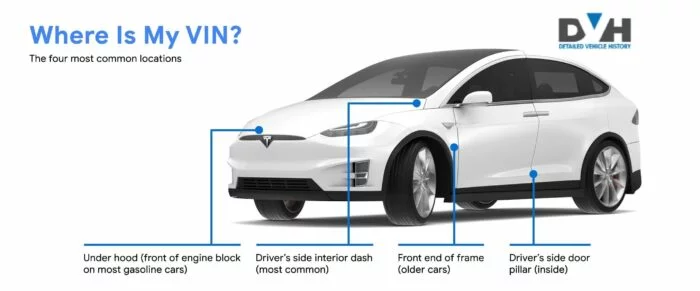 Maserati Window Sticker for Car Dealer
1. Increased Visibility: Maserati window stickers are an eye-catching way to draw potential customers to your vehicles. These stickers can be customized with logos and slogans that help to create a unique and memorable brand identity.
2. Increased Brand Awareness: Conducting a Maserati window sticker by VIN are a great way to spread the word about your dealership and the vehicles you offer. These stickers can be used to promote special offers, events, or new models.
3. Improved Customer Loyalty: Maserati window stickers can be used to reward loyal customers and to build relationships with new customers.
4. Increased Revenue: Performing a Maserati window sticker by VIN can help to increase your dealership's bottom line by attracting more customers. These stickers can help to highlight the features and benefits of your vehicles, which can lead to more sales.
Maserati is an Italian luxury vehicle manufacturer established on December 1, 1914 in Bologna, Italy. It is owned by the Italian-American carmaker Fiat Chrysler Automobiles through its subsidiary, Ferrari. Maserati produces luxury sports cars, grand tourers and SUVs, all of which are sold under the Maserati brand.
The company's mission is to "build ultra-luxury performance automobiles with timeless Italian style, accommodating bespoke interiors, and effortless, signature-sounding power." Maserati models range from the Ghibli, a four-door luxury sedan; the Levante, an SUV; the Quattroporte, a large executive sedan; and the GranTurismo, a two-door coupe. All of these cars are powered by V6 and V8 engines, and offer the latest in technology and luxury features.
Maserati vehicles are known for their distinctive styling, performance, and craftsmanship. Maserati vehicles feature a unique combination of luxury, sportiness and power. The brand has a long-standing racing heritage and has won numerous awards, including the prestigious Gran Turismo Trophy.
 Maserati Ghibli
 Maserati Quattroporte
 Maserati Levante
 Maserati GranTurismo
 Maserati GranCabrio
 Maserati Alfieri
 Maserati MC20
Frequently Asked Questions
Lookup Window Sticker by all manufacturer