Lotus Window Sticker Lookup
Lotus Window Sticker Lookup is an online service that allows users to research the original factory window sticker for any Lotus vehicle. The service provides original production information and the original MSRP (Manufacturer's Suggested Retail Price) for each specific Lotus.
How to Get a Lotus Window Sticker by VIN
Getting a Lotus window sticker by VIN number is easy. The first step is to locate the VIN number. It can be found on the driver's side dashboard, on the driver's side door jamb, or in the vehicle's paperwork.
To use our Lotus window sticker lookup tool, you will be required to provide the VIN number and after paying a small fee, you will get access to the original Lotus window sticker.
Types of information on a Lotus Window Sticker
• Year, Make and Model of the car
• Vehicle Identification Number (VIN)
• Engine size
• Fuel type
• Type of transmission
• Standard and optional features
• Manufacturer's suggested retail price (MSRP)
• Total Price and Destination charge
• Warranty information
• EPA-estimated fuel economy ratings
• Emissions data
• Safety ratings
• Tire size
• Exterior and interior colors
• Standard and optional equipment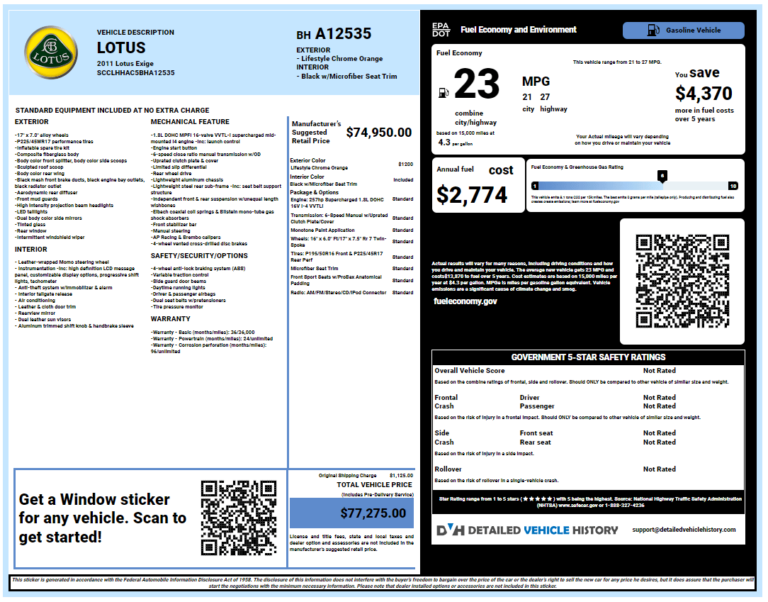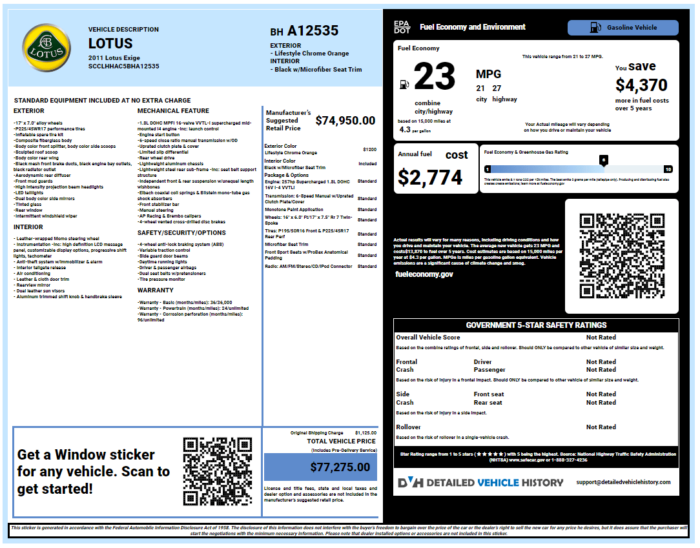 Benefits of a Lotus Monroney Sticker Lookup
1. Accurate Information: The Monroney sticker contains accurate information about the car, including the base price, standard equipment, and optional features and packages.
2. Accurate Decision Making: By comparing different models, you can better understand the features and benefits of each vehicle and make the best decision for your needs and budget. This can save you money in the long run by ensuring you choose the right vehicle for you.
3. Establish an accurate Value: The base price and features listed on the Lotus Monroney sticker can be used to establish an accurate value for the Lotus car. This is especially helpful when selling the car or obtaining insurance.
4. Resolve Disputes: If a dispute arises between an owner and a dealer or mechanic, the Monroney sticker can be used to prove the original specifications of the car and help resolve the issue.
Where to find Lotus VIN Number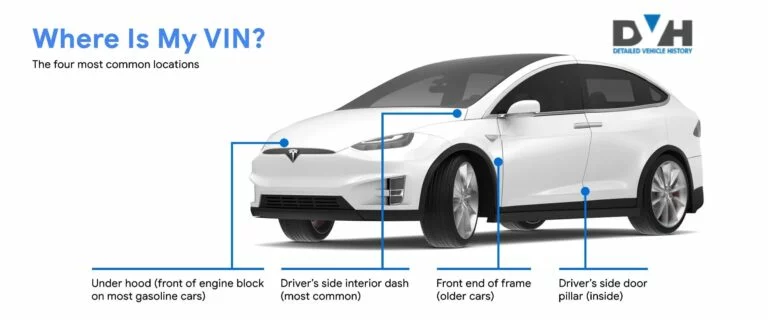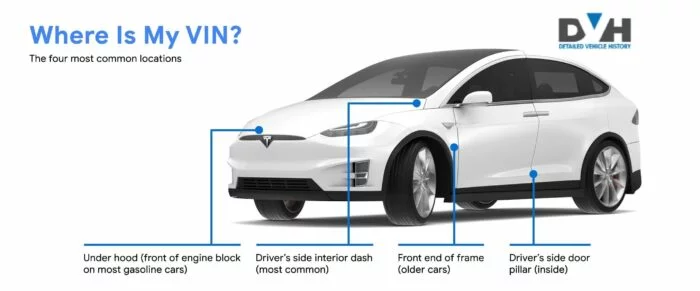 Lotus Window Sticker for Car Dealers
• Increase Visibility: Lotus Window Stickers will make your car dealership stand out from the competition and help draw attention to your vehicles.
• Showcase Vehicle Features: Lotus Window Stickers can be used to highlight features of your vehicles that may not be obvious from the exterior, such as special features or technology.
• Promote Brand Recognition: We can customize your window stickers following your brand guidelines. Using Lotus Window Stickers to advertise your dealership and its vehicles will help build customer loyalty and recognition for your brand.
• Cost-Effective: Lotus Window Stickers are an affordable and cost-effective way to market your dealership and its vehicles.
Lotus Cars is an iconic British automotive manufacturer that has been producing some of the most innovative and exciting cars in the world since 1952. The company is known for its lightweight, aerodynamic vehicles and its commitment to performance and handling. The company has produced a range of vehicles from coupes and sedans to sports cars and racing cars. Its most famous model is the Lotus Elise, which is a two-seater roadster that is renowned for its light weight, low-slung design, and nimble handling. The Elise, and other Lotus models, have been successful in motorsport, including the 24 Hours of Le Mans. The company has also produced a range of engines and components for other manufacturers, such as Renault and Proton. The company is currently owned by Chinese automotive group Geely.
Lotus Vehicle models list
Lotus Elise
Lotus Exige
Lotus Evora
Lotus Europa
Lotus Seven
Lotus Esprit
Lotus Elan
Lotus Evija
Lotus Exige V6 Cup
Lotus Exige S V6
Lotus 340R
Lotus Elite
Lotus Eclat
Lotus Excel
Frequently Asked Questions
Lookup Window Sticker by all manufacturer