Bugatti Window Sticker Lookup
Detailed Vehicle History is a reproduction of the information of the original window sticker. We provide you with factory options, packages, and pricing, engine and transmission specifications, manufacturer's MSRP price when new, standard features and equipment, fuel economy rating, and factory recalls.  Besides a copy of the Bugatti original window sticker, you can also request the Bugatti custom window sticker that is fully customizable to cater to your needs. 
What is a window sticker?
Suppose that you are looking to learn about the make, model, and specifications with which a car was originally equipped. Getting a window sticker, also known as the Monroney Sticker, will accurately disclose to you what the vehicle was like when it was manufactured. Each new vehicle in the United States accompanies a Window Sticker, which contains a lot of information about the vehicle. This information includes the vehicle type, year of production, color, MSRP (Manufacturer's Suggested Retail Price), standard and optional equipment installed, Fuel Economy ratings, and technical specifications.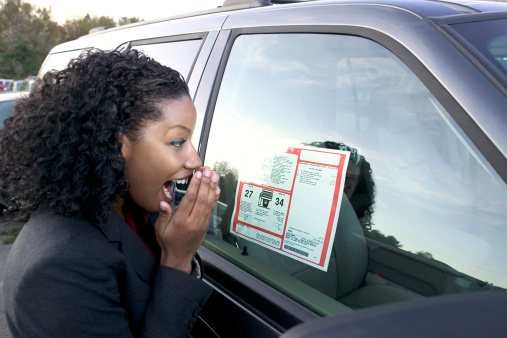 Why should you attain the Bugatti window sticker?
It is highly suggested that you must attain a copy of the Bugatti original window sticker by VIN  to benefit you in making wise decisions that are in the best interest of your vehicle. The window sticker can be very valuable when you are trying to sell your vehicle. It can help potential buyers determine if the vehicle possesses the features that the buyer is looking for. The buyer can find such detailed and useful information easily and thus know if the vehicle in question is the one they need or not.  If you are wondering what makes having a window sticker so important? The answer is hidden in customer trust and comfort. It is the information on the sticker that makes it so important. 
It is also found that used car buyers are more interested in vehicles with window stickers and are likely to inquire about these cars first. Used car buyers like to know all about the car they are buying. The details on the sticker allow them to know exactly what the car has been through in the past. So if you are selling your car online or through a dealer, having a window sticker makes it very likely to get sold at a deserving price and also faster. It is therefore evident that a Vehicle Identification Number, especially in the form of the Bugatti Vin lookup window sticker has an extensive range of applications.
How to get the Bugatti window sticker?
You can get a window sticker in three different ways.
You can get the Bugatti window sticker by VIN. The first step would be to locate the vehicle's identification number also known as the VIN number. Once you have located the VIN number enter this VIN in our unique Bugatti Window sticker lookup tool to generate a window sticker for your vehicle.
 You can also lookup the window sticker by license plate, if for certain reasons you don't have access to the VIN number. Simply enter the license plate number in our unique window sticker lookup tool to generate a window sticker.

You can also get a window sticker by entering the make, model, year, and trim of a vehicle.
What information our Bugatti Window Sticker lookup tool contain?
Generally, the window sticker includes information such as the standard features, equipment, and packages. Most auto-makers will list the things that the vehicle contains as standard, and this includes obvious ones like tires, windshield, and seat belts, etc. It's common for many dealers to align their vehicle window stickers differently but every window sticker is required to include the same information across the board. Below are some of the fundamental information you will find on the Bugatti window sticker: