The Ultimate Guide to Car Window Stickers:

How to Find, Read, and Get Them for Any New or Used Vehicle
When it comes to used car buying and selling, knowledge is power. One crucial piece of information that can greatly influence your decisions is the vehicle window sticker. But what exactly is a window sticker, and why is it so important? In this comprehensive guide, we will answer these questions and more. If you've ever wondered, "Can I get a copy of my car's original window sticker?" or "How do I get the window sticker for my car?" you're in the right place. Let's start by understanding what a window sticker is and why it matters.
Get an OEM reproduction window sticker for just
$14.99
What is a Window Sticker?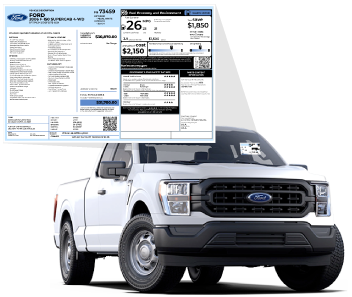 A car window sticker, often referred to as a Monroney label, is a document that provides a detailed breakdown of a car's specifications, features, pricing, and more. It's typically affixed to the windows of used cars when displayed on dealership lots. Although it seems like just a piece of document, it actually holds a lot of value as it can help you make informed decisions when buying or selling a vehicle.
With the window sticker, you can verify the make and model information, interior and exterior packages, features and optional equipment, safety features, engine and transmission, National Highway Traffic Safety Administration (NHTSA) safety ratings, Manufacturer's Suggested Retail Price (MSRP), shipping and delivery costs, and other equipment and accessories. Don't make mistakes today; Find the vehicle's specifications, packages, standard equipment, and options of any used vehicle before purchase.
How to Find Window Sticker by VIN: A Step-by-Step Guide
Learn how to decode the VIN and gain access to a wealth of information about the car's specifications, features, and more. Find the latest guide on how to find window sticker by VIN and the comprehensive beginner guide.
How to Read a Window Sticker: A Complete Breakdown
Dive in and discover the valuable insights these stickers hold, ensuring you make informed decisions during that car purchase. The guide on how to read a window sticker will cover important information such as the manufacturer, model, and vehicle identification number (VIN). Also, you can check for fuel economy, safety ratings, standard features, optional equipment, and pricing details. Reading a window sticker is important as it provides vital information that can help you make an informed decision when buying a car or comparing different models and options.
How to Get Original Window Sticker for Your Car: Tips and Tricks
Original window sticker provides important information about a vehicle's equipment, options, and suggested retail price. Having the original window sticker by VIN number is important as it allows you to verify the vehicle's specifications and make an informed decision when buying or selling a car. It provides transparency and helps ensure that you're getting what you paid for. Take a look and find out how to get original window sticker by VIN number.
How to Get Original Window Sticker for Specific Brands: Examples and Resources
Learn about the unique window sticker lookup tool offered by Detailed Vehicle History for various car manufacturers to help you access youroriginal window sticker with just a few clicks.
To learn more about this topic, lets move into our comprehensive guide on how to get original window stickers for specific brands.
Classic Car Build Sheets: What They Are, Where to Find Them, and How to Decode Them
How to Print a Window Sticker from VIN for Any Car
There are several ways to print a window sticker from a VIN, the steps include: Obtain the VIN of the vehicle, Visit the VIN checker tool, Enter the VIN and follow the prompts to generate the window sticker. Once the window sticker is generated, use the print option in your browser or application to print it on paper. Find out more to get more detailed on how to print a window sticker from vin for any car.
Window Stickers for
Buyers, Sellers & Dealerships
How Vehicle Window Stickers Help Buyers Make Informed Decisions
Window sticker basically provide important information about a car's features, specifications, and pricing. Vehicle window sticker help buyers make informed decisions by providing details such as the manufacturer's suggested retail price (MSRP), fuel economy ratings, safety features, and optional equipment. By allowing buyers to compare different vehicles side by side, window stickers enable them to evaluate the value, performance, and overall suitability of a car before making a purchase. This helps buyers make more informed decisions and ensures transparency in the automotive marketplace. Keep reading to find out more about how vehicle window sticker help buyer make informed decision.
How to Use Window Stickers to Negotiate a Fair Price and Avoid Scams
How Window Stickers Help Sellers Increase Their Sales and Profits
How Window Stickers Can Boost Your Dealership's Reputation and Revenue
Frequently Asked Questions | The Most Asked Questions About Window Stickers
Navigate through our content
Window Stickers buyers, sellers $ dealerships