A Kawasaki VIN check is a service that allows you to obtain a detailed report on the history of a Kawasaki commercial motorcycle using its unique 17-digit VIN. This report can provide valuable information about the motorcycle's specifications and unknown history. A Kawasaki VIN check can be a diagnostic tool when buying or selling a used commercial Kawasaki motorcycle.
What Does Kawasaki VIN Number Contain?
A Kawasaki VIN number contains 17 digits that provide unique information about the motorcycle specifications and history using a Kawasaki VIN check tool.
When using a Kawasaki VIN decoder for a VIN check, it's important to carefully review the information provided to ensure that the motorcycle's specifications match what you're looking for and that there are no red flags such as accident history or title problems that could affect the motorcycle's value. This information can be used to negotiate a fair price for the motorcycle and avoid common scams and frauds.
Information Provided by a Kawasaki VIN Check
Our Kawasaki VIN check service provides a comprehensive report on the history of a Kawasaki motorcycle, including the accident history, number of previous owners, title status, service and maintenance records, mileage history, lien records, auction records and photos, recall information and more. Our VIN check reports are reliable, accurate, and up-to-date, providing you with the information you need to make an informed decision when buying or selling a used Kawasaki motorcycle.
Detailed Vehicle History excels from other providers because of the accuracy and comprehensiveness of our report, thereby providing a clear picture of the motorcycle's history, and enabling you to either negotiate a fair price or avoid any potential problems down the road.
Lookup Kawasaki Service History By VIN Check
Do you know you can lookup Kawasaki service history by VIN check?. This information includes any maintenance or repairs performed on the motorcycle, the date and location of the service, and the parts used during the repair. This can be helpful when assessing the condition of the motorcycle to be sure it has been well-maintained.
Our VIN check report also provides information on the motorcycle's specifications, such as the engine type, transmission, and other important details. At Detailed Vehicle History, we are hell-bent on providing our customers with accurate, detailed records of a motorcycle's past, so they can make an informed decision whether to buy a used Kawasaki motorcycle or walk away. Buy and drive a used car with confidence with our diagnostic VIN check tool.
Kawasaki VIN Check-In 3 Steps
It's simple to use our VIN Check Tool. Follow these three easy steps below to Decode your VIN Number.
To decode your Kawasaki's VIN, you need to find it first. It is usually found on the inside of the driver's door frame or windshield
Enter the VIN in the search form above. Press the button or press enter and wait for your Kawasaki VIN to be processed
Review the report to ensure you have entered the correct VIN. If you need more data, you can get a vehicle history report.
Kawasaki VIN Check Sample Report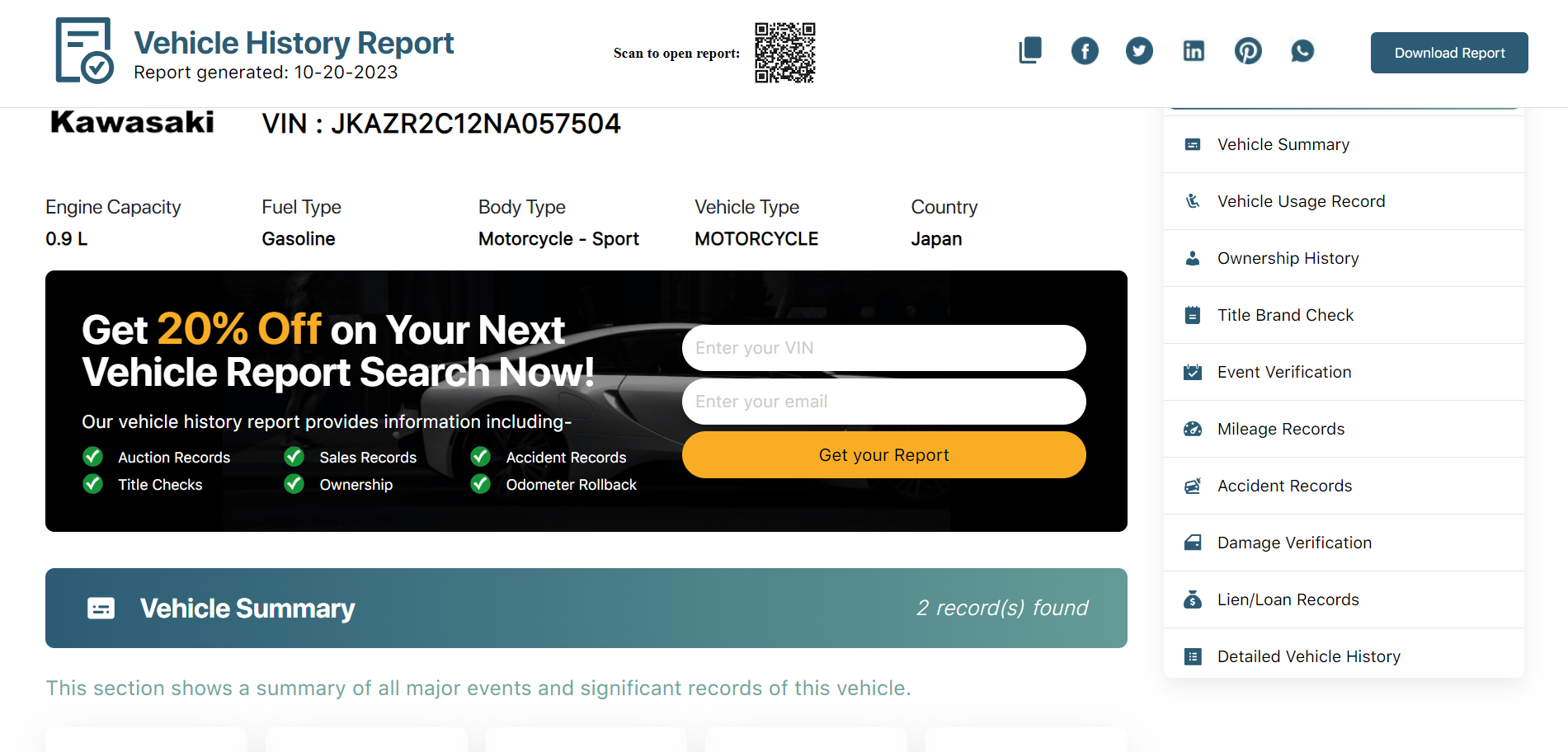 VIN: JKAZR2C12NA057504
Style / Body: Motorcycle - Sport
Engine: 0.9 L
Country of Assembly: Japan
Kawasaki Heavy Industries, Ltd. (KHI) was established in 1878. The company started out producing ships and other transportation equipment, but in 1949 it began producing motorcycles. The first motorcycle produced by KHI was the Meihatsu, a motorized bicycle with a 98cc two-stroke engine. In 1960, the company established the Kawasaki Motorcycle Co., Ltd. and by 1963 had introduced the first Kawasaki branded motorcycle, the B8 125cc two-stroke.
Kawasaki's motorcycle sales have grown steadily since the introduction of the B8. In 2020, Kawasaki sold a total of 1.35 million motorcycles worldwide, making it the fourth largest motorcycle manufacturer in the world. The largest markets for Kawasaki motorcycles are in the United States, Japan, Indonesia, and Europe.
Kawasaki produces a wide range of models and types of motorcycles, from commuter scooters to high-performance sports bikes. The most popular models are the Ninja series of sport bikes, which accounted for nearly 20% of Kawasaki's total sales in 2020. The company also produces a range of touring and off-road bikes, as well as a selection of classic and vintage models.
Few Interesting Facts About Kawasaki
Kawasaki is one of the oldest motorcycle manufacturers in the world, having been founded in 1896.
Kawasaki's first motorcycle, the Meihatsu, was released in 1954.
Kawasaki is the only motorcycle company that produces its own engines.
The Ninja series of sport bikes is one of the most iconic and successful models in Kawasaki's lineup.
Kawasaki is the largest manufacturer of railway rolling stock in Japan.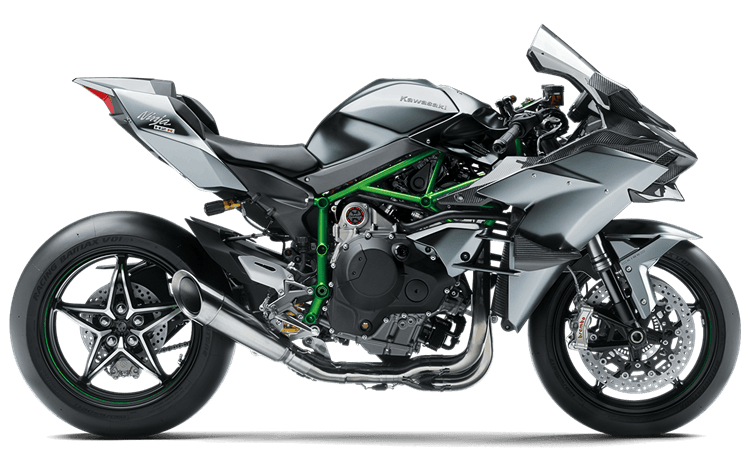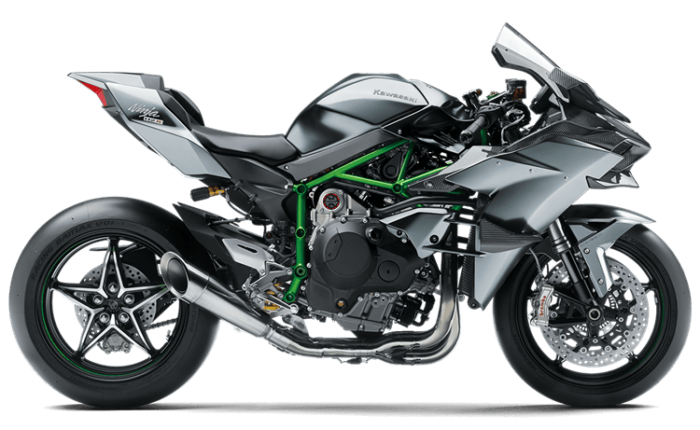 Get VIN Check Report for the Following Kawasaki Models
Ninja 400

Ninja 650

Ninja 1000

ZX-6R

ZX-10R

Versys 650

Versys 1000

Vulcan S

Vulcan 900

Vulcan 1700

KX450F

KLX250

Concours 14

W800

H2

H2R

Ninja H2 SX

Z125

KLR650

Ninja ZX-14R

 
Frequently Asked Questions
Check VIN BY Manufacturer