Kia Sorento vin decoder: Get a clear picture of any Kia vehicle's past with our comprehensive Kia VIN Check! Uncover essential information like accident history, mileage, previous owners, recalls, and more. Shop for a used Kia with confidence—try our Kia VIN Check today!
What Does Kia VIN Number Contain?
A Kia Vehicle Identification Number (VIN) is a unique 17-character code that contains essential information about the vehicle. Below you can take a look at a VIN's composition:
World Manufacturer Identifier (WMI): The first 3 characters identify the manufacturer and country of origin.
Vehicle Descriptor Section (VDS): Characters 4-8 provide details about the vehicle's model, body type, engine size, and other specifications.
Check Digit: Character 9 is a unique algorithm that validates the VIN.
Vehicle Identifier Section (VIS): Characters 10-17 include unique information about the specific vehicle, such as the production plant, model year, and a unique serial number.
The VIN serves as a fingerprint for each vehicle, allowing you to gather important information about a Kia vehicle's history and specifications through a VIN check.
Information Provided by a Kia VIN Check
A Kia VIN check can provide critical information about a vehicle's history and specifications, helping you make well-informed decisions when purchasing a used Kia. Here are some of the information that you can obtain:
Vehicle specifications: Model, trim, engine type, transmission, and other technical details.
Ownership history: The number of previous owners, and dates and locations of ownership.
Accident history: Reported accidents or damage, including severity and repair details.
Service and maintenance records: Routine service, repairs, and maintenance performed on the vehicle.
Mileage history: Odometer readings to help identify potential discrepancies or rollback attempts.
Recall information: Manufacturer open recalls and the fixes or repairs needed.
Safety ratings: Crash test results and safety ratings from organizations like the National Highway Traffic Safety Administration (NHTSA).
Theft History: Whether the vehicle has been reported stolen or recovered.
Lien and repossession records: Any outstanding liens or previous repossessions associated with the vehicle.
By conducting a Kia VIN check, you can gain valuable insights into a vehicle's past and avoid potential issues or hidden problems when purchasing a used Kia.
Lookup Kia Service History By VIN Check
Kai sorento vin decoder: A VIN (Vehicle Identification Number) check is a useful tool for accessing the service history of a Kia vehicle. By entering the VIN number into an online service such as Detailed Vehicle History or Instant VIN Reports, you can obtain a comprehensive report on the vehicle's maintenance and repair history, as well as information on any accidents or damages.
Kia sorento vin decoder: This information can help you make an informed decision when purchasing a used Kia, as it provides insight into the car's overall condition and reliability. A VIN check is quick, easy, and can be done from the comfort of your own home, making it a convenient way to access valuable information about a Kia vehicle.
It's simple to use our VIN Check Tool. Follow these three easy steps below to Decode your VIN Number.
To decode your KIA VIN, you need to find it first. It is usually found on the inside of the driver's door frame or windshield
Enter the VIN in the search form above. Press the button or press enter and wait for your KIA VIN to be processed
Review the report to ensure you have entered the correct VIN. If you need more data, you can get a vehicle history report.
Kia VIN Check Sample Report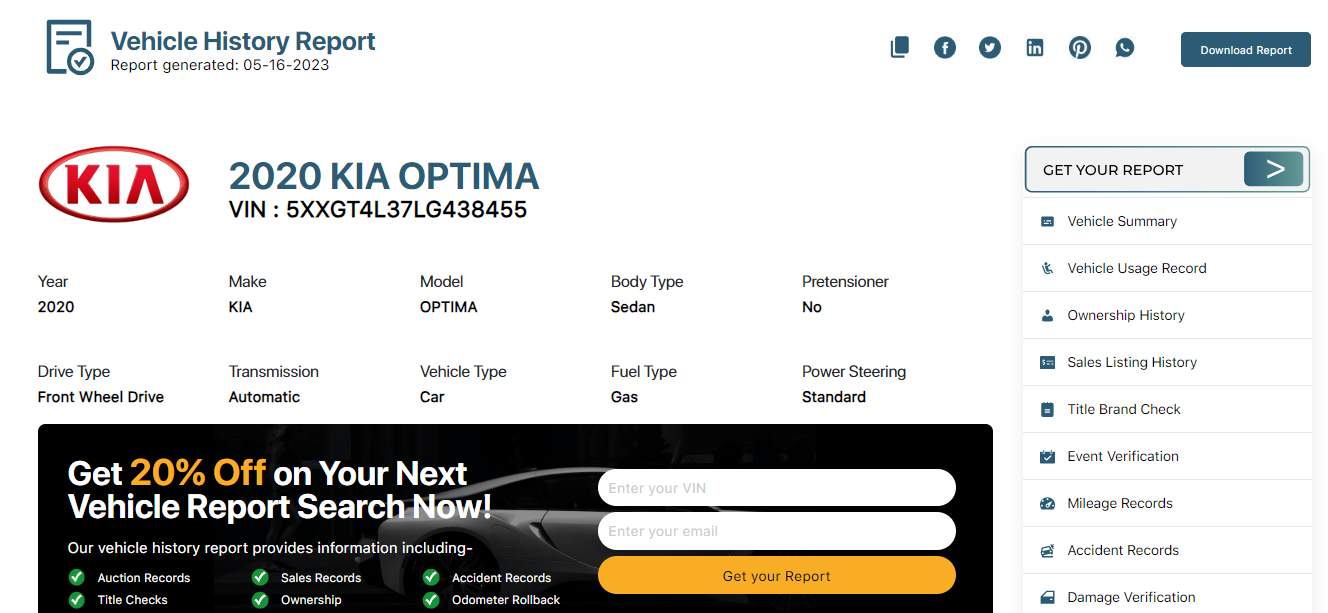 VIN: 5XXGT4L37LG438455
Style / Body: SEDAN 4-DR
Engine: 2.4L L4 DOHC 16V
Country of Assembly: UNITED STATES
kia vin lookup:  Kia is a South Korean automaker that has made a name for itself in the global automotive market. Established in 1944 as a bicycle parts manufacturer, Kia has since expanded into a wide range of automotive segments, offering a diverse lineup of vehicles that cater to various consumer needs.
Kia's focus on design, technology, and innovation has allowed it to stand out in a crowded market, with popular models such as the Optima, Sorento, Soul, and Sportage. In recent years, Kia has made strides in producing environmentally-friendly vehicles, with the Niro hybrid and Soul electric showcasing the company's commitment to sustainability. Kia vin lookup
With a strong presence in the United States, Europe, and Asia, Kia continues to perform well in the global automotive market, appealing to a broad range of customers who value reliability, affordability, and style.
Here are the top 5 facts about Kia
Kia is a South Korean automotive brand that was established in 1944.
Kia is now a subsidiary of Hyundai Motor Group, one of the largest automotive companies in the world.
Kia is known for producing affordable and reliable vehicles, with a range of models including SUVs, sedans, hatchbacks, and electric vehicles.
The Kia Optima and Soul are two of the brand's most popular models, known for their distinctive design and practicality.
Kia is committed to sustainability and has been recognized for its efforts to reduce emissions and improve fuel efficiency in its vehicles. The brand is also actively working on developing and promoting electric vehicles as part of its eco-friendly initiatives.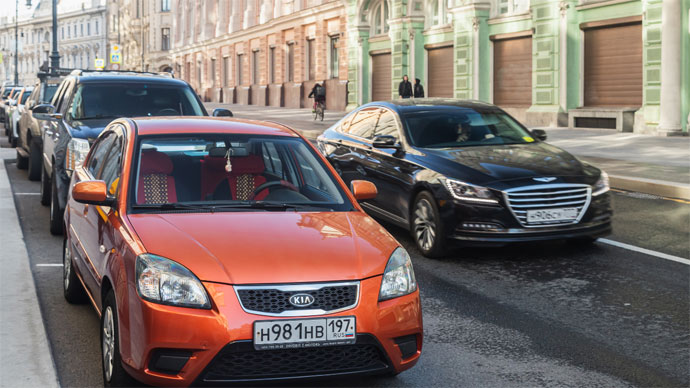 Get VIN Check Report for the Following Kia Models
Kia Stinger
Kia Amanti
Kia Borrego (Mohave)
Kia Cadenza (K7)
Kia Optima (Magentis)
Kia Rondo (Carens)
Kia Sedona (Carnival)
Kia Sephia
Kia Spectra
Kia Sportage
Kia Carnival (Sedona)
Kia Ceed (Optima)
Kia Forte (Cerato)
Kia K5 (Optima)
Kia Niro 
Kia Rio
Kia Seltos
Kia Sorento
Kia Soul (gasoline, electric)
Frequently Asked Questions
To conduct a Kia VIN check, you can use a reputable online VIN check service such as the one provided by Detailed Vehicle History. Enter the 17-character VIN, and you'll receive a comprehensive report with the vehicle's information. kia vin number check
A Kia VIN check can provide vital information about a vehicle's history, including ownership history, accident history, service and maintenance records, recall information, and more. It can also provide details about the vehicle's specifications, such as model, trim, engine type, transmission, and more. kia warranty check vin
Kia warranty check by VIN: Some free VIN check services are available online that provide basic vehicle information. However, for a detailed vehicle history report, you may need to pay a fee to access in-depth information such as accident history, maintenance records, and more. It's worth investing in a comprehensive report to make informed decisions when purchasing a used Kia.
Check VIN BY Manufacturer