Before committing to any purchase of a used Fiat, it is advisable to carry out a Fiat VIN check. By running a Fiat VIN number check, you can uncover some hidden issues that could cost you a lot on repair and part replacement. With the advanced VIN check service provided by Detailed Vehicle History, you can purchase the best and most reliable used vehicle at any dealership.
What Does Fiat VIN Number Contain?
A Fiat car's unique 17-digit VIN number serves as its unique identification. When a Fiat VIN check is performed, the Fiat VIN can help to reveal details about the vehicle's specifications and complete history.
Performing a Fiat VIN check can reveal details about the vehicle's past, including details on any recalls or hidden safety issues the car may have had. This information can be invaluable for potential buyers, as it can help them avoid purchasing a vehicle with significant safety issues.
A VIN check will also assist you in avoiding expensive, seriously damaged, or stolen vehicles, thereby helping you to avoid vehicle-related scams and frauds.
VIN checks are also used to help identify vehicles that have been in flood or fire damage, to verify that the vehicle meets clean air requirements, and to verify that the vehicle has a valid title.
Finally, a VIN check can also be used to verify the vehicle's market value, allowing buyers to make sure that they are paying a fair price for a used vehicle.
You can be sure that you'll be able to make an informed decision about buying a used vehicle by using the tool provided by Detailed Vehicle History to conduct a Fiat VIN number check.
Information Provided by a Fiat VIN Check
A Fiat VIN check offers thorough details about a vehicle's past, including any accidents or issues in the past, whether it has been reported stolen, its manufacturer and model, and other crucial information which include:
  Location and history of registration
  Number of previous owners
  Vehicle use (personal, taxi, police, etc.)
  Lien and loan records
  Recall information
  Odometer readings
  Vehicle title status
  Damage reports
When compared to services like CARFAX and AutoCheck, the Detailed Vehicle History VIN check service is very quick, 100% accurate, and reasonably priced. They are also strengthened by a committed customer service team that promptly addresses client concerns and questions about the generation of vehicle history reports.
Lookup Title Check By Fiat VIN Check
If you're considering purchasing a used Fiat vehicle, it's important to conduct a thorough VIN check to ensure that the car has a clean title and a history free of major accidents or other issues. With Detailed Vehicle History's Fiat VIN check service, you can access detailed information about any Fiat vehicle's title history, accident reports, and more.
One of the key things to look for in a Fiat VIN check is whether the car has a salvage title. A salvage title means that the vehicle has been severely damaged in an accident, flood, or other event and deemed a total loss by the insurance company. While it is possible to repair and drive a salvaged car, it may have hidden issues that can compromise safety and lead to expensive repairs down the line.
Other titles that can be found through a Fiat VIN check include:
Branded:  issued when a vehicle has been declared a total loss due to an accident, theft, or other damage.
Rebuilt: title is issued when a vehicle has been repaired and restored to a condition that meets the standards set by the state's DMV.
Lien: A lien is a claim against a vehicle for unpaid debt, such as a loan or unpaid taxes.
Fiat VIN Check-In 3 Steps
It's simple to use our VIN Check Tool. Follow these three easy steps below to Decode your VIN Number.
To decode your Fiat's VIN, you need to find it first. It is usually found on the inside of the driver's door frame or windshield
Enter the VIN in the search form above. Press the button or press enter and wait for your Fiat VIN to be processed
Review the report to ensure you have entered the correct VIN. If you need more data, you can get a vehicle history report.
Fiat VIN Check Sample Report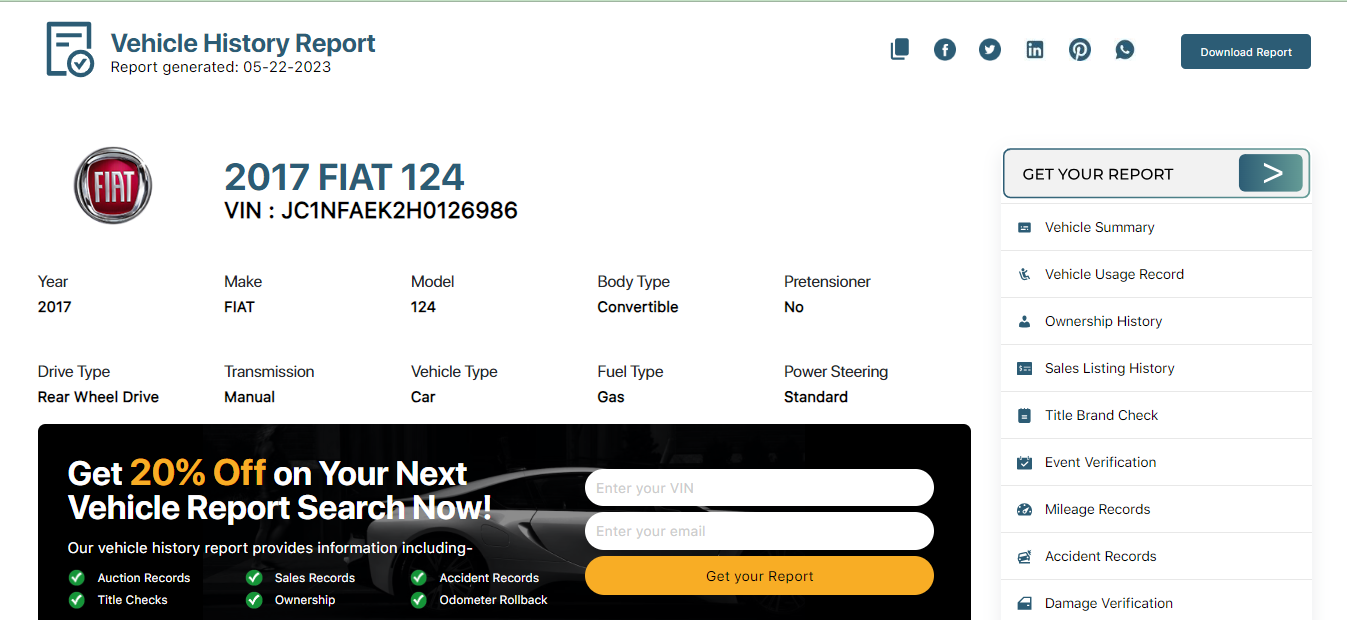 VIN: JC1NFAEK2H0126986
Style / Body: CONVERTIBLE 2-DR
Engine: 1.4L L4 DOHC 16V TURBO
Country of Assembly: JAPAN
Fiat has been manufacturing cars since 1899 and has a long and rich history in the automotive industry. Fiat is one of the oldest brands in the world and has an impressive legacy of producing some of the most iconic and beloved cars ever made. In 2020, Fiat was the 8th largest car manufacturer in the world by sales.
Fiat's sales have steadily increased over the past few years, reaching a peak of over 4.4 million vehicles sold in 2019. Fiat's most popular models are the 500, Panda, Tipo, and Punto. In 2019, the 500 was the most popular Fiat model, with over 730,000 units sold worldwide.
In terms of market share, Fiat has a strong presence in Europe and South America. In 2019, Europe accounted for 59.3% of Fiat's sales, while South America accounted for 27.3%. Fiat is also present in the United States, but with a much smaller presence, accounting for only 0.6% of Fiat's sales in 2019.
Overall, Fiat has been an important player in the automotive industry for over 100 years. Its success has been driven by the production of iconic and beloved cars, as well as its strong presence in Europe and South America.
Five Interesting Facts About Fiat
Fiat was founded in 1899 by a group of Italian investors and is the oldest car manufacturer in the world.
Fiat has been owned by many companies over the years, including the Italian government, which bought a majority stake in the company in 1969.
Fiat's iconic golden serpent logo was first created in 1903.
Fiat owns a number of other car brands, including Alfa Romeo, Lancia, Ferrari, and Maserati.
Fiat was one of the first companies to produce electric cars, with the first electric Fiat being released in 1910.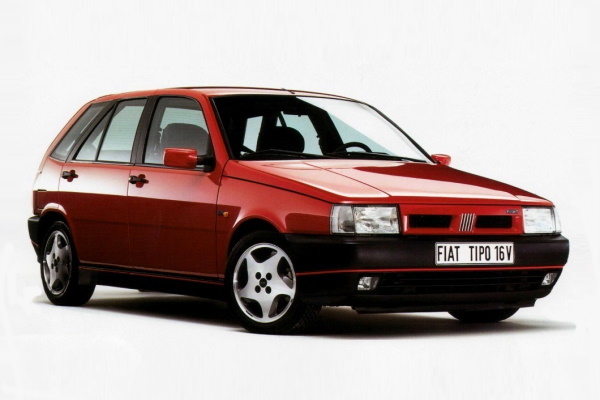 Get VIN Check Report for the Following Fiat Models
Fiat 500

Fiat 500X

Fiat 500L

Fiat 124 Spider

Fiat Panda

Fiat Punto

Fiat Tipo

Fiat Ducato

Fiat Doblo

Fiat Qubo

Fiat Fullback

Fiat Fiorino

Fiat Freemont

Fiat Talento

Fiat 500 Abarth

Fiat 500C

Fiat 124 Coupe

Fiat 500e

Fiat Uno

 
Frequently Asked Questions
A Fiat VIN check provides valuable insights into your vehicle's history, including manufacturing details, ownership history, accident records, maintenance history, title information, recall notifications, warranty details, and odometer readings.
To perform a Fiat  VIN check, locate the 17-digit Vehicle Identification Number (VIN) on your vehicle, typically found on the driver's side dashboard or the driver's side door jamb. Enter the VIN on our VIN Check form to get the report.
Yes, performing a Fiat  VIN check is not mandatory, but we highly recommend it and consider it essential when buying a used vehicle. The VIN check provides crucial information about the car's history, allowing you to make an informed decision and avoid potential issues such as undisclosed accidents, odometer fraud, or title discrepancies.
Check VIN BY Manufacturer