Discover the full story behind any Jeep vehicle with our comprehensive Jeep VIN Check! Uncover vital information like accident history, mileage, previous owners, recalls, and more: everything is just a few clicks away. Shop for a used Jeep with confidence—try our Jeep VIN Check today!
What Does Jeep VIN Number Contain?
The Vehicle Identification Number (VIN) of a Jeep vehicle is a 17-digit number that is unique to each vehicle, and it is usually located on the dashboard or on the driver's side door jamb. It contains information about the vehicle, such as its make, model, year, and manufacturing plant.
The first three digits of the VIN number refer to the manufacturer, and the fourth and fifth digits symbolize the vehicle type. The sixth, seventh, and eighth digits refer to the vehicle's model year and its body style, while the ninth digit is a security code that helps to verify the VIN number. The remaining digits refer to information specific to each vehicle, such as engine size, transmission type, and safety features.
Information Provided by a Jeep VIN Check
A Jeep VIN Check can provide detailed information about a Jeep vehicle. By entering the VIN number into an online VIN Check tool, users can access a Vehicle History Report, which includes information such as the vehicle's make, model, year, and features, as well as historical records, including auction information, damage records, and odometer readings. The report will also show if the vehicle has ever been in an accident, or if it has been declared a total loss.
In addition, users can find out whether the vehicle has had any recalls or open safety defects, and if there are any open or unresolved title brand or theft issues. All of this information can be extremely valuable to Jeep owners and potential buyers, as it can help them make informed decisions about whether or not the vehicle is a good fit for them.
Lookup Jeep Service History Information By VIN Check
A VIN (Vehicle Identification Number) check is a quick and easy way to access the history of a vehicle. By using online services such as Carfax or AutoCheck, you can obtain a comprehensive vehicle history report that includes information on the car's ownership history, accidents, service records, and more. These reports are especially useful when purchasing a used car as they help to uncover any potential problems or hidden damage. To perform a VIN check, simply enter the VIN number of the vehicle into one of these services, and the report will be generated within minutes.
Jeep VIN Check-In 3 Steps
It's simple to use our VIN Check Tool. Follow these three easy steps below to Decode your VIN Number.
To decode your Jeep VIN, you need to find it first. It is usually found on the inside of the driver's door frame or windshield
Enter the VIN in the search form above. Press the button or press enter and wait for your jeep  VIN to be processed
Review the report to ensure you have entered the correct VIN. If you need more data, you can get a vehicle history report.
Jeep VIN Check Sample Reports
VIN: 1C4RJFBG0EC588778
Style / Body: SPORT UTILITY 4-DR
Engine: 3.6L V6 DOHC 24V
Country of Assembly: UNITED STATES
Jeep is an American automotive brand that has been around for over 80 years. Established in 1941, Jeep has a long history of producing reliable and rugged vehicles that can tackle any terrain. The iconic Jeep Wrangler is a testament to this legacy, with its unbeatable off-road capabilities and timeless design. Over the years, Jeep has expanded its lineup to include other popular models such as the Grand Cherokee, Cherokee, Renegade, and Compass, catering to a diverse range of consumer needs.
Today, Jeep is a subsidiary of Stellantis, the world's fourth-largest automaker, and has a strong global presence with dealerships in over 150 countries. The brand continues to perform well in the market, with the Jeep Wrangler and Grand Cherokee ranking among the top-selling SUVs in the United States. Jeep has also expanded its lineup to include hybrid and electric models, showcasing its commitment to sustainability and innovation.
With its rich heritage and dedication to quality, Jeep remains a major player in the automotive industry, appealing to customers who value capability, versatility, and adventure. As Jeep continues to evolve, it remains true to its core values, ensuring that its vehicles maintain their iconic status and reputation for performance and durability.
Here are the top 5 facts about Jeep
Jeep is an American automotive brand with a rich history dating back to World War II, where its vehicles were used by the military.
The original Jeep was the Willys MB, which was designed for the U.S. Army and became the first mass-produced four-wheel drive car.
Jeep is now a subsidiary of Stellantis, one of the largest automotive companies in the world.
Jeeps are known for their off-road capabilities and are often used for adventurous activities such as rock crawling and mud bogging.
The Jeep brand offers a wide range of vehicles, including SUVs, trucks, and electric vehicles, to cater to different customers' needs and preferences. The most popular models include the Wrangler, Cherokee, and Grand Cherokee.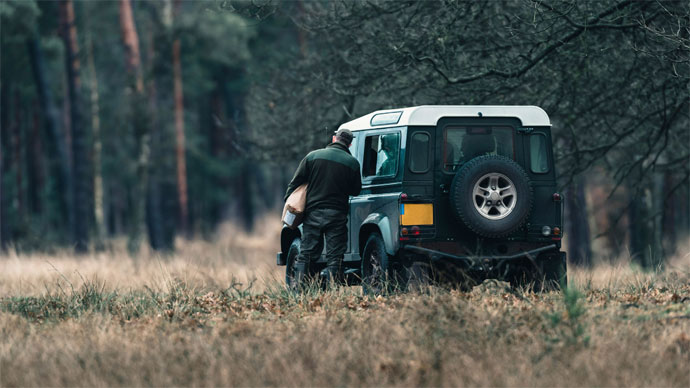 Get VIN Check Report for the Following Jeep Models
Jeep Cherokee
Jeep Compass
Jeep Gladiator
Jeep Grand Cherokee
Jeep Renegade
Jeep Wrangler
Jeep Wrangler Unlimited
Jeep CJ
Jeep Commander
Jeep Liberty
Jeep Patriot
Jeep Wagoneer
Jeep Willys
Jeep Grand Wagoneer
Frequently Asked Questions
Check VIN BY Manufacturer