Experience peace of mind with our Suzuki VIN Check tool! Get access to any Suzuki vehicle and motorcycle hidden history, verify its authenticity, and ride with confidence. Uncover the facts for a worry-free driving experience. Try out our Suzuki VIN check today!
What Does Suzuki VIN Number Contain?
A Suzuki VIN (Vehicle Identification Number) is a unique 17-digit code that contains information about the vehicle's model, engine specs, manufacturing location, and more. It is composed of three sections: the World Manufacturer Identifier (WMI), the Vehicle Descriptor Section (VDS), and the Vehicle Identifier Section (VIS). The WMI section can tell you the country of origin, the vehicle's make and model, body type, and engine type. The VDS section indicates the series, trim, and options. Finally, the VIS section contains the manufacturer's serial number, production sequence number, and security code.
By using the Suzuki VIN check service provided by Detailed Vehicle History, potential buyers can obtain a detailed report on the vehicle's history based on its VIN. This information can help buyers negotiate a better price, as well as spot any red flags that might indicate a problem with the vehicle. Some common red flags to look for include:
Accidents – a VIN check report can provide information on any accidents the vehicle has been involved in, including damage severity and repair history.
Title issues – a VIN check report with the Suzuki VIN decoder can reveal if the vehicle has a salvage title, flood damage, or other title issues that could affect its value and safety.
Odometer fraud – a VIN check report can help identify potential odometer tampering, which is a common scam in the used car market.
Information Provided by a Suzuki VIN Check
A Suzuki VIN check can provide a wealth of information about a vehicle. This includes the vehicle's make, model, year, engine information, as well as any recalls that have been issued for the vehicle. It can also provide detailed information about the vehicle's service and maintenance history, accident history, odometer readings, auction records, sales history, vehicle use and other ownership records.
Furthermore, a Suzuki VIN check can also tell you if the vehicle has been registered in any other country and if any modifications have been made to the vehicle. All of this information can help you in making an informed decision when it comes to purchasing a used Suzuki vehicle.
Lookup Suzuki Service History By VIN Check
A Suzuki vehicle's service history is an important aspect of its overall condition and value. By using a Suzuki VIN check service to lookup a vehicle's service history, potential buyers can gain valuable insights into the vehicle's maintenance and repair history.
A service history report obtained through a VIN check with the Suzuki VIN decoder can provide information on the type of service performed, the date and mileage of the service, and any parts that were replaced. This can be useful in determining if the vehicle has been well-maintained and if any potential issues may arise in the future.
Suzuki VIN Check-In 3 Steps
It's simple to use our VIN Check Tool. Follow these three easy steps below to Decode your VIN Number.
To decode your Suzuki VIN with the Suzuki VIN decoder, you need to find it first. It is usually found on the inside of the driver's door frame or windshield
Enter the VIN in the search form above. Press the button or press enter and wait for your Suzuki VIN to be processed
Review the report to ensure you have entered the correct VIN. If you need more data, you can get a vehicle history report.
Suzuki VIN Check Sample Reports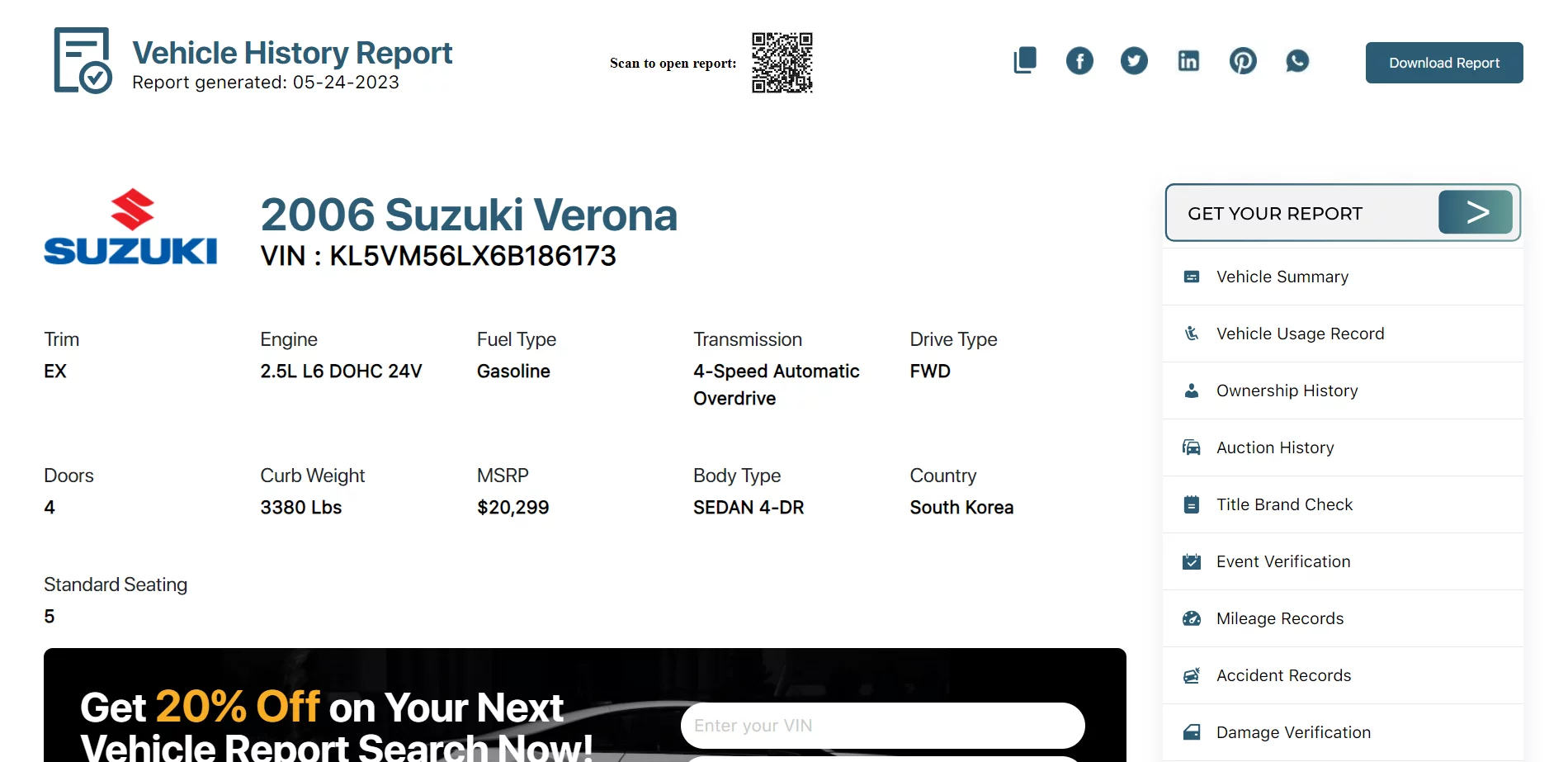 VIN: KL5VM56LX6B186173
Style / Body: SEDAN 4-DR
Engine: 2.5L L6 DOHC 24V
Country of Assembly: South Korea
Suzuki Motor Corporation is a Japanese car, motorcycle and marine engine manufacturer. The company was founded in 1909 and has its headquarters in Hamamatsu, Japan. It is one of the most successful automobile manufacturers in the world and has a wide range of vehicles in its lineup, including cars, trucks, vans, and SUVs.
In terms of vehicle history and sales statistics, Suzuki has consistently been one of the top 10 automobile manufacturers in the world. According to Statista, in 2020, Suzuki was the seventh-largest car manufacturer in the world, with a market share of 4.3%. The company also had a global sales figure of 2.6 million vehicles in 2020, with more than 1.2 million vehicles sold in Japan and over 1.4 million vehicles sold in other countries.
In terms of specific models, the most popular Suzuki vehicles in 2020 were the Suzuki Swift, Baleno, Vitara, and Ignis. The Swift was the most popular Suzuki model in 2020, with over 679,000 units sold. The Baleno was the second most popular model, with over 472,000 units sold, while the Vitara and Ignis sold over 252,000 and 149,000 units, respectively.
Here are the top 5 facts about Suzuki
Suzuki is the 9th largest automobile manufacturer in the world.

Suzuki is the 4th largest motorcycle manufacturer in the world.

Suzuki was the first Japanese brand to produce a 4-wheel ATV.

Suzuki is the only Japanese automaker producing cars in India.

Suzuki was the first Japanese automaker to build cars in the United States.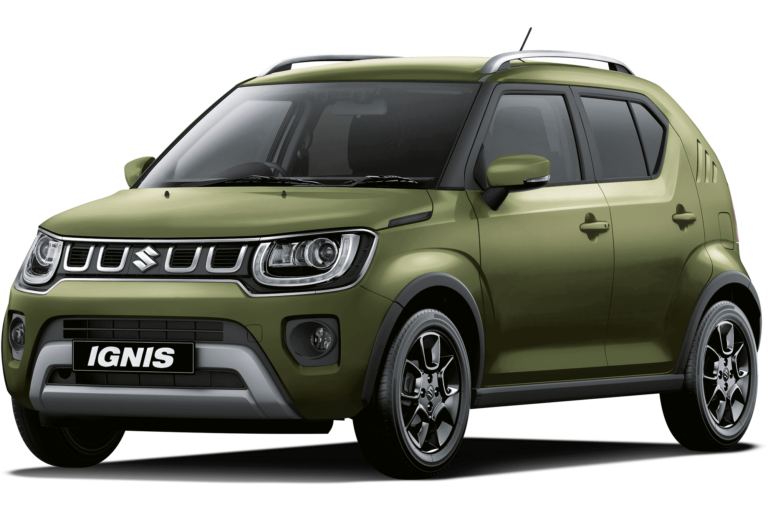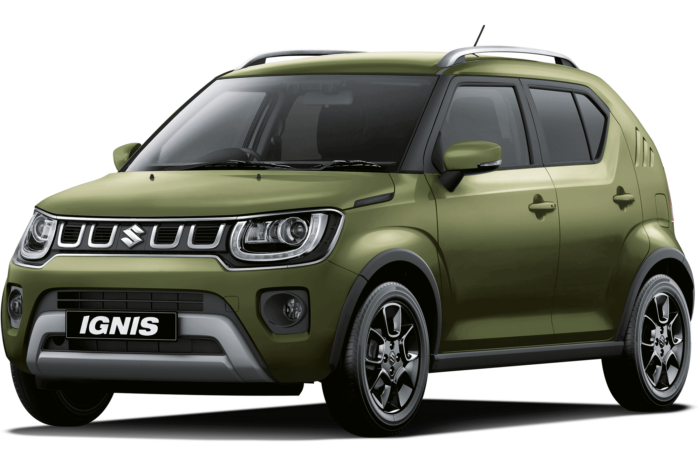 Get VIN Check Report for the Following Suzuki Models
Suzuki Vehicle Models:
1. Alto

Baleno

Celerio

Ciaz

Ertiga

Grand Vitara

Ignis

Jimny

Swift

SX4 S-Cross

Vitara

Wagon R





Suzuki Motorcycle Models:
1. GSX-R1000

GSX-R750

V-Strom 650

V-Strom 1000

SV650

Boulevard M109R

Boulevard C50

Boulevard C90

Boulevard M90

GSX650F

GSX-S1000

GSX-S750

DR-Z400S

DR-Z400SM

DR-Z250

DR650S

RM-Z450

RM-Z250

TU250X

Hayabusa
Frequently Asked Questions
A Suzuki VIN lookup will provide you with a detailed vehicle history report. This report will include information such as the vehicle's title, registration, and lienholder details, accident history, recall information, odometer readings, and other important details and specifications.
The cost of a Suzuki VIN check varies depending on the service provider you choose. Some services may offer free VIN checks, while others may charge a fee. It is best to compare different providers to determine which one is right for you.
Yes, it is safe to perform a Suzuki VIN check. When you use a reputable service provider like Detailed vehicle History, your information will be securely transmitted and stored.
Check VIN BY Manufacturer