Get valuable insights into your Chevrolet's history with our fast and reliable Chevrolet VIN Check tool! Discover information about your vehicle's ownership history, maintenance records, accident history, and potential recalls. Ensure that your Chevrolet is safe, reliable, and meets the brand's high-quality standards. Try our VIN Check service now!
What Does Chevrolet VIN Number Contain?
A Chevrolet VIN (Vehicle Identification Number) is a unique 17-digit code that contains essential information about your vehicle. The VIN includes details such as the manufacturer, assembly plant, model, year of production, engine type, and other specifications.
The Chevrolet VIN also serves as a key to accessing the vehicle's history, including ownership history, accident history, maintenance records, and potential recalls. By decoding the Chevrolet VIN, you can obtain comprehensive information about your vehicle, helping you make informed decisions regarding maintenance, repairs, and purchasing.
Information Provided by a Chevrolet VIN Check
A Chevrolet VIN check can provide a variety of useful information about a vehicle's specifications and history. This includes important details such as the model year, engine type, and even color. Other information includes the vehicle's use, previous number of owners, accident records, mileage, sales history, service and maintenance history etc.
Additionally, the VIN check can reveal if the vehicle has any outstanding lien or safety recalls. It can also provide information about the vehicle's warranty coverage and other service-related details. This information can be invaluable when it comes to making an informed buying decision.
Lookup Chevrolet Service History By VIN Check
Lookup Chevrolet service history by VIN check is an important tool for anyone who owns a Chevrolet vehicle. It allows you to quickly and easily view your vehicle's service history, including past maintenance and repair records.
This information is invaluable for determining the condition of your vehicle, as well as helping you decide when to take it in for service or repairs. With this information, you can make informed decisions about whether to replace or repair a part or make other decisions that can save you money and extend the life of your vehicle.
Chevrolet VIN Check-In 3 Steps
It's simple to use our VIN Check Tool. Follow these three easy steps below to Decode your VIN Number.
To decode your Chevrolet VIN, you need to find it first. It is usually found on the inside of the driver's door frame or windshield
Enter the VIN in the search form above. Press the button or press enter and wait for your Chevrolet  VIN to be processed
Review the report to ensure you have entered the correct VIN. If you need more data, you can get a vehicle history report.
Chevrolet VIN Check Sample Report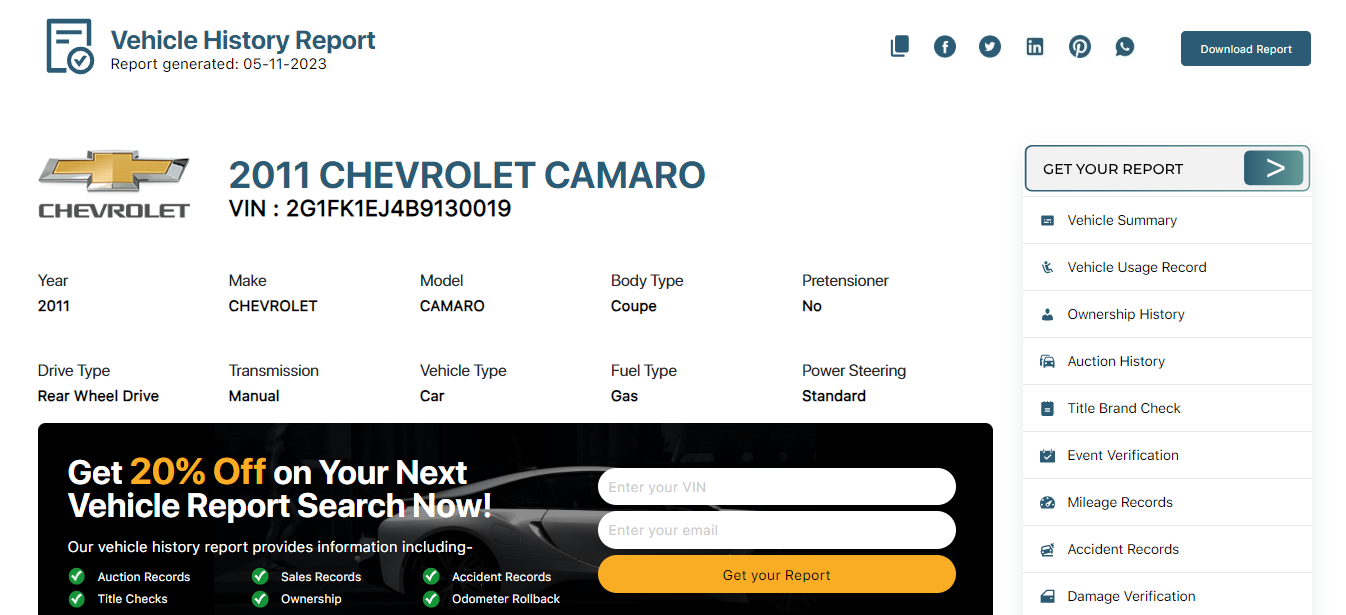 VIN: 2G1FK1EJ4B9130019
Style / Body: COUPE 2-DR
Engine: 6.2L V8 OHV 16V
Country of Assembly: CANADA
Chevrolet, commonly known as Chevy, is an American automotive brand that was founded in 1911 and is currently a subsidiary of General Motors. The brand has a long history of producing reliable, practical, and affordable vehicles that cater to various segments, including sedans, SUVs, trucks, and sports cars. Chevrolet's iconic vehicles, such as the Camaro, Corvette, and Impala, have become a symbol of American automotive excellence, known for their superior performance, advanced technology, and distinctive design.
The brand has a global presence, strongly focusing on quality, safety, and innovation. Chevrolet is committed to producing environmentally friendly vehicles, with a growing range of electric and hybrid models, such as the Bolt EV and Volt. With a legacy of over a century, Chevrolet continues to lead the automotive industry with its innovative technologies and reliable vehicles.
Here are the top 5 facts about Chevrolet
1. Chevrolet is an American automaker that was founded in 1911 and is now a subsidiary of General Motors.
2. Chevrolet is one of the largest and most well-known automotive brands in the world, and it is known for producing a wide range of vehicles, including cars, trucks, and SUVs.
3. According to recent statistics, Chevrolet is one of the largest automotive brands in the United States, with a strong presence in the North American market.
4. Chevrolet has consistently reported strong sales numbers, particularly in the United States, and it has a reputation for producing vehicles that are designed for affordability, reliability, and performance.
5. In recent years, Chevrolet has invested heavily in research and development, and it has introduced several new models and technologies that have helped to solidify its position as a leading automotive brand. The brand continues to be one of the most well-respected and successful automotive brands in the world.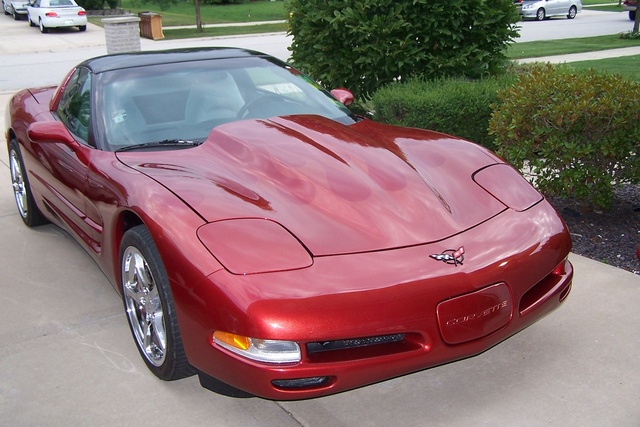 Get VIN Check Report for the Following Chevrolet Models
Camaro (sports car)

Corvette (sports car)

Impala (sedan)

Malibu (sedan)

Bolt EV (electric vehicle)

Volt (plug-in hybrid)

Spark (hatchback)

Sonic (hatchback, sedan)

Cruze (hatchback, sedan)

Equinox (SUV)

Traverse (SUV)

Suburban (SUV)

Tahoe (SUV)

Silverado (truck)

Colorado (truck)
Frequently Asked Questions
Your Chevrolet's VIN number can be found on the vehicle itself, typically on the driver's side dashboard near the windshield or on the driver's side door frame. Alternatively, the VIN may be listed on your vehicle's registration or insurance documentation.
A Chevrolet VIN check can provide valuable information about your vehicle's history, including accident history, ownership changes, maintenance records, and potential recalls. This information can help you make an informed purchase decision, ensure the vehicle meets your expectations, and maintain its value over time.
Some online services may offer a free Chevrolet VIN check, but these services may not provide a comprehensive report with all the information you need. To obtain a detailed and accurate report, you will need to use a paid VIN check service. However, the cost of our VIN check service is typically minimal compared to the others in the market.
Check VIN BY Manufacturer