Check your Yamaha's hidden past with our Yamaha VIN Check tool! Dive into your motorcycle's history, verify its legitimacy, and ride with confidence. Embrace the power of knowledge and enhance your riding experience today with our fast, reliable service!
What Does Yamaha VIN Number Contain?
A Yamaha VIN (Vehicle Identification Number) is a unique 17-digit alphanumeric code that contains essential information about your motorcycle. This distinct identifier reveals the manufacturing location, production year, model, engine type, and other relevant specifications.
The Yamaha VIN number also serves as a key to access the motorcycle's history, including maintenance records, ownership changes, accident history, and potential Yamaha recall checks. Decoding the VIN with a Yamaha VIN lookup tool allows you to gain a comprehensive understanding of your vehicle, ensuring it meets the quality and reliability standards associated with the renowned Yamaha brand. Get a Yamaha VIN lookup today!
Information Provided by a Yamaha VIN Check
A Yamaha VIN check provides valuable information about your motorcycle's history, including:
Performing a Yamaha VIN check can help you make an informed purchase decision, ensure the motorcycle meets your expectations, and maintain its value over time.
Lookup Yamaha Parts Information By VIN Check
Yamaha VIN Check-In 3 Steps
It's simple to use our VIN Check Tool. Follow these three easy steps below to Decode your VIN Number.
To decode your Yamaha  VIN, you need to find it first. It is usually found on the inside of the driver's door frame or windshield
Enter the VIN in the search form above. Press the button or press enter and wait for your Yamaha  VIN to be processed
Review the report to ensure you have entered the correct VIN. If you need more data, you can get a vehicle history report.
Yamaha VIN Check Sample Reports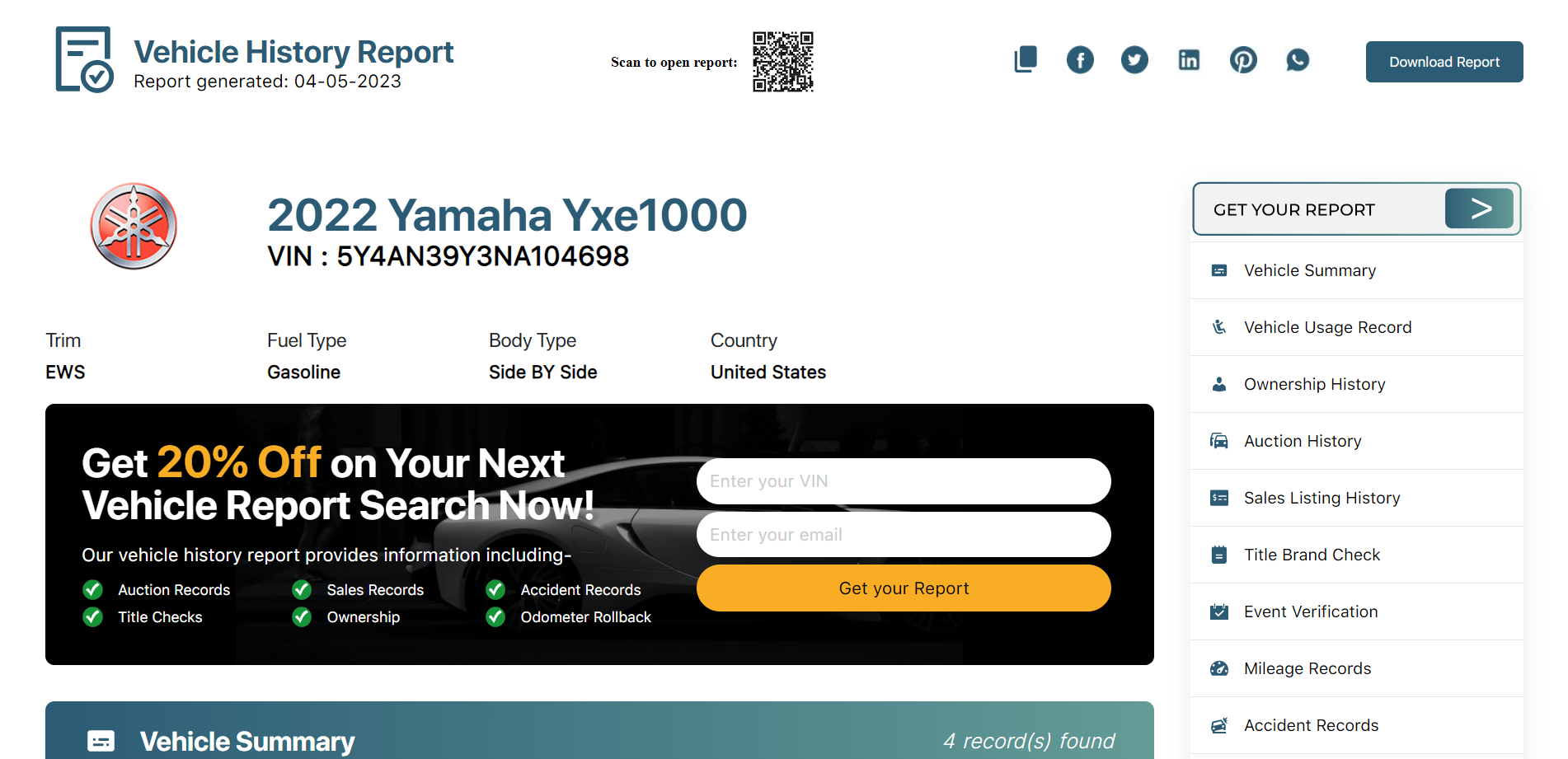 VIN: 5Y4AN39Y3NA104698
Style / Body: Side BY Side
Engine: 
Country of Assembly: United States
Yamaha is a Japanese multinational corporation that produces a broad range of products, including motorcycles, boats, musical instruments, and electronics. The company was founded in 1887 and began producing motorcycles in 1955, quickly becoming a significant player in the motorcycle industry. Today, Yamaha is recognized globally for its innovative designs, advanced technology, and high-performance motorcycles, catering to a diverse range of riders and preferences.
Yamaha has a strong presence in various motorcycle segments, including sport bikes, cruisers, touring bikes, and off-road motorcycles. The brand is known for its signature features, such as the cross-plane crankshaft technology, which delivers exceptional torque and power, and the advanced electronics systems, such as ride-by-wire throttle and ABS brakes. Yamaha has also invested in electric motorcycle technology, launching the PES2 and PED2 electric concepts in 2015.
In recent years, Yamaha has continued to expand its market share and product lineup, introducing new models and updates to its existing line. Yamaha is currently one of the top motorcycle manufacturers worldwide, with a presence in over 180 countries. With a legacy of innovation, quality, and reliability, Yamaha is set to continue its success in the industry and cater to the evolving needs of riders worldwide.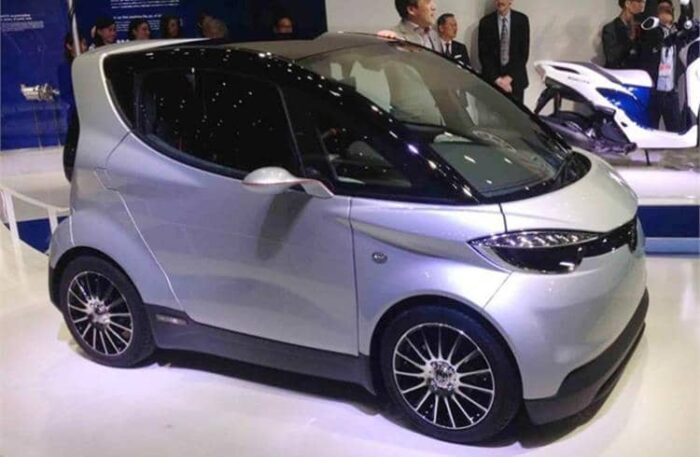 1. Yamaha is a Japanese multinational corporation that was founded in 1887 and is one of the largest manufacturers of musical instruments and motorized products in the world.
2. Yamaha is best known for its motorcycles, which are renowned for their performance, reliability, and innovation.
3. According to recent statistics, Yamaha is one of the largest motorcycle manufacturers in the world, with a significant presence in both developed and emerging markets.
4. Yamaha has consistently reported strong sales numbers, particularly in Asia, Europe, and the Americas, and it has a reputation for producing high-quality motorcycles that are designed for performance and reliability.
5. In addition to its motorcycle business, Yamaha is also involved in a range of other businesses, including the manufacture of musical instruments, audio and visual equipment, and boats. The company's diverse product portfolio and commitment to quality have helped it to become one of the most well-respected and successful companies in the world.
Get VIN Check Report for the Following Yamaha Models
Yamaha YZF-R1

Yamaha YZF-R6

Yamaha FZ-09

Yamaha FZ-07

Yamaha XMAX

Yamaha SMAX

Yamaha TMAX

Yamaha MT-09

Yamaha MT-07

Yamaha YZF-R3

 
Frequently Asked Questions
You can use a Yamaha VIN check to find out the history of your Yamaha motorcycle. This includes its production date, the type of engine it has, the country of origin, and any other important information.
When you perform a Yamaha VIN check or Yamaha VIN lookup, you will receive detailed information about your motorcycle's history. This includes the production date, engine type, country of origin, and any other important information such as recalls or service bulletins.
You can obtain a Yamaha VIN check by visiting a Yamaha dealer or going online to find a reputable third-party provider like Detailed Vehicle History. Once you have the VIN, you can input it into the provider's website to receive detailed information about your vehicle.
Check VIN BY Manufacturer