Unlock the luxury experience with our Rolls-Royce VIN Check tool! Uncover your car's history, verify authenticity, and ensure a smooth, opulent ride. Trust and transparency are redefined for the elite. Try it now!
What Does Rolls-Royce VIN Number Contain?
The Rolls-Royce VIN (Vehicle Identification Number) is a unique 17-digit code that contains valuable information about your prestigious vehicle. This alphanumeric identifier reveals the manufacturing location, production year, model, engine type, and other specifications.
Furthermore, the Rolls-Royce VIN number helps in tracking the vehicle's history, including maintenance records, ownership changes, accident history, and potential recalls. By decoding the VIN, you can understand your luxury automobile comprehensively, ensuring that it meets the highest standards of excellence and authenticity associated with the Rolls-Royce brand.
Information Provided by a Rolls-Royce VIN Check
A Rolls-Royce VIN Check provides essential information about your vehicle, offering insights into its history and specifications. By conducting a VIN check, you can expect to obtain the following information:
Vehicle Specifications: Details about the model, engine type, transmission, body style, and other technical features.
Manufacturing Details: Information about the production year, factory location, and the manufacturer's unique identifier number.
Ownership History: A record of previous owners, including purchase dates and locations.
Accident History: Any reported accidents or damage, including severity and repairs made.
Service Records: Comprehensive maintenance history, including service dates, performed tasks, and authorized service centers.
Title Information: Details about the vehicle's title, such as liens, title brands (e.g., salvaged, flood-damaged), and any potential discrepancies.
Recall Information: Notifications about any recalls issued for the specific model, along with the nature of the recall and resolution status.
Warranty Information: Details about the warranty coverage, including its duration and extent.
Mileage History: Recorded odometer readings to help identify potential mileage discrepancies or rollback attempts.
By performing a Rolls-Royce VIN check, you can ensure the vehicle's authenticity, maintain its value, and enjoy a smooth, luxurious driving experience with confidence.
Lookup Rolls-Royce Service History By VIN Check
The Rolls-Royce VIN Check tool can provide information on the service and maintenance history of a Rolls-Royce vehicle. When you lookup a Rolls-Royce VIN number, the report will provide information about the vehicle's service and maintenance history, including when and where routine maintenance tasks were performed, such as oil changes, tire rotations, and brake services. It can also provide information about any major repairs or part replacements that were performed on the vehicle.
By reviewing the service and maintenance history section of a Rolls-Royce VIN check report, you can gain valuable insights into the vehicle's past to deduce whether the vehicle was properly maintained. This information can help you make an informed decision when buying a used Rolls-Royce vehicle, ensuring that you get a car that suits your needs and budget..
Rolls-Royce VIN Check-In 3 Steps
It's simple to use our VIN Check Tool. Follow these three easy steps below to Decode your VIN Number.
To decode your Rolls Royce VIN, you need to find it first. It is usually found on the inside of the driver's door frame or windshield
Enter the VIN in the search form above. Press the button or press enter and wait for your Rolls Royce VIN to be processed
Review the report to ensure you have entered the correct VIN. If you need more data, you can get a vehicle history report.
Rolls-Royce VIN Check Sample Reports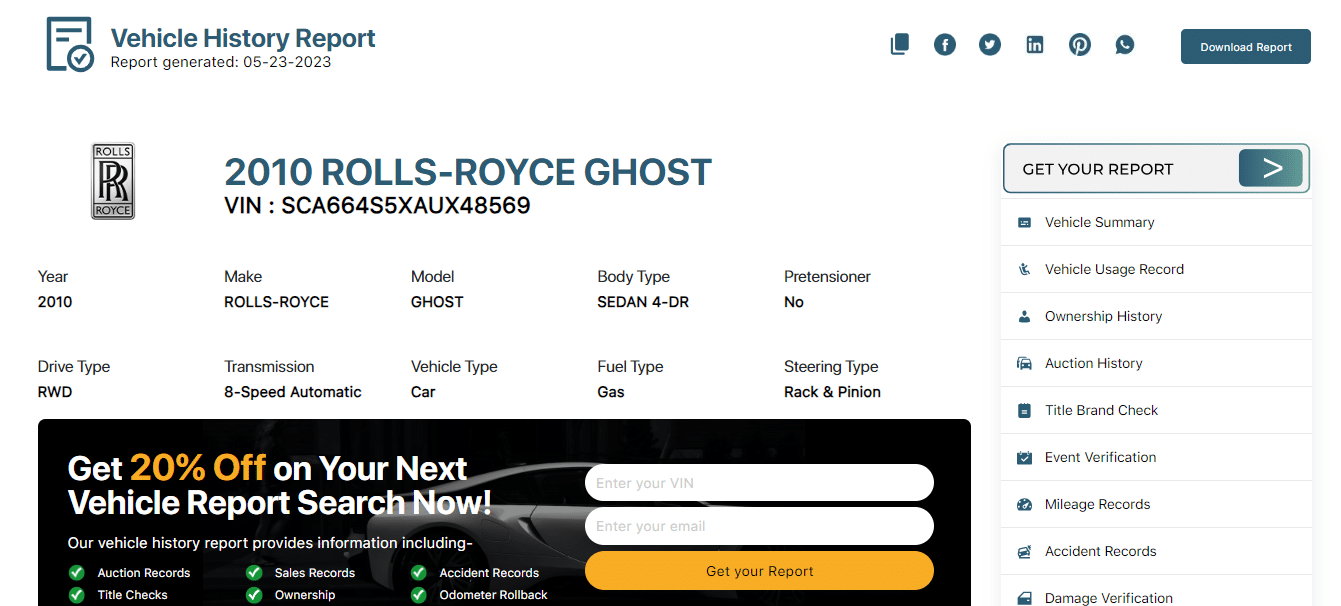 VIN: SCA664S5XAUX48569
Style / Body: SEDAN 4-DR
Engine: 6.6L V12 DOHC 48V
Country of Assembly: UNITED KINGDOM
Rolls-Royce Motor Cars, a British luxury car manufacturer, was founded in 1904 by Charles Rolls and Henry Royce. In 1907, the company produced its first car, the Silver Ghost. Since then, the company has gone through several changes in ownership, with its current parent company, BMW, having acquired the brand in 1998.
Since its founding, Rolls-Royce has sold over 75,000 cars, with the majority of those vehicles being sold in the United States, Europe and Asia. The company has also produced a number of concept cars, such as the 200EX, which was unveiled in 2008.
As of 2020, the company's most popular models include the Phantom, Wraith, Dawn, Ghost and Cullinan. The Phantom is the highest selling model, with over 10,000 units sold between 2003 and 2019. The Wraith, Dawn and Ghost have all seen sales of over 3,000 units since their respective launches.
In 2019, Rolls-Royce Motor Cars reported a record-breaking year, with over 6,000 cars sold worldwide. This was a 5% increase from the previous year and was driven by strong demand for the Phantom, Wraith and Dawn models. In the same year, the company reported a 6.2% increase in revenue to £2.2 billion.
Overall, the company continues to see strong demand for its luxury cars in all its markets, with the majority of sales being concentrated in the United States, Europe and Asia.
Here are the top 5 facts about Rolls-Royce
Rolls-Royce is the only vehicle manufacturer to have an in-house design team that includes both engineers and designers.

The iconic Spirit of Ecstasy hood ornament, which sits atop the radiator of every Rolls-Royce vehicle, was first used in 1911 and is based on a sculpture created by sculptor Charles Sykes.

The Phantom V, which was first produced in 1959, was the first Rolls-Royce vehicle to feature power steering and air conditioning.

Rolls-royce is the only vehicle manufacturer to offer an unlimited mileage warranty on their vehicles.

The Rolls-Royce Phantom Coupe, which was introduced in 2008, is the first Rolls-Royce vehicle to feature a V12 engine.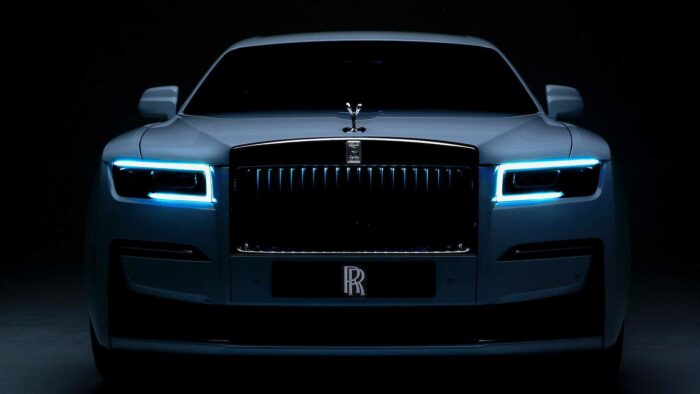 Get VIN Check Report for the Following Rolls-Royce Models
Silver Ghost (1906-1926)

Phantom I (1925-1931)

Phantom II (1929-1936)

Phantom III (1936-1939)

Wraith (1938-1939)

Silver Wraith (1946-1959)

Silver Dawn (1949-1955)

Phantom IV (1950-1956)

Silver Cloud (1955-1966)

Phantom V (1959-1968)

Silver Shadow (1965-1980)

Phantom VI (1968-1991)

Camargue (1975-1986)

Silver Spirit (1980-1999)

Silver Spur (1980-2000)

Corniche (2000)

Phantom VII (2003-2017)

Ghost (2010-present)

Wraith (2013-present)

Dawn (2015-present)

Cullinan (2018-present)

Phantom VIII (2018-present)
Frequently Asked Questions
A Rolls-Royce VIN check provides valuable insights into your vehicle's history, including manufacturing details, ownership history, accident records, maintenance history, title information, recall notifications, warranty details, and odometer readings.
To perform a Rolls-Royce VIN check, locate the 17-digit Vehicle Identification Number (VIN) on your vehicle, typically found on the driver's side dashboard or the driver's side door jamb. Enter the VIN on our VIN Check form to get the report.
Performing a Rolls-Royce VIN check is not mandatory, but we highly recommend it and consider it essential when buying a used vehicle. The VIN check provides crucial information about the car's history, allowing you to make an informed decision and avoid potential issues such as undisclosed accidents, odometer fraud, or title discrepancies.
Check VIN BY Manufacturer