Are you considering buying a used Buick? Before you make a purchase, make sure you know the full history of the vehicle with a Buick VIN Check. Our comprehensive report provides you with essential information such as accident history, ownership records, and service and maintenance records, giving you a clear picture of the car's condition and value. With our reliable and accurate Buick VIN Check, you can buy with confidence and enjoy your Buick to the fullest. Don't wait, get your Buick VIN Check today!
What Does Buick VIN Number Contain?
A Buick VIN number contains important information about the vehicle's history and specifications. It serves as a unique identifier for the car and can provide valuable insights into its production and ownership history. The first three digits of the VIN identify the manufacturer and country of origin, while the following five digits represent the car's model, engine type, and other details. The remaining digits provide a unique serial number for the vehicle. A Buick VIN Check can provide you with valuable information about the car's accident history, ownership records, and other important details. With this information, you can make an informed decision when buying a used Buick, ensuring that you get the best value for your investment.
Information Provided by a Buick VIN Check
If you're looking to buy a used Buick, a Buick VIN Check is an essential tool to help you make an informed decision. A Buick VIN check with Detailed Vehicle History provides valuable information about the vehicle's history and specifications, including accident history, ownership records, service records, title history, and vehicle specifications. You can find out if the car has been involved in any accidents and the extent of the damage, as well as details about the previous owners and service and maintenance history. The report generated after a VIN check may also reveal information about the car's title history, such as whether it has ever been salvaged or rebuilt, and any liens or loans against it. By providing all of this information, a Buick VIN Check can help you assess the car's condition, value, and potential risks, allowing you to make a confident and informed decision when purchasing a used Buick.
Lookup Buick Service History By VIN Check.
If you're looking for detailed information about the service history of a Buick vehicle, a VIN check can be a valuable resource. Using a VIN check tool, you can access a comprehensive vehicle history report that includes all the maintenance and repair work performed on the car, including the dates, mileage, and type of service provided. Additionally, the report may also highlight any recalls or safety issues related to the vehicle. By thoroughly reviewing the service history of a Buick vehicle, you can gain a better understanding of its overall condition and identify any potential concerns that may need to be addressed. This is especially important when considering purchasing a used Buick to ensure that the car has been well-maintained and properly cared for throughout its lifespan.
Buick VIN Check-In 3 Steps
It's simple to use our VIN Check Tool. Follow these three easy steps below to Decode your VIN Number.
To decode your Buick's VIN, you need to find it first. It is usually found on the inside of the driver's door frame or windshield
Enter the VIN in the search form above. Press the button or press enter and wait for your Buick VIN to be processed
Review the report to ensure you have entered the correct VIN. If you need more data, you can get a vehicle history report.
Buick VIN Check Sample Report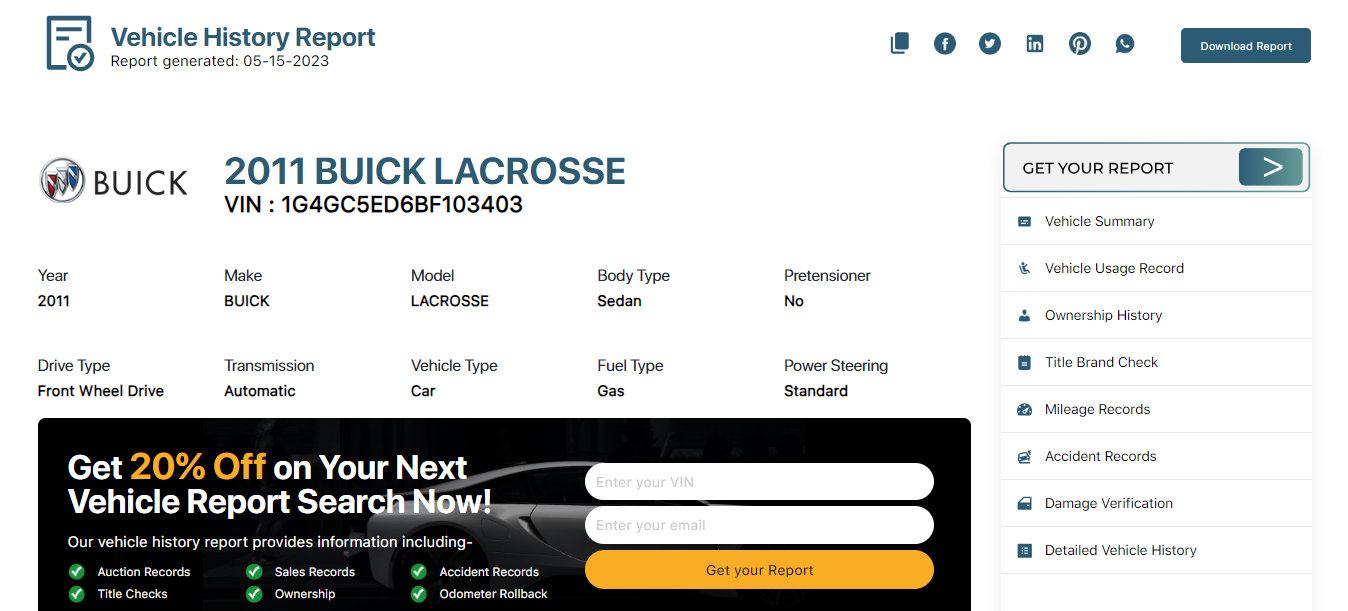 VIN: 1G4GC5ED6BF103403
Style / Body: SEDAN 4-DR
Engine: 3.6L V6 DOHC 24V
Country of Assembly: UNITED STATES
Buick is a legendary American automotive brand that has been producing high-quality vehicles for over a century. Founded in 1899, the company quickly gained a reputation for producing reliable and stylish vehicles that catered to a broad range of customers. In the early years, Buick produced a variety of vehicles, including trucks and buses, but in 1908 they shifted their focus to passenger cars. Buick has had a long and successful history, with several iconic models like the Roadmaster and the Riviera. 
Today, Buick is owned by General Motors and produces a range of sedans, SUVs, and crossovers. The company's current lineup includes popular models such as the Enclave, Encore, and Regal. Buick has a strong presence in the Chinese market and has been working to expand its global reach in recent years. The company's reputation for quality, style, and affordability has helped it maintain its position as a respected brand in the competitive automotive market.
Here are five interesting facts about Buick:
Buick is the oldest active American automotive brand, having been established in 1899.

Buick's signature "portholes," small round vents on the sides of the car's hood, were introduced in 1949 and remained a design staple for many years.

In the 1950s, Buick produced a series of concept cars called the "Century Cruiser," featuring innovations such as a transparent roof and a built-in bar.

The Buick LeSabre, introduced in 1959, was the first car to feature a fully integrated electronic control system, which monitored the car's various systems and provided real-time information to the driver.

Buick's popularity in China is so strong that it has become the company's biggest market, with sales far surpassing those in the United States. In fact, Buick is often referred to as "the car of China."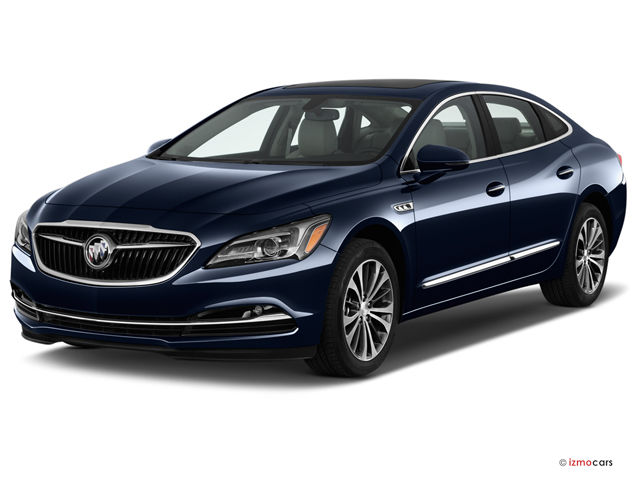 Get VIN Check Report for the Following Buick Models
Model B (1904-1908)
Model C (1905-1908)
Model D (1906-1907)
Model F (1907-1908)
Model G (1908)
Model 10 (1908-1910)
Model 14 (1910-1915)
Model 16 (1910-1911)
Model 17 (1911)
Model 21 (1912-1913)
Model 24 (1913-1914)
Model 25 (1914-1917)
Model 26/28 (1914-1917)
Model 30 (1916-1918)
Model 35 (1915-1920)
Model 37 (1916-1922)
Master Six (1925-1928)
Standard Six (1925-1929)
Series 40 (1930-1935)
Series 50 (1930-1935)
Series 60 (1930-1935)
Roadmaster (1936-1958)
Limited (1936-1942, 1958)
Special (1936-1958)
Super (1940-1942, 1945-1958)
Estate (1940-1953)
Skylark (1953-1954, 1961-1972, 1980-1998)
Wildcat (1962-1970)
Gran Sport (1965-1972, 1982-1987)
Riviera (1963-1999)
Regal (1973-2004, 2011-2020)
Electra (1959-1990)
Park Avenue (1991-2005)
Rendezvous (2002-2007)
Rainier (2004-2007)
Lucerne (2006-2011)
Enclave (2008-present)
Series 70 (1930-1935)
Series 80 (1930-1935)
Series 90 (1931-1933)
Century (1936-1942, 1954-1958)
LaCrosse (2010-2019)
Verano (2012-2017)
Frequently Asked Questions
A Buick VIN Check is a report that provides detailed information about a specific Buick vehicle based on its unique Vehicle Identification Number (VIN). The report includes information such as accident history, ownership records, service and maintenance records, and any outstanding liens or loans on the vehicle, among others.
A Buick VIN Check can give you peace of mind when buying a used Buick. It can help you assess the car's condition and value, and identify any potential issues with the vehicle before making a purchase.
Yes, you can use a Buick VIN Check for any Buick vehicle, regardless of the model or year of production.
Check VIN BY Manufacturer