Unlock the secrets of any Dodge vehicle with our comprehensive Dodge VIN Check! Instantly access a wealth of information – accident history, mileage, previous owners, recalls, and more. Make informed decisions and ensure a worry-free purchase. Try it now and drive with confidence!
What Does Dodge VIN Number Contain?
A Dodge VIN (Vehicle Identification Number) is a unique 17-character code that contains vital information about the vehicle. It includes:
World Manufacturer Identifier (WMI): The first 3 characters identify the manufacturer and country of origin.

Vehicle Descriptor Section (VDS): Characters 4-9 provide details about the vehicle's model, body type, engine, and transmission.

Check Digit: The 9th character is a security feature to verify the VIN's authenticity.

Model Year: The 10th character indicates the production year of the vehicle.

Assembly Plant: The 11th character represents the manufacturing plant where the vehicle was assembled.

Vehicle Identifier Section (VIS): The last 6 characters (12-17) form a unique serial number for each vehicle, representing production sequence and specifications.
Information Provided by a Dodge VIN Check
A Dodge VIN (Vehicle Identification Number) is a unique 17-character code that contains vital information about the vehicle. It includes:
Vehicle specifications: Model, trim, engine type, transmission, and other technical details.

Ownership history: The number of previous owners, title transfers, and registration details, including dates and locations of ownership.

Accident history: Any reported accidents or damage, including severity and repair information.

Service and maintenance records: Routine service, repairs, and maintenance performed on the vehicle.

Mileage history: Odometer readings to help identify potential discrepancies or rollback attempts.

Recall information: Manufacturer recalls and whether they have been addressed or not.

Warranty status: Details about the vehicle's warranty coverage, if applicable.

Safety ratings: Crash test results and safety ratings from organizations like the National Highway Traffic Safety Administration (NHTSA).

Theft history: Whether the vehicle has been reported stolen and/or recovered.

Lien and repossession records: Any outstanding liens or previous repossessions associated with the vehicle.
By conducting a Dodge VIN check, you can gain valuable insights and avoid potential issues or hidden problems when purchasing a used Dodge vehicle.
Lookup Dodge Service History By VIN Check
This is an invaluable tool to have when it comes to making sure your Dodge vehicle is safe and running in peak condition. This service allows you to easily access detailed records of the service history of your Dodge vehicle, including any previous repairs, maintenance, and servicing done.
The information provided can help you determine if any of the services performed were done correctly, or if any additional work may be needed. It also gives you peace of mind knowing that your Dodge is being taken care of and is in good condition.
It's simple to use our VIN Check Tool. Follow these three easy steps below to Decode your VIN Number.
Dodge VIN Check-In 3 Steps
To decode your Dodge VIN, you need to find it first. It is usually found on the inside of the driver's door frame or windshield
Enter the VIN in the search form above. Press the button or press enter and wait for your Dodge  VIN to be processed
Review the report to ensure you have entered the correct VIN. If you need more data, you can get a vehicle history report.
Dodge VIN Check Sample Report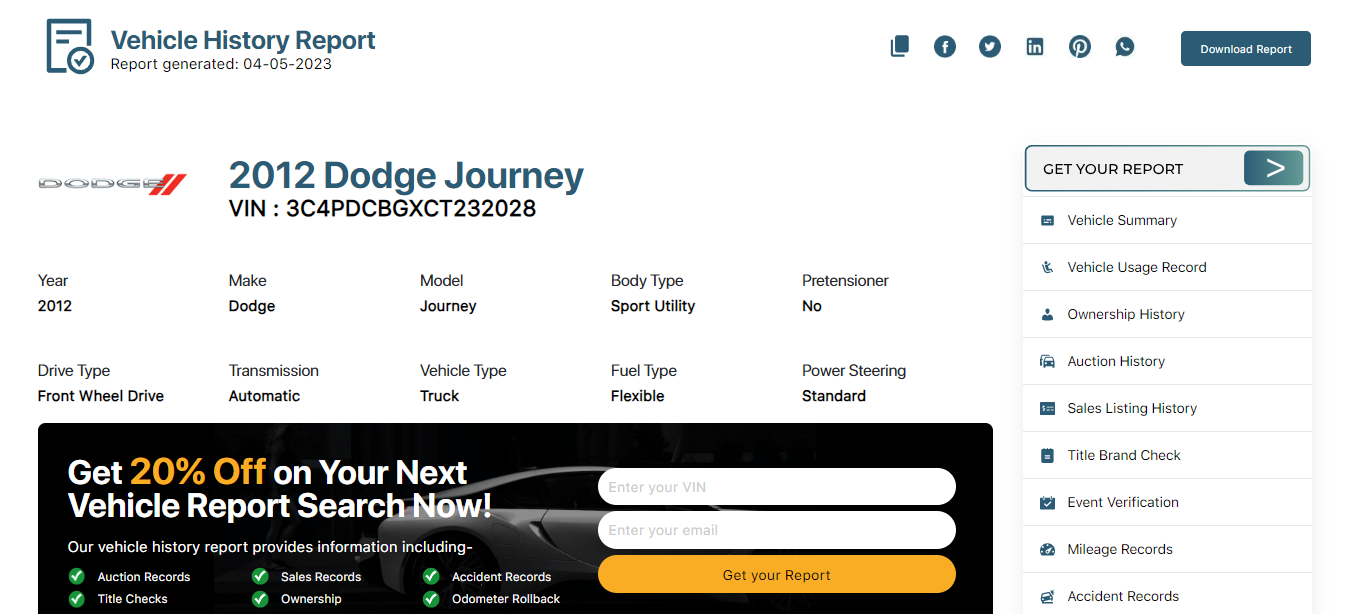 VIN: 3C4PDCBGXCT232028
Style / Body: SPORT UTILITY 4-DR
Engine: 3.6L V6 DOHC 24V
Country of Assembly: MEXICO
Dodge, an iconic American automotive brand, was founded in 1900 by brothers John and Horace Dodge as the Dodge Brothers Company. Initially a supplier of parts and assemblies for other automakers, they began producing their own vehicles in 1914. Since then, Dodge has been known for its innovative engineering, powerful performance, and timeless design. In 1928, Chrysler Corporation acquired Dodge, and today, it operates as a subsidiary under Stellantis, formed by the merger of Fiat Chrysler Automobiles and the PSA Group in 2021.
Dodge has made its mark in the automotive industry with a range of reliable and high-performance cars, SUVs, and trucks, including the Charger, Challenger, Durango, and Ram models. The brand has a loyal customer base and has consistently ranked well in market research studies, such as J.D. Power's Vehicle Dependability Study. In recent years, Dodge has focused on expanding its performance-oriented lineup, introducing powerful vehicles like the Challenger SRT Hellcat and Charger SRT Hellcat. As a testament to its commitment to innovation, Dodge is also working on electric vehicles and has announced plans to launch an all-electric muscle car by 2024. The brand continues to hold a strong position in the market, catering to customers who value performance, style, and American automotive heritage.
Here are the top 10 facts about Dodge
Dodge is an American automaker that was founded in 1900 and is now a subsidiary of Stellantis.

Dodge is known for producing high-performance vehicles with advanced technology, distinctive styling, and exceptional handling.

According to recent statistics, Dodge is one of the largest automotive brands in the United States, with a strong presence in the North American market.

Dodge has consistently reported strong sales numbers, particularly in the United States, and it has a reputation for producing vehicles that are designed for performance and affordability.

Dodge is particularly well-known for its muscle cars, including the Challenger and Charger, which are renowned for their performance and distinctive styling.

In recent years, Dodge has invested heavily in research and development, and it has introduced several new models and technologies that have helped to solidify its position as a leading automotive brand.

Dodge is also involved in motorsports, including the popular NASCAR racing series, and it is known for its commitment to innovation and performance.

The brand has a strong following among car enthusiasts and is widely recognized as one of the leading automotive brands in the world.

Dodge vehicles are available in a wide range of styles and configurations, including sedans, coupes, SUVs, and trucks.

With its focus on performance and affordability, Dodge continues to be one of the most well-respected and successful automotive brands in the world.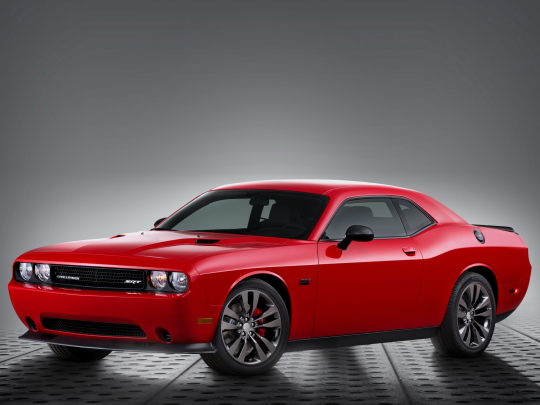 Get VIN Check Report for the Following Dodge Models
Dodge Challenger

Dodge Charger

Dodge Durango

Dodge Journey

Dodge Avenger

Dodge Caliber

Dodge Caravan (also known as Grand Caravan)

Dodge Dart

Dodge Intrepid

Dodge Magnum

Dodge Neon

Dodge Nitro

Dodge Ram (now a separate brand called RAM Trucks)

Dodge Stratus

Dodge Viper
Frequently Asked Questions
Check VIN BY Manufacturer