Mercury VIN check is a process that allows you to obtain information about a specific Mercury vehicle using its unique VIN (Vehicle Identification Number). The Mercury VIN check tool provided by Detailed Vehicle History grants access to details about the vehicle's history, including its accident history, maintenance records, ownership history, and more. It is essential to conduct a VIN check before purchasing a used Mercury to ensure that it has not been involved in any major accidents or has any outstanding issues that may affect its performance or value.
What Does Mercury VIN Number Contain?
The Mercury VIN number is a 17-character code that contains a variety of information about the vehicle, including its year, make, model, engine size, and more. Here are some tips for using VIN checks:
Use the information to negotiate a better price

: If the VIN check report reveals any issues with the vehicle, such as accident history or maintenance problems, you may be able to negotiate a lower price with the seller.

Look for red flags

: Pay attention to any red flags that may indicate a problem with the vehicle, such as a salvage title or a history of major accidents. These issues can affect the safety and reliability of the vehicle.

Check for stolen vehicles

: VIN checks can also reveal if a vehicle has been reported as stolen. If this is the case, it's important to contact the authorities and walk away from the purchase.

Beware of scams

: Scammers may alter the VIN or provide false information to make the vehicle appear more valuable or legitimate. Always verify the information in the VIN check report with the seller and do not purchase the vehicle if there are any discrepancies.
Information Provided by a Mercury VIN Check
Our Mercury VIN check service provides a comprehensive report on the vehicle's history, including accident history, ownership history, maintenance records, and more. Our service stands out from others because we use up-to-date information from multiple sources to provide the most accurate and reliable information possible. Our reports are easy to read and understand, allowing potential buyers to make informed decisions when purchasing a used Mercury vehicle.
Check Mercury Previous Owners Using Our VIN Lookup
Our Mercury VIN lookup service can provide information about the previous owners of a vehicle. By using the VIN number, we can generate a report that includes ownership history, including the number of previous owners, as well as the dates and locations of ownership transfers. This information can be valuable for potential buyers who want to know how many people have owned the vehicle before and if it has been well-maintained. Our VIN lookup service uses reliable and up-to-date data sources to provide accurate and comprehensive ownership history reports.
Mercury VIN Check-In 3 Steps
It's simple to use our VIN Check Tool. Follow these three easy steps below to Decode your VIN Number.
To decode your Mercury's VIN, you need to find it first. It is usually found on the inside of the driver's door frame or windshield
Enter the VIN in the search form above. Press the button or press enter and wait for your Mercury VIN to be processed
Review the report to ensure you have entered the correct VIN. If you need more data, you can get a vehicle history report.
Mercury VIN Check Sample Report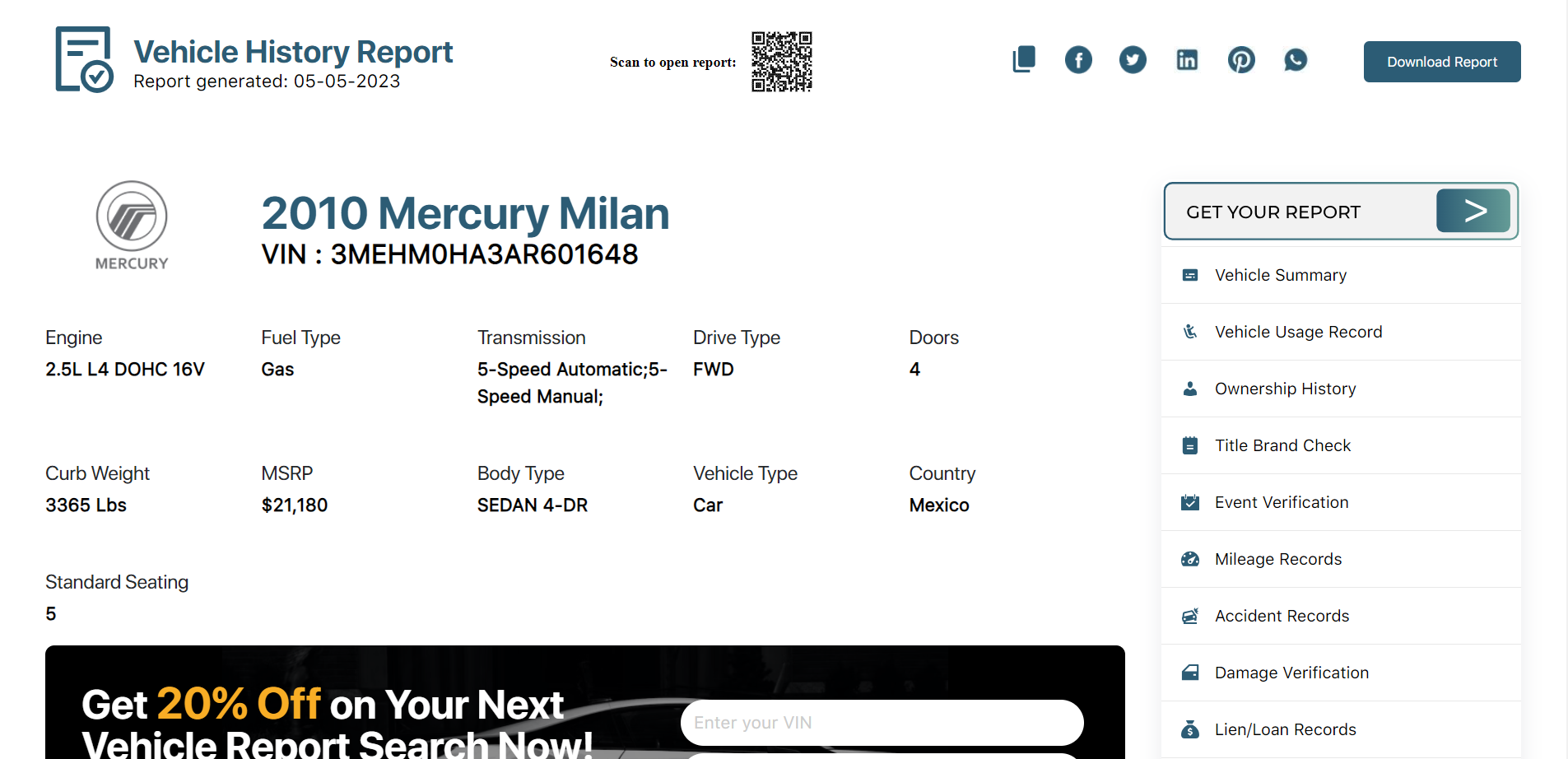 VIN: 3MEHM0HA3AR601648
Style / Body: SEDAN 4-DR
Engine: 2.5L L4 DOHC 16V
Country of Assembly: Mexico
Mercury was an automobile brand owned by Ford Motor Company that was established in 1938 and discontinued in 2011. The brand was created as a mid-level vehicle between Ford and the upscale Lincoln brand, offering more luxury features and styling than Ford but at a lower price point than Lincoln.
Mercury produced a range of vehicles over the years, including sedans, coupes, convertibles, and SUVs. Some of the brand's most popular models include the Mercury Cougar, Mercury Montego, Mercury Marauder, and Mercury Mountaineer.
Throughout its history, Mercury struggled to find a unique identity and sales declined in the 2000s, leading to the brand's discontinuation in 2011. During its peak years in the 1970s, Mercury sold over 500,000 vehicles per year, but by the time of its closure, annual sales had dropped to around 90,000.
Despite no longer being in production, Mercury vehicles can still be found on the used car market, and our Mercury VIN lookup service can help potential buyers gather information about a vehicle's history and ownership.
Few Interesting Facts About Mercury
Here are a few interesting facts about Mercury:
The Mercury brand was named after the Roman god Mercury, who was known for his speed and travel.
The Mercury logo featured the god's winged helmet, which was meant to symbolize the brand's speed and agility.
Mercury was the first brand to introduce a hardtop convertible in 1949 with its
Mercury Sun Valley model. This design became popular and was eventually adopted by other automakers.
The Mercury Cougar was one of the most popular models produced by the brand, and it was often associated with the muscle car era of the 1960s and 70s.
The Cougar was produced for over 30 years and underwent several redesigns during its production run.
In the 1950s, Mercury sponsored a series of television shows called "The Big Story," which showcased real-life crime stories. The shows were successful and helped to boost the brand's popularity.
Despite being a mid-level brand, several celebrities owned and drove Mercury vehicles, including James Dean, Frank Sinatra, and Elvis Presley.
Mercury serial number decoder is a a state of the art tool developed and deployed by Detaailed Vehicle History
for the sole purpose of providing Mercury specifications, the Mercury recalls by VIN is also possible on this page.
Mecury serial number decoder is also known as the Mercury VIN number decoder, regardles of the model of Mercury
the Mercury VIN number decoder can work also for the Mercury cougar VIN decoder.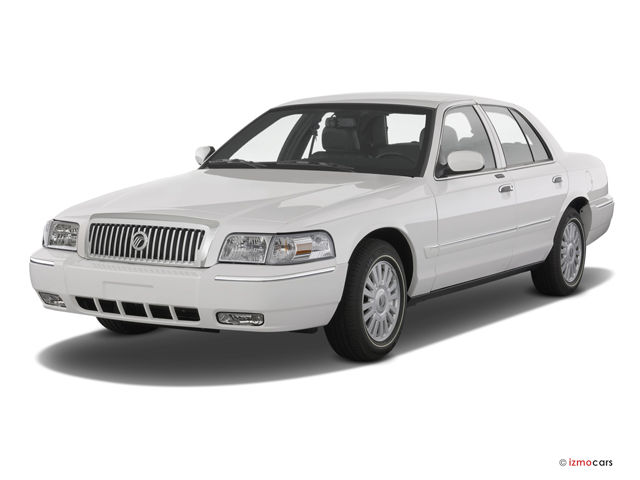 Get VIN Check Report for the Following Mercury Models
Mercury Eight

Mercury Monterey

Mercury Comet

Mercury Cougar

Mercury Cyclone

Mercury Marauder

Mercury Montego

Mercury Capri
Mercury Grand Marquis

Mercury Topaz

Mercury Sable

Mercury Tracer

Mercury Mystique

Mercury Mountaineer

Mercury Villager
Frequently Asked Questions
Yes, a Mercury VIN check can provide information about a vehicle's accident history, including the severity of the accidents and the extent of the damage.
Yes, it is recommended to perform a Mercury VIN check before buying a used vehicle to ensure that it has a clean history and to avoid potential issues down the road.
The time it takes to get a Mercury VIN check report can vary depending on the service provider. Some services offer instant reports, while others may take a few hours or days to generate a comprehensive report. However, with Detailed Vehicle History, you can get a Mercury VIN check report in seconds.
Check VIN BY Manufacturer