Vehicle Accident Report by VIN Number: The Jaguar VIN Check is a great way to access important information about a used Jaguar vehicle before making a purchase. By simply entering the Jaguar VIN (Vehicle Identification Number or chassis number) into our online VIN search tool, you can find out details such as the car's accident history, odometer readings, and title information. Buy a used Jaguar car with confidence by using the Jaguar VIN check tool from Detailed Vehicle History..
What Does Jaguar VIN Number Contain?
Jaguar VIN Decoder: The Jaguar VIN is a unique code composed of 17 characters that can provide valuable information about the vehicle's hidden past. The VIN number can be found on the car's dashboard, driver's side door jamb, vehicle documents, and more.
The Jaguar VIN number contains information such as the car's model year, country of origin, manufacturer, and serial number. It also includes a check digit to ensure the accuracy of the code. By looking up the VIN, you can obtain additional details about the vehicle's history, including its accident history, title information, and odometer readings. This information can help you make an informed decision when purchasing a used Jaguar car. You are invited to use vin decoder jaguar for the best experience possible in VIN decoding. 
Information Provided by a Jaguar VIN Check
The Jaguar VIN check technology from Detailed Vehicle History is built to provide detailed, accurate, and reliable information about the history of a used Jaguar car.
Accident VIN Check is also available here and helps buyers to make accident VIN checks. "VIN Jordan" is a term used by internet researchers when trying to find out information about Jordan VIN
Here are some of the information to expect from a Jaguar VIN check:
Basic vehicle information such as year, make, model, and trim level
Accident history, including the extent of damage and the number of accidents the vehicle has been involved in
Title information, including ownership history, liens, and salvage or rebuilt title status
Odometer records to uncover any odometer rollback or discrepancies.
Service records and maintenance history
Vehicle use, including whether as a rental or fleet vehicle etc
Theft records, including whether the car has been reported stolen
Recalls and safety issues associated with the vehicle
Jaguar VIN decoder: Detailed Vehicle History stands out from other providers like VIN check services by offering accurate, affordable and up-to-date information sourced from various trusted databases, including the National Motor Vehicle Title Information System (NMVTIS) and Department of Motor Vehicles (DMV). Our easy-to-understand detailed reports make it easy for customers to analyze the report and make wise purchase decisions before parting ways with their hard earned money.
Title Check Using Jaguar VIN Check
Performing a title check by using the Jaguar VIN Check can uncover various title brands associated with a used Jaguar vehicle. A title brand is a label assigned to a vehicle's title that describes its condition or history. Some common title brands that can be found through a title check include:
Salvage

: This title brand indicates that the vehicle has been severely damaged and declared a total loss by an insurance company.

Rebuilt

: This title brand is given to a vehicle that was previously salvaged but has been rebuilt or repaired and has passed a state inspection.
Flood damage: This title brand indicates that the vehicle has been damaged by water or flooding.
Vehicle accident report by VIN number: By unraveling these title brands through a VIN check, potential buyers can make informed decisions about whether to purchase a used Jaguar vehicle and what potential issues to be aware of. The Jaguar VIN Check tool provided by Detailed Vehicle History can help car shoppers avoid vehicles with unsafe title history.
Jaguar VIN Check-In 3 Steps
It's simple to use our VIN Check Tool. Follow these three easy steps below to Decode your VIN Number.
To decode your Jaguar's VIN, you need to find it first. It is usually found on the inside of the driver's door frame or windshield
Enter the VIN in the search form above. Press the button or press enter and wait for your Jaguar VIN to be processed
Review the report to ensure you have entered the correct VIN. If you need more data, you can get a vehicle history report.
Jaguar VIN Check Sample Report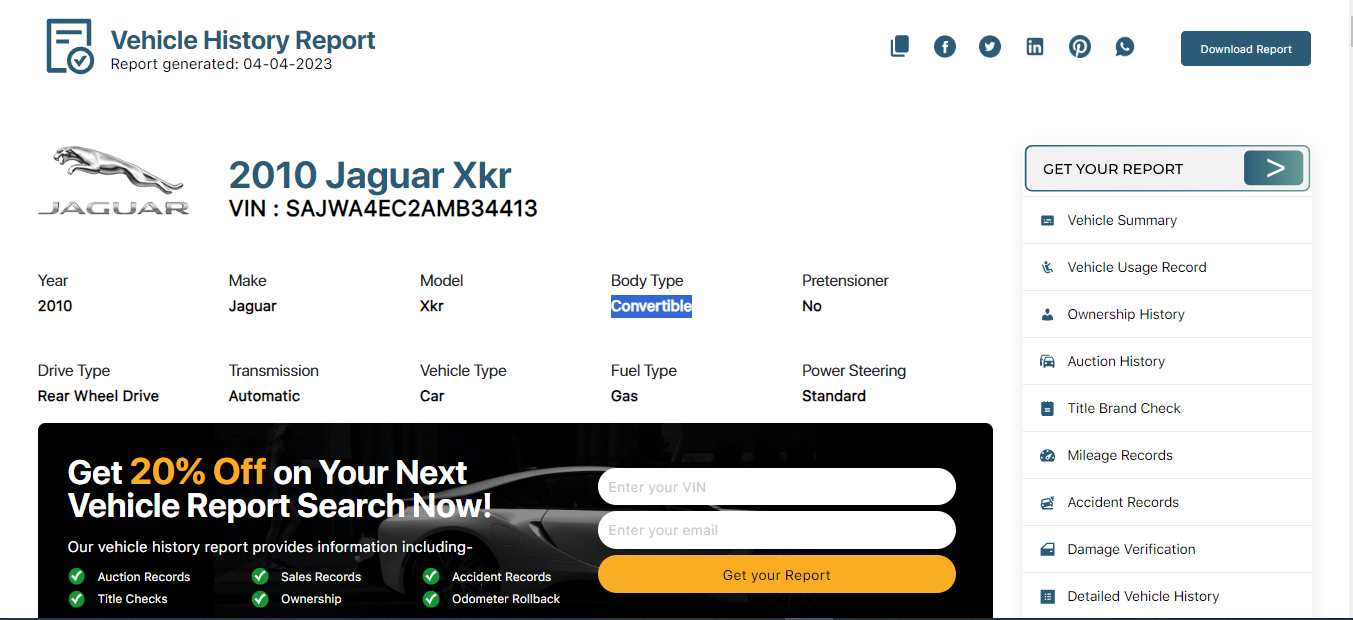 VIN: SAJWA4EC2AMB34413
Style / Body: Convertible
Engine: 5.0L V8 DOHC 32V SUPERCHARGED
Country of Assembly: UNITED KINGDOM
Jaguar VIN Decoder: Jaguar is a British luxury car manufacturer that has been producing vehicles since 1922. It is now owned by Tata Motors, an Indian automaker. In its early days, Jaguar was known for its sporty cars, but they have since expanded their lineup to include luxury sedans, SUVs and electric vehicles.
Jaguar has seen a steady increase in sales over the past decade. In 2009, the company sold roughly 81,000 vehicles globally, and by 2018 that number had risen to around 300,000. The majority of these sales come from the United States, with the UK and China following closely behind.
In terms of market share, Jaguar ranks fourth among luxury car makers, behind BMW, Mercedes-Benz, and Audi. In the US, the brand has a 4.3% share of the luxury car market.
In terms of awards, Jaguar was recognized as the 2020 North American Car of the Year by the North American Car, Truck, and Utility Vehicle of the Year awards. The carmaker has also been recognized by the World Car Awards as the 2019 World Car Design of the Year.
Few Interesting Facts About Jaguar
Here are some interesting facts car buyers should know about Jaguar cars:
The famous leaping jaguar logo was first used in 1935, and has remained virtually unchanged since then.
The Jaguar XK120 was the fastest production car of its time, with a top speed of 125 mph.
Jaguar has won a total of 7 Le Mans races, making it the most successful British manufacturer in the event.
The Jaguar XJ220 was the world's fastest production car from 1992 to 1993, with a top speed of 212 mph.
The Jaguar XF was the first car in the world to feature an all-aluminum body structure.
By running a VIN check, buyers can ensure that they are getting a good deal on a used Jaguar vehicle and avoid potential headaches and expenses down the road. Hence you are advised to use the VIN decoder Jaguar tool to make informed decisions. Jaguar VIN Decoder UK is also available for use here on this website. Jaguar VIN lookup is another term associated. Vehicle Accident Report by VIN Number is also available.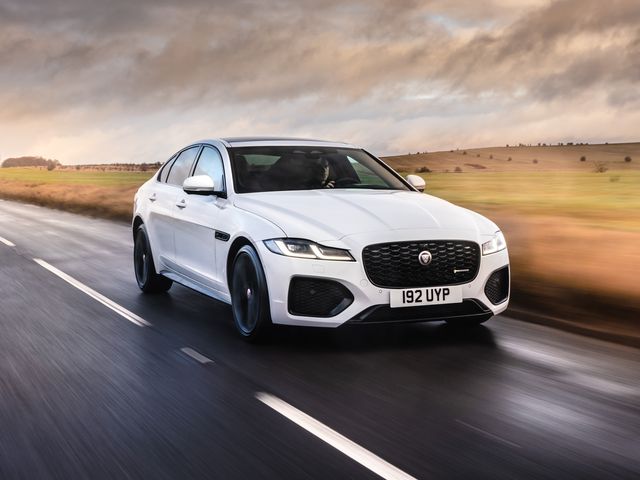 Get VIN Check Report for the Following Jaguar Models
Jaguar F-Pace

Jaguar XE

Jaguar XF

Jaguar F-Type

Jaguar XJ

Jaguar E-Pace

Jaguar I-Pace

Jaguar X-Type

Jaguar S-Type
Frequently Asked Questions
A Jaguar VIN check can provide a variety of information about a vehicle's history, including accident history, title information, odometer readings, service records, lemon history, theft records, recalls, and more. The specific information available can vary depending on the service used.
Running a Jaguar VIN check can help buyers make informed decisions when purchasing a used vehicle. A VIN check can uncover potential issues with the vehicle's history, such as previous accidents, title problems, odometer fraud, or major repairs. By uncovering these issues, buyers can avoid purchasing a vehicle with hidden problems and potential expenses down the road.
The Jaguar VIN Check tool provided by Detailed Vehicle History is a reliable and user-friendly option for running a Jaguar VIN check. To run a Jaguar VIN check, simply locate your Jaguar VIN number and fill the Jaguar VIN check form above with the required information.
Check VIN BY Manufacturer