Lotus VIN Check is a VIN decoding tool that provides detailed information about a used Lotus car specifications and history. By decoding the VIN ( 17-digit character), car shoppers  can discover useful information that provides peace of mind and boost your confidence during the purchase of a used Lotus vehicle. The Lotus VIN Check provided by Detailed Vehicle History offers a quicker and better way to access accurate vehicle information.
What Does Lotus VIN Number Contain?
The Lotus VIN number, a 17-digit character, contains important information about the vehicle's history and specifications. Here are some tips for using a Lotus VIN Check:
Negotiate a fair price

: If the Lotus VIN Check report reveals any issues with the vehicle's history, such as accidents or previous damage, you can use this information to negotiate a lower price with the seller.

Check for Red Flags

: Be on the lookout for any red flags in the Lotus VIN Check report, such as odometer rollback, multiple owners or a salvage title. These may indicate that the vehicle has been in a serious accident or has other significant issues that could affect its performance and safety.

Verification Purpose

: Make sure to check the information in the Lotus VIN Check report with the seller and also physically inspect the vehicle by a professional mechanic. Sometimes, information can be inaccurate or outdated, so it's important to verify all the records  before making a purchase.

Avoid vehicle-related scams and frauds

: Don't be carried away with deals that are too good to be true, as they may indicate potential scams or frauds. Always do your research and use a reputable Lotus VIN Check service  like the one provided by Detailed Vehicle History to ensure that you have all the information you need to make a wise purchase decision..
Information Provided by a Lotus VIN Check
Lotus VIN Check provides a comprehensive report on a vehicle's history, including title history, accident history, odometer readings, and any liens or recalls associated with the vehicle. Detailed Vehicle History service is different from others because they gather data from multiple trusted sources to ensure the accuracy and the reliability of the report. The service is relatively affordable and auction records and photos are usually reported if available.. By using our Lotus VIN Check service, you can accurately make an informed decision when purchasing a used Lotus vehicle.
Lookup Lotus Service History By VIN Check
A Lotus VIN Check report generated with the VIN check tool typically contains the following information:
Vehicle specifications,

such as year,make , model, engine type and size, transmission type, etc.

Title information,

including the title status, previous owners, and any title brands (such as salvage or rebuilt).

Accident history

, including the number of accidents and any damage reported.

Odometer readings,

including the actual  reading and any odometer discrepancies.

Any

liens or loans

on the vehicle.

Recall information,

including any open safety recalls that may affect the vehicle.

Service and maintenance history, if available.

Any theft records to know whether it's a  stolen car and if it was recovered.
Lotus VIN Check-In 3 Steps
It's simple to use our VIN Check Tool. Follow these three easy steps below to Decode your VIN Number.
To decode your Lotus's VIN, you need to find it first. It is usually found on the inside of the driver's door frame or windshield
Enter the VIN in the search form above. Press the button or press enter and wait for your Lotus VIN to be processed
Review the report to ensure you have entered the correct VIN. If you need more data, you can get a vehicle history report.
Lotus VIN Check Sample Report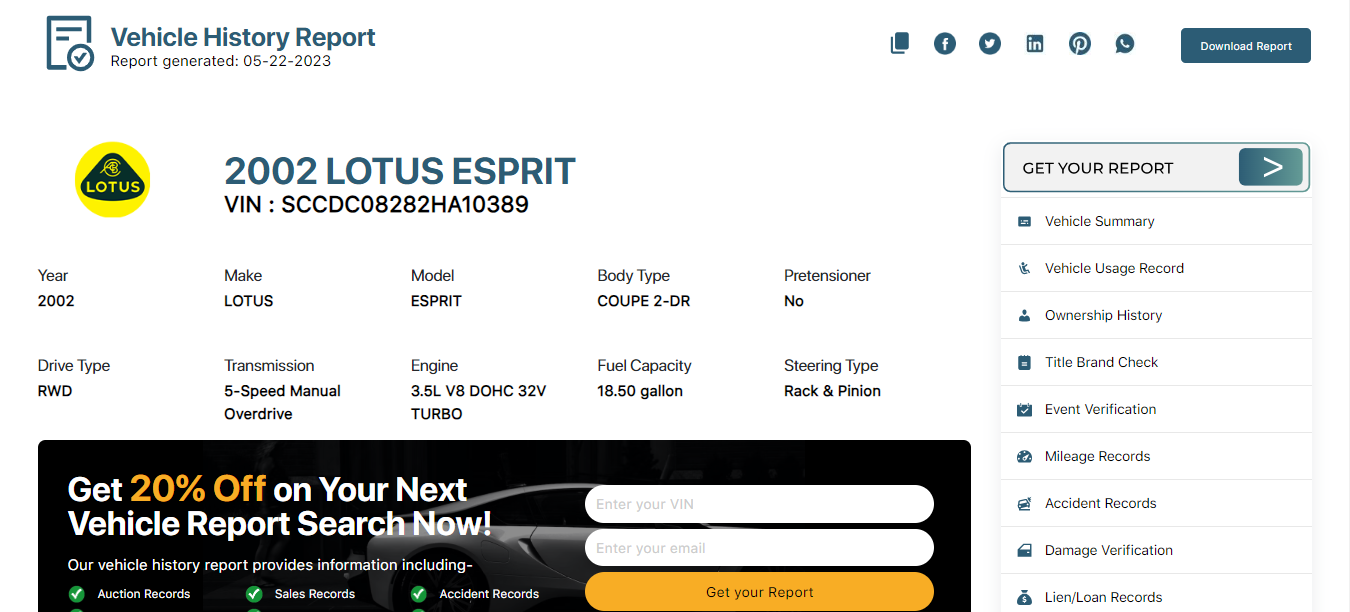 VIN: SCCDC08282HA10389
Style / Body: COUPE 2-DR
Engine: 3.5L V8 DOHC 32V TURBO
Country of Assembly: UNITED KINGDOM
Lotus Cars is a British automotive manufacturer founded in 1952. The company has a rich history in the automotive industry and is known for producing some of the most iconic sports cars of all time.
In the 1950s, Lotus Cars began producing sports cars with a focus on light weight and performance. Their first model, the Mark 6, was unveiled in 1956 and was the first car to feature an all-aluminum body. The Mark 6 also featured a lightweight aluminum chassis and a four-cylinder engine.
In the 1960s and 1970s, Lotus focused on developing their racing cars. They achieved success in Formula 1 and other motor racing series, with drivers such as Jim Clark and Mario Andretti driving Lotus cars to victory.
Lotus Cars has continued to produce sports cars and racing cars over the years, including the iconic Lotus Elise, Lotus Exige, and Lotus Evora. As of 2019, Lotus Cars has produced over 75,000 vehicles.
In terms of sales and statistics, Lotus has seen a steady decline in sales since the late 1990s. In 1998, the company sold over 6,500 cars but by 2019 that number had dropped to just over 2,000. The company has continued to focus on producing high-performance sports cars, but the market for such vehicles has not been as strong as it once was.  You run the following here also: lotus elan recalls, lotus esprit recalls, lotus evora recalls, lotus elise recalls.
Few Interesting Facts About Lotus
Here are a few interesting facts about Lotus:
The company was founded in 1952 by Colin Chapman, who was a British mechanical engineer.

Lotus is known for its lightweight and innovative vehicles, which are designed for maximum performance.

Lotus was the first manufacturer to introduce a 'ground effects' vehicle, which used air flow to create downforce on the car's underbody.

The Lotus Esprit was featured in the 1977 James Bond film The Spy Who Loved Me.

Lotus is owned by Chinese automotive giant Geely, which purchased the company in 2017.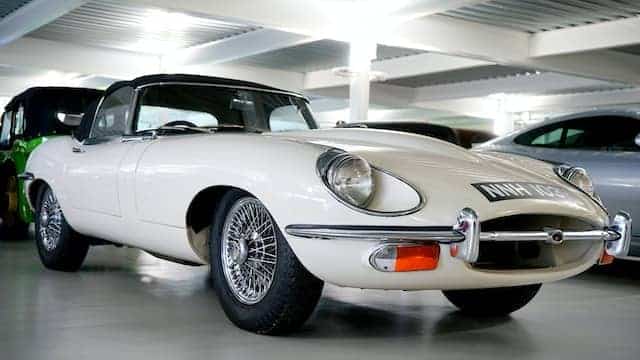 Get VIN Check Report for the Following Lotus Models
Lotus Elise

Lotus Exige

Lotus Evora

Lotus Europa

Lotus Esprit

Lotus Elan

Lotus Evija

Lotus Eterne

Lotus 7

Lotus 11
Frequently Asked Questions
A VIN is a unique 17-digit code assigned to every vehicle and it provides information about the vehicle's history and specifications. It's important to conduct a Lotus VIN check when buying a used Lotus vehicle to ensure that you're getting a car in good condition and free from legal issues or third party claims.
The accuracy of the information in a Lotus VIN Check report depends on the quality and reliability of the data sources used by the service provider. At Detailed Vehicle History, we gather information from several trusted sources to ensure the accuracy of our reports. Lotus Elan recalls is possible on this. 
Lotus Elan recalls: Yes, if the Lotus VIN Check report reveals any issues with the vehicle's history, such as accidents or previous damage, you can use this information to negotiate a lower price with the seller. However, it's important to verify the information in the report and to use it to win at the negotiation table. let us mention that the following recalls can be conducted here as well, lotus elan recalls
lotus esprit recalls
lotus evora recalls
lotus elise recalls  and more. 
Check VIN BY Manufacturer