If you're considering purchasing a used Lincoln, a Lincoln VIN Check is a must-have tool. Our comprehensive reports provide valuable information about the car's accident history, ownership records, service and maintenance history, title history, and vehicle specifications. With this information, you can make an informed decision and ensure that you're getting a high-quality car that's worth your investment. Our VIN Check service is fast, reliable, and easy to use. Plus, our reports are easy to read and understand. Don't take any chances when it comes to your investment. Get a Lincoln VIN Check today and drive away with confidence!
What Does Lincoln VIN Number Contain?
The Lincoln VIN (Vehicle Identification Number) is a unique 17-digit code that contains valuable information about your prestigious vehicle. This alphanumeric identifier reveals the manufacturing location, production year, model, engine type, and other specifications.
Information Provided by a Lincoln VIN Check
A comprehensive Lincoln VIN Check can offer a vast range of insights into the past and current condition of a used Lincoln vehicle. By deciphering the unique 17-digit Vehicle Identification Number (VIN), you can access various details such as accident history, ownership records, service and maintenance records, title history, vehicle specifications, lien and loan records, active recall records, and more. Do you know if the vehicle you are interested in is roadworthy? Verify the roadworthiness of any vehicle with a Lincoln recall check today.
This report can disclose if the car has been involved in any accidents, including the severity of the damage and any repairs performed. Moreover, it can provide information about the previous owners of the vehicle, including the number of owners and if it was used as a rental or fleet vehicle. The VIN check can also reveal the service and maintenance history of the vehicle, such as the time and place of servicing and any repairs or maintenance performed.
Furthermore, the report can also contain information about the car's title history, including if it has ever been salvaged, rebuilt, or had a lien placed on it. In summary, a Lincoln VIN Check is an indispensable tool for anyone considering purchasing a pre-owned Lincoln. It can provide valuable insights into the vehicle's past and present condition, helping you make an informed decision about your investment.
Title Check Using Lincoln VIN Check
A Lincoln VIN Check with Detailed Vehicle History can also provide information about the title brand history of the vehicle. This includes any title brands that may be associated with the vehicle, such as salvage, rebuilt, or flood damage titles.
A

salvage title

is typically issued when a vehicle has been declared a total loss by an insurance company. This can happen if the cost of repairing the vehicle exceeds its value. A rebuilt title is issued when a salvage vehicle has been rebuilt and inspected to meet state safety standards.

A

flood damage title

is issued when a vehicle has been damaged by floodwater. These titles are typically issued to vehicles that have been submerged in water and can have long-term effects on the vehicle's operation and safety.
Knowing the title brand history of a vehicle is important when considering purchasing a pre-owned vehicle. Title brands can significantly affect the value of a vehicle and can make it difficult to obtain financing or insurance.
In addition to the title brand history, a Lincoln VIN Check can also provide information about the vehicle's parts and specifications. This includes details about the engine, transmission, and other key components of the vehicle. This information can be helpful when determining the value of the vehicle and assessing its overall condition
Lincoln VIN Check-In 3 Steps
It's simple to use our VIN Check Tool. Follow these three easy steps below to Decode your VIN Number with our Lincoln VIN decoder.
To decode your Lincoln's VIN, you need to find it first. It is usually found on the inside of the driver's door frame or windshield
Enter the VIN in the search form above. Press the button or press enter and wait for your Lincoln VIN to be processed
Review the report to ensure you have entered the correct VIN. If you need more data, you can get a vehicle history report.
Lincoln VIN Check Sample Report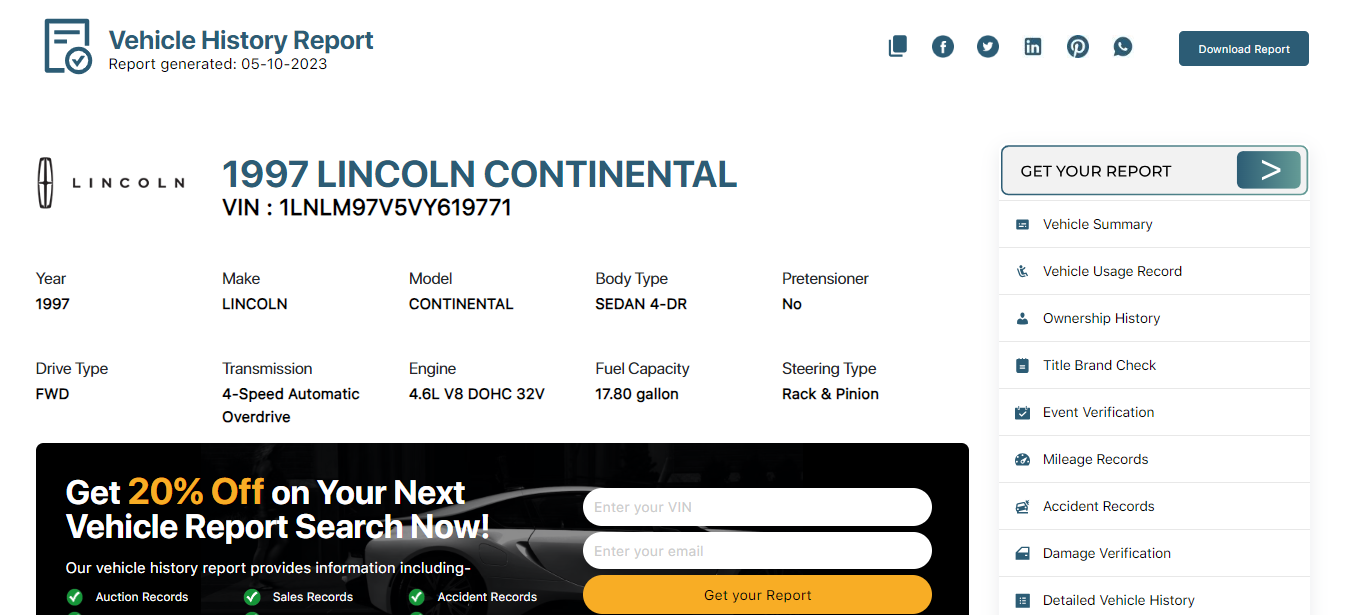 VIN: 1LNLM97V5VY619771
Style / Body: SEDAN 4-DR
Engine: 4.6L V8 DOHC 32V
Country of Assembly: UNITED STATES
Lincoln is an American luxury car brand that has been in production since 1917. Originally founded as a subsidiary of Ford Motor Company, Lincoln has become synonymous with luxury and comfort. The brand has a rich history of producing some of the most iconic American cars, including the Lincoln Continental and the Lincoln Town Car. 
Today, Lincoln continues to produce high-quality luxury vehicles that are known for their comfort, style, and advanced technology. The brand has a strong presence in the North American market, with a focus on SUVs and crossovers. Lincoln is also committed to sustainability and has introduced a number of hybrid and electric models in recent years. With its focus on luxury and innovation, Lincoln remains a popular choice for discerning car buyers looking for a premium driving experience.
Here are a few interesting facts about Lincoln vehicles:
The first Lincoln vehicle was the Lincoln Model L, which was introduced in 1920. It was a luxury car that was powered by a V8 engine and featured high-quality materials and craftsmanship.

The 1961 Lincoln Continental was famously featured in the movie "Goldfinger" as James Bond's car of choice. The car's iconic design and luxurious features helped to solidify its reputation as a symbol of style and sophistication.

The 2017 Lincoln Continental was the first American car to receive a "Top Safety Pick+" rating from the Insurance Institute for Highway Safety. The car was praised for its advanced safety features, including automatic emergency braking and lane departure warning.

In 2021, Lincoln announced that it would be transitioning to an all-electric lineup by 2030. The brand's first fully electric vehicle, the Lincoln Aviator Grand Touring, was released in 2020 and has received critical acclaim for its performance and range.

Lincoln is known for its advanced technology features, including the Lincoln Co-Pilot360 safety suite, which includes features like adaptive cruise control, blind spot monitoring, and lane-keeping assist.

Many Lincoln vehicles feature unique luxury touches, such as Revel audio systems, Venetian leather seats, and ambient lighting that can be customized to suit the driver's mood.

In recent years, Lincoln has focused on developing a more modern and elegant design language, which is characterized by clean lines, minimalist details, and a focus on comfort and convenience.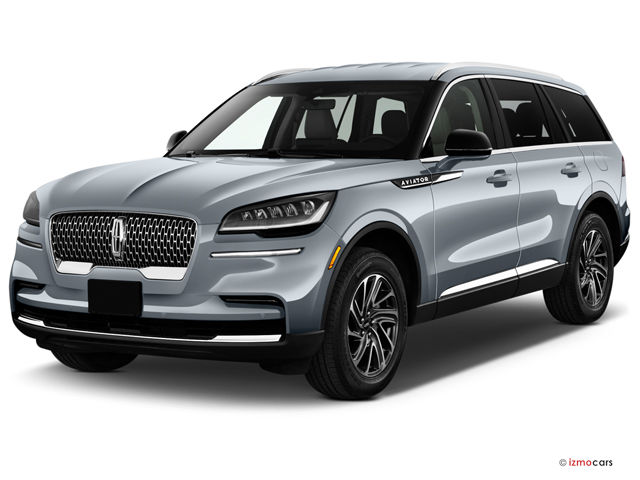 Get VIN Check Report for the Following Lincoln Models
Lincoln Aviator

Lincoln Blackwood

Lincoln Capri

Lincoln Continental

Lincoln Corsair

Lincoln LS

Lincoln Mark LT

Lincoln Mark Series

Lincoln MKC

Lincoln MKS

Lincoln MKT
Lincoln MKX

Lincoln MKZ

Lincoln Nautilus

Lincoln Navigator

Lincoln Town Car

Lincoln Versailles
Frequently Asked Questions
Performing a Lincoln VIN Check with our Lincoln VIN decoder can help you make an informed decision when buying a pre-owned Lincoln. By providing information about the car's history and specifications, you can ensure that the vehicle is in good condition, has been well-maintained, and is worth the asking price.
To perform a Lincoln VIN lookup, you can use an online service or a reputable VIN check provider. Simply enter the 17-digit VIN number of the vehicle and wait for the report to be generated.
Some basic information can be accessed for free with our Lincoln VIN decoder may be available for free, but a comprehensive Lincoln VIN Check with Detailed Vehicle History typically requires a fee.
Check VIN BY Manufacturer