Lookup Used Vehicle History Report & Window Stickers for Cars
Looking for a carfax alternative for used car reports? Our VIN check and license plate lookup tool can help you access detailed information about a vehicle's past with a car history report. You can also learn more about vehicle features, options, and packages with our window stickers for cars.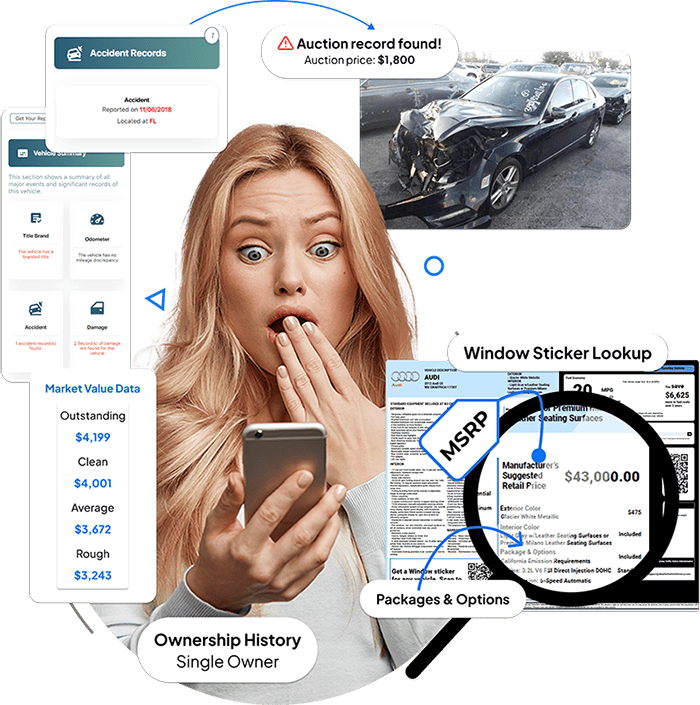 What Information is Included in a Car History Report?
Using a VIN number or license plate number you can typically find detailed information about the vehicle's past. Checking a used vehicle is important because a vehicle report can help you make informed decisions and reveals information including accidents history,lien & loan records , theft & recovery, flood, water, hail, for Fire damage, or whether the car has salvage, rebuilt, or  junk title, if it has mileage rollback, or if it was used as personal, taxi, rental or police vehicle and more.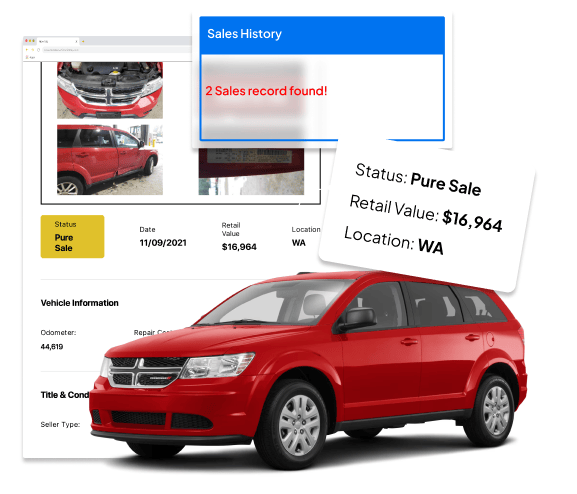 Sales listing with photos
Our report provides information about vehicles' sales records, learn:
than Carfax or Autocheck on our Used Car History Report
We care about you just like you care about your car! Just type in a VIN to get a complete vehicle history report. When you buy a vehicle report, you can quickly see detailed info that you won't find in AutoCheck or Carfax reports. Get more details at prices up to 33% cheaper than our competitors.
Get Original Window Stickers for cars
A window sticker is a label that is required by law to be displayed on all new automobiles sold in the United States. It provides important information to consumers about the car they are considering purchasing. It helps them make informed decisions by providing details about the car's features, performance, and cost. A window sticker contains information including:
Buying a car or selling it? Wondering how to get a window sticker by VIN? We provide detailed original  window stickers for cars  for all manufacturers worldwide.
Best Automotive Site for all Consumers:
Sellers, Buyers, Owners, Auto Insurance Business & Auto Dealers
We help car buyers, sellers, dealers, and enthusiasts make the right decisions with accurate vehicle data and information.
VIN Decoder
Our VIN decoder can read all types of VINs, including 17-digit VINs and classic VINs with 5 to 13 digits It support VINs worldwide. Just enter any VIN to find out the year, make, model, and vehicle specifications.
Free Vehicle Search
Use our VIN check tool to learn about any vehicle's history. Find out about past owners, accidents and damage, auction information, salvage title, service history, repair records, and more.
Vehicle History Report
We provide reports for all types of used vehicles, including classic cars. Just enter a vehicle identification number or license plate to get a complete car history. Trust facts, not fax.
Window sticker by VIN
We offer window stickers for cars including classic cars.This includes information about the car's color, features, options and packages, fuel economy, and more.
U.S license plate lookup
No VIN? No problem! Simply provide the US license plate number of that vehicle and find out the vehicle's past records with one click.
Recall Information
It's important to check for safety recalls before buying a vehicle. Don't buy a car with safety issues and take care of the one you drive
the Leading VIN Check Alternatives
| Comparison | Detailed Vehicle History | Carfax | EPICVIN | Auto Check |
| --- | --- | --- | --- | --- |
| Sales listing with photos | | | | |
| Market value data | | | | |
| Detailed vehicle specifications | | | | |
| Auction records with photos | | | | |
| Offline VIN Decoding | | | | |
| Support for classic vehicles | | | | |
| Maintenance recommendation | | | | |
| Auction records with photos | | | | |
| Ownership History | | | | |
| Accident history | | | | |
| Damage check | | | | |
| Branded title check | | | | |
| Salvage title check | | | | |
| Ownership history map | | | | |
| Recalls | | | | |
| Support for heavy duty, trucks, trailers & motorcycles | | | | |
| Mobile & desktop application | | | | |
Vehicle History Reports for all types of vehicles
We help car buyers, sellers, dealers, and enthusiasts make the right decisions with accurate vehicle data and information.
Frequently Asked Questions
Getting a car history report is very easy but there is no website that offers it for free. Our vin check tool provides a preview of potential issues i.e if vehicle has any auction or sale records or has any issues for free but full history report can reveal the complete insights.
A car history report includes information including but not limited to 
Accidents history
Safety recalls & defects
Lien & loan 
Theft & recovery records
Flood, water, hail, and Fire damage
Salvage, rebuilt, junk title check
Mileage rollback
Vehicle Specifications
Personal, taxi, rental or police use and more
Our reports include data from sources including DMV (Department of motor vehicle), financial institutions, auto auctions, salvage auctions, car dealerships, auto insurance companies, independent vehicle inspection stations, police records and more.