Are you looking to decode any Freightliner VIN number to get detailed information about the truck's history and specifications? Look no further than our Freightliner VIN Decoder! Our comprehensive service provides valuable insights into your truck's engine type, manufacturing plant, production year, and more. Don't let uncertainty hold you back – decode your Freightliner VIN today and get the information you need to make informed decisions about your truck.
Why is Freightliner VIN Decoding Important?
Freightliner VIN decoding is important for several reasons. A VIN (Vehicle Identification Number) is a unique code assigned to every vehicle that provides valuable information about its history and specifications. By decoding a Freightliner VIN, you can uncover important information about the truck, such as the manufacturing plant, production year, and engine type. This information can be helpful when negotiating a better price for your truck or when identifying potential issues or red flags.
Making a paid  VIN decoding or Freightliner VIN lookup can provide even more detailed information, such as accident history, previous owners, and maintenance records. This can be particularly helpful when purchasing a used Freightliner truck, as it can help you avoid common scams and frauds. By conducting a Freightliner VIN lookup, you can ensure that the truck you are considering has not been reported as stolen, salvaged, or involved in any major accidents.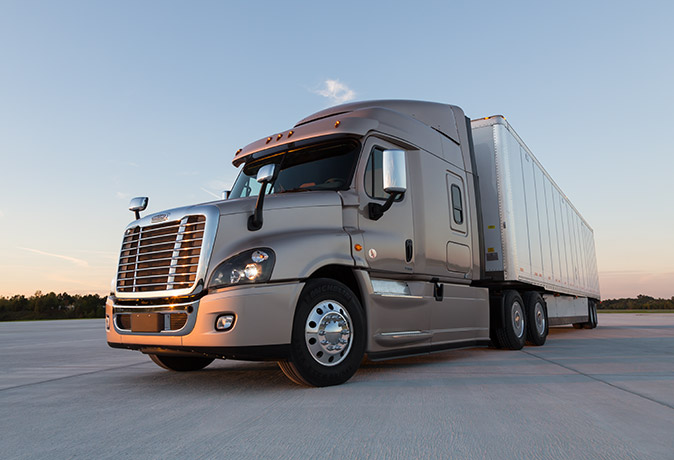 How to Decode a VIN Number?
Enter your VIN, email address, and phone number on the form fields provided, click on "Check VIN"
Proceed to payment, after which you will be redirected to your dashboard
On your dashboard, you will get the available report for online view and also downloadable as a PDF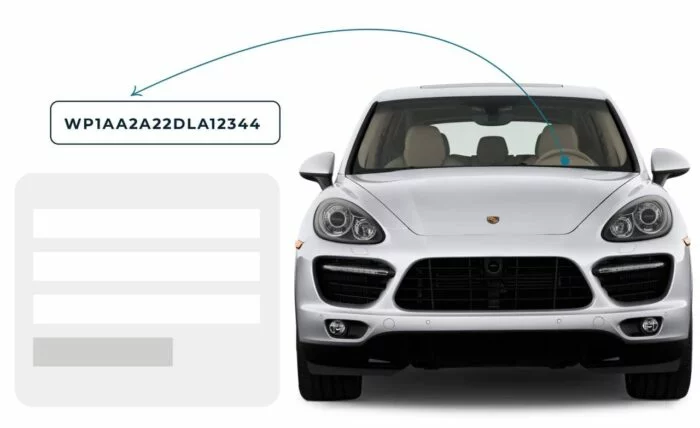 The Information Provided by Our Freightliner VIN Decoder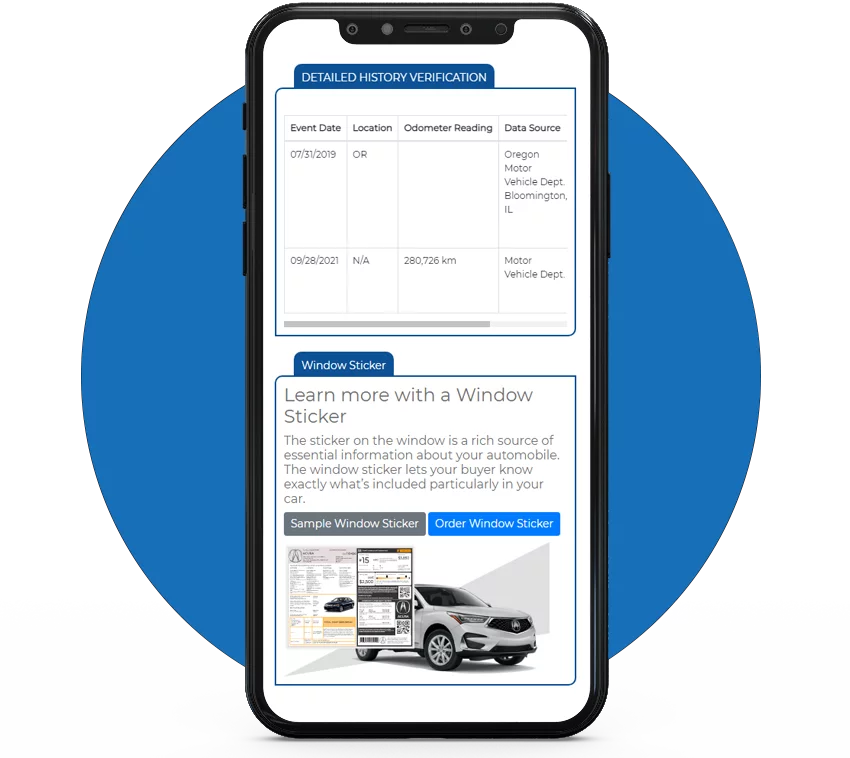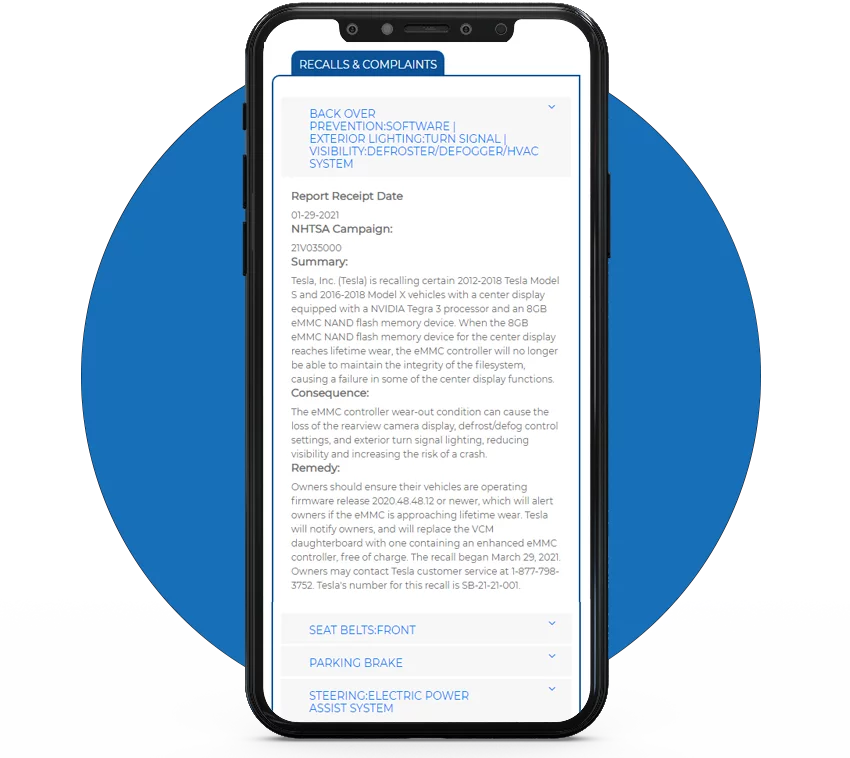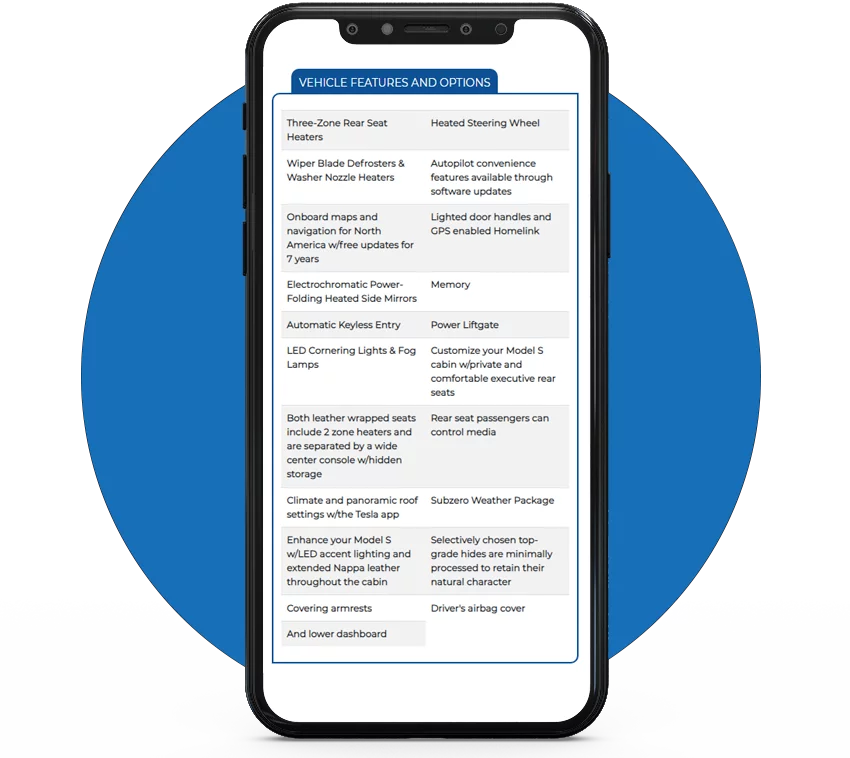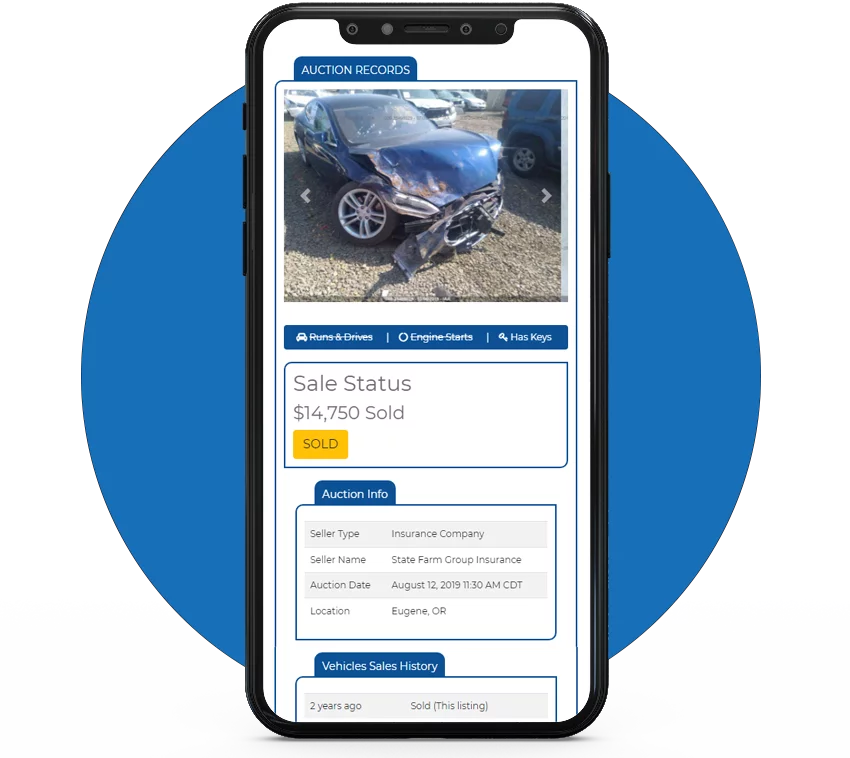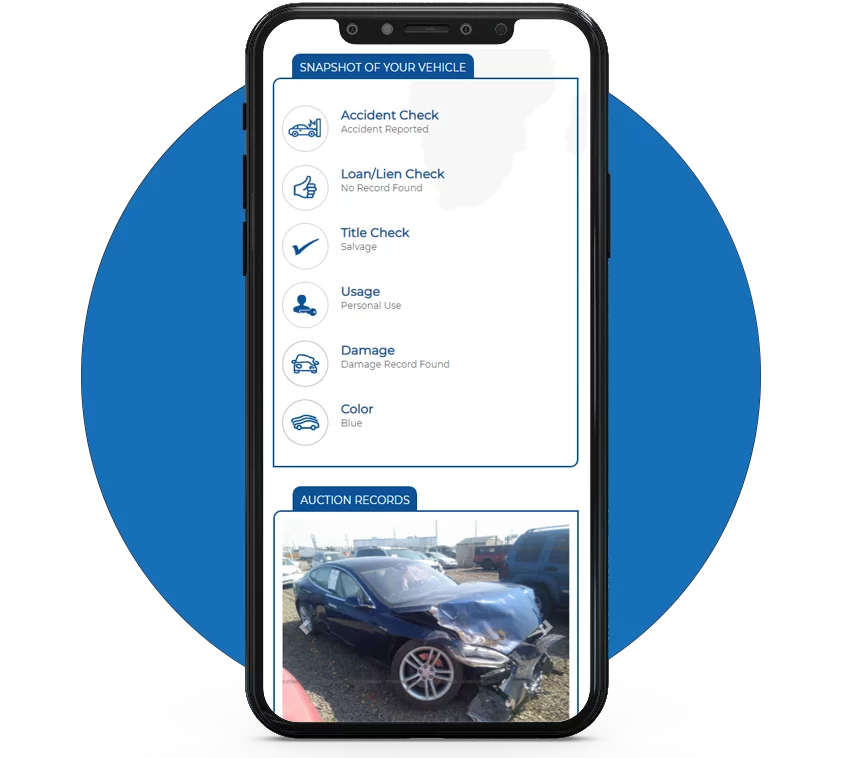 Our Freightliner VIN Decoder provides a wealth of information about your truck, including:
Year, make, and model of your Freightliner
Manufacturing plant and country of origin
Engine type and specifications
Gross vehicle weight rating (GVWR)
Vehicle type (e.g. tractor, straight truck)
Fuel type (e.g. diesel, natural gas)
Transmission type
Trim level and options
Safety features and ratings
Service and maintenance history (in some cases)
Our comprehensive Freightliner VIN decoding service is designed to provide you with all the information you need to make informed decisions about the truck, whether you are a buyer, seller, or owner. Don't rely on guesswork – use our Freightliner VIN Decoder to get detailed and accurate information about your truck today.
Freightliner Vin Decoder Sample Report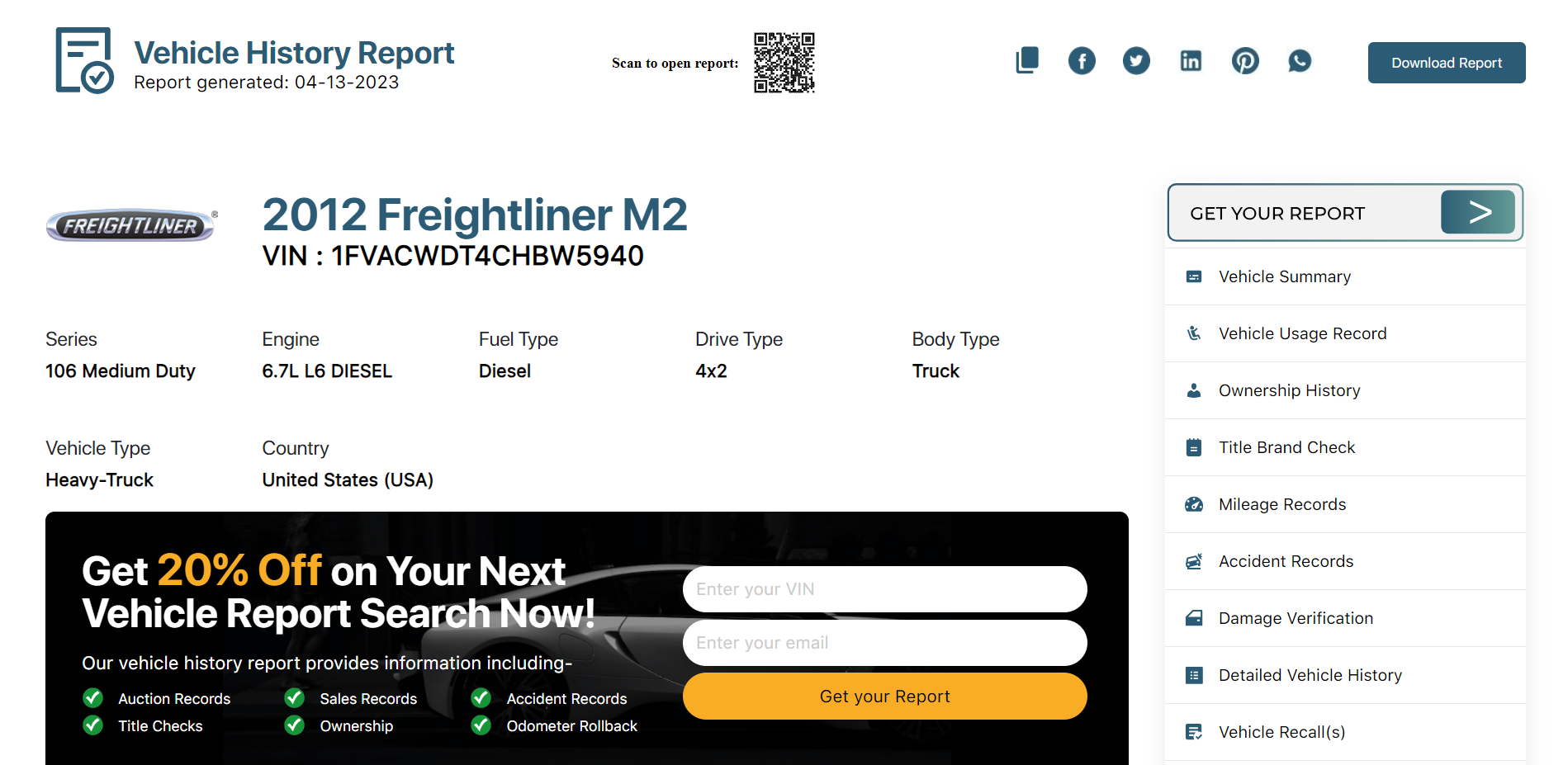 VIN: 1FVACWDT4CHBW5940
Style / Body: Truck
Engine: 6.7L L6 DIESELI
Country of Assembly: United States (USA)
How To Identify Freightliner Specs By VIN Decoding?
Identifying Freightliner specs by VIN decoding is a straightforward process. Follow these steps:
Locate the 17-digit Freightliner VIN number on the truck. This can usually be found on the driver's side of the dashboard, near the windshield.
Visit our Freightliner VIN Decoder page and enter your VIN number into the search bar.
Click "decode" to receive your vehicle's specifications.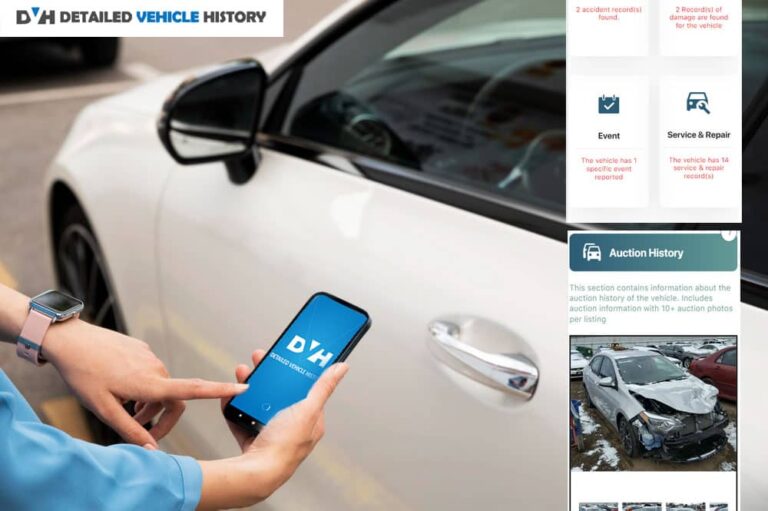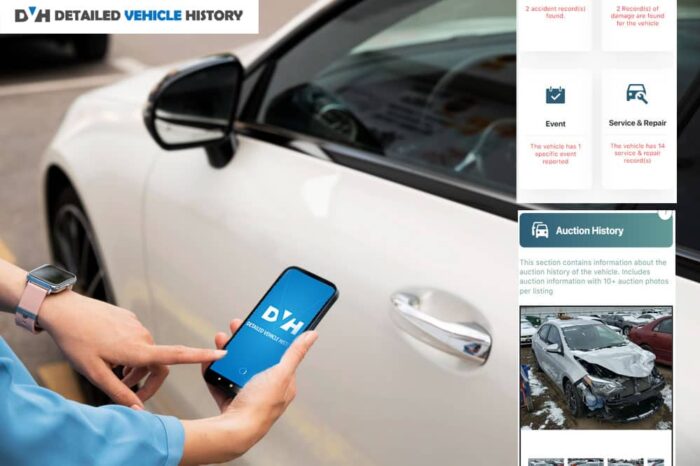 Useful Information For Freightliner Vehicle Owners
As a Freightliner vehicle owner, there are several resources available to you that can help you maintain and operate your truck. Here are some useful pieces of information:
Freightliner website: The official Freightliner website (freightliner.com) offers a wide range of resources for vehicle owners, including owner's manuals, maintenance schedules, and parts catalogs.
Freightliner customer support: If you have questions or concerns about your Freightliner truck, you can contact the Freightliner customer support team at 1-800-FTL-HELP (1-800-385-4357).
Maintenance and service: Proper maintenance is key to keeping your Freightliner truck running smoothly. Follow the recommended maintenance schedule for your specific model and consult with a qualified mechanic for any necessary repairs or services.
Safety: Freightliner trucks are equipped with a range of safety features, but it's important to always drive defensively and follow all traffic laws to avoid accidents.
Driver training: If you're new to driving a Freightliner truck, consider participating in driver training programs to learn best practices for operating your vehicle safely and efficiently.
By utilizing these resources and following best practices for maintenance and safety, you can keep your Freightliner truck in top condition and maximize its lifespan.
Get an Accurate VIN Check Report for the Following Freightliner Models
Cascadia
M2 106
New Cascadia
108SD
114SD
122SD
EconicSD
122SD Heavy Haul
Business Class M2 112
Freightliner Sprinter
Frequently Asked Questions
Decode VIN by manufacturer