Tennessee License Plate Lookup
Looking to buy a used vehicle registered in Tennessee? Get a license plate lookup and access the salvage status, theft, accident, recall, loan & lien status information, and more. Although you can get this information by running a VIN check, the license plate lookup tool comes in handy whenever the VIN is unavailable or compromised. Statistics show an increase in the rate of auto thefts nationwide, with Ford Pickups being one of the most commonly stolen vehicles in Tennessee. The license plate lookup is one of the sure-bets for accessing any vehicle traffic records and ownership information, and it also assists in tracking and monitoring vehicles involved in crimes.
Importance of Tennessee License Plate Lookup
License plate lookup usually suffices when there is a case of an invalid VIN number, the license plate number becomes the code to unlock the historical data of the vehicle in question. When a license plate lookup has been conducted with the right service provider such as Detailed Vehicle History it holds the potential of assisting the one conducting the lookup to access information that will serve as an aid to their decision-making process. Used car buyers use this tool to access traffic records and odometer records of used cars registered in Tennessee.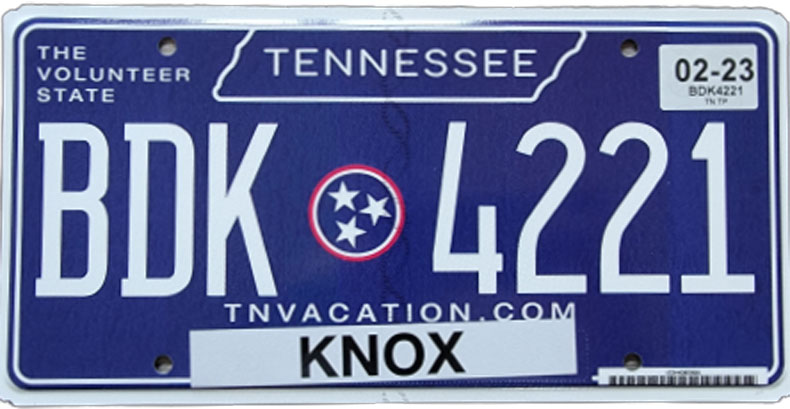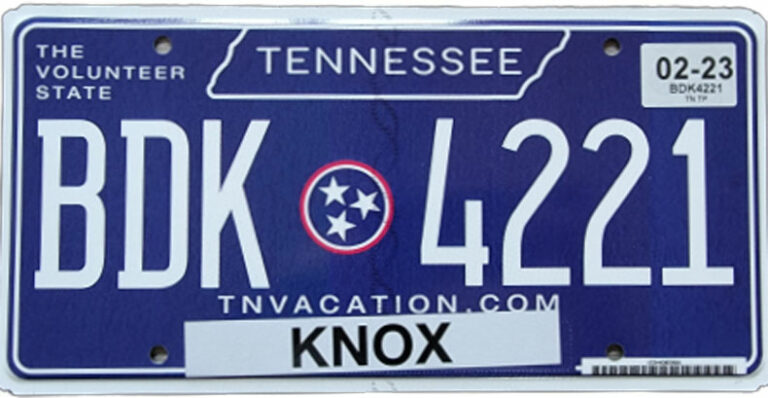 Types of License Plates in Tennessee
In Tennessee, there are standard license plates, and there are over 100+ specialty plates. They include:
Delta Sigma
Cold war era veterans
Enemy evadee
Environment state parks
Firefighter. Etc
The Information You Will Find by License Plate Check
After conducting a license plate lookup for a vehicle registered in Tennessee, the following or more information about the vehicle will be made available:
The vehicle ownership information
Service and maintenance records
Auction records and images (when available)
Loan and lien information
Accident records
Insurance information
Title records
Theft records and more.
Why is Reverse License Plate Lookup Important in Tennessee?
Tennessee reverse license plate lookup provides users with the following information:
Insurance history, Vehicle specification, maintenance records, and more.
Application to local DMV offices for a license plate lookup may work but this is usually stressful and takes time. Reverse Tennessee license plate lookup with Detailed Vehicle History eliminates this stress and makes it possible to check and access license plate records more easily with little cost.
How to Transfer License Plates in Tennessee?
There are a handful of requirements for plate transfer in Tennessee, before transferring a plate make sure that the new vehicle is titled exactly as the previous vehicle then ready the following:
A valid means of identification, preferably a Tennessee driver's license.
A completed and signed title certificate.
Proof lien discharge
Payment of all applicable fees
How to Register and Transfer Car Title in Tennessee?
The following procedure could be followed registering or transferring a title in Tennessee:
A document to confirm/validate residency
A valid proof of identity
The odometer disclosure document
Pay all required fees
Take all the documents that are needed and pay a visit to the nearest
Tennessee Department of Revenue
.
Tennessee is a state in the upper south of the USA, with a capital named Nashville, it is a beautiful state considered to be the birthplace of mountain dew and Cotton Candy. The state is further renowned for its great whiskies and surely is home to country music legends such as Dolly Parton and Elvis Presley. The following are the most popular cars in Tennessee:
Ford F-150
Nissan Rogue
Nissan Altima
Chevrolet Silverado 1500
RAM pickup 1500

Frequently Ask Questions (FAQ)
To run a Tennessee license plate lookup means to use a license plate number of a vehicle registered in Tennessee to obtain information about the vehicle from the detailedvehiclehistory.com database.
The most predominant type of information usually obtained from a license plate lookup is vehicle ownership information, you can also learn about the cities where the car has been used.
It can cost you $15 to run a Tennessee plate lookup using the Detailed Vehicle History tool. Keep in mind that this price is subject to change.
License Plate By All State In the USA