Virginia License Plate Lookup: Easy VA Plate Search
License plates are more than just identification numbers for vehicles. They carry a wealth of vehicle information that can help you uncover important details about a vehicle's history, ownership, and more. In Virginia, our license plate search tool is a powerful one for individuals, prospective buyers, and law enforcement agencies to access vital information about vehicles.
Importance of Virginia License Plate Lookup
Amongst other states, in the United States Virginia state is standing out in terms of laws and regulations guiding the use of motor vehicles. For example, it is compulsory for two license plates to be displayed predominantly and clearly in front of vehicles and on the rear of the vehicle.
Any car that has been titled as Salvage cannot be used on the roads of Virginia, so out there are clean cars.
However, accidents are inevitable and are sure to happen irrespective of the state, hence some vehicles registered in Virginia might have been involved in a crash, how can one research and properly denote a salvaged car that was once clean from Virginia?
One sure way is by conducting or running a VA license plate lookup, this will grant you access to a detailed vehicle history report. Our license plate lookup tool can reveal a treasure trove of information about a vehicle such as vehicle owner information, vehicle identification number (VIN), recall history, and more. Before buying a used car in Virginia, you need to get accurate license plate information and verify the vehicle's condition and be empowered with knowledge about a vehicle's past. This is where Detailed Vehicle History's plate number check tool comes in.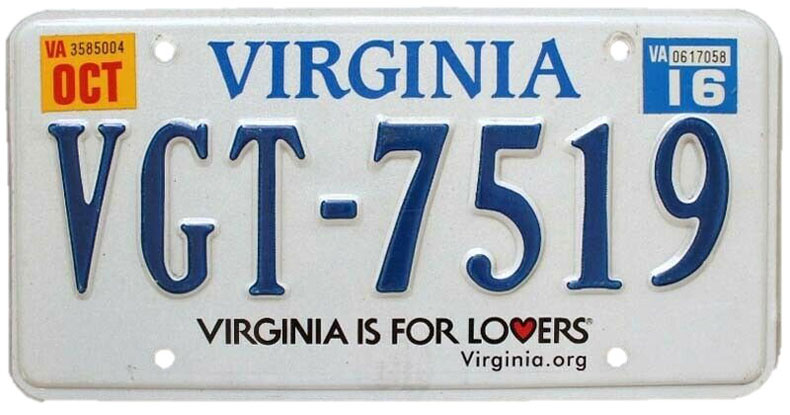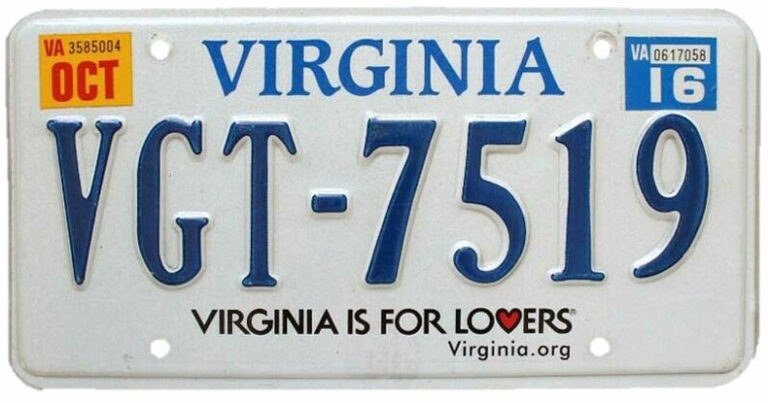 Types of License Plates in Virginia
In Virginia, there are several types of license plates that are available for drivers to choose from. The most common type of plates issued is the standard plate, which features a combination of letters and numbers. These license plates serve as a unique identifier for each vehicle on the road. Another option available to drivers in Virginia is personalized plates. These plates allow individuals to choose a specific combination of letters and numbers to display on their vehicle. With personalized plates, drivers can express their creativity or show support for a cause or organization.
In addition to standard and personalized plates, the Virginia DMV offers special interest plates. These plates are designed for specific groups or organizations and often feature unique designs or logos. For example, there are college license plates that allow drivers to display their pride for their alma mater. There are also temporary license plates and special license plates available for military veterans, members of certain organizations, or supporters of various causes.
The Information You Will Find by License Plate Check
Look up a Virginia license plate and get the following information:
Title information
Ownership information
Theft data
Accident records
Mileage
Cities where the vehicle was used
Loan & lien records
Odometer readings
Service and maintenance records. etc
Note that personal information about the vehicle's owner or plate owner is kept safely in line with the Driver's Privacy Protection Act (DPPA). This means that no one can lookup Massachusetts vehicle owners through our website.
Why is Reverse License Plate Lookup Important in Virginia?
If the acquisition of vehicle ownership data is of interest to a particular individual or group of persons, then a reverse license plate lookup is the way to go.
The license plate holds a plethora of data that can be unveiled after a lookup, to the used car buyer it provides an irrefutable reason to buy or not to buy a particular used car, to the seller, it provides reassuring proof of the validity and soundness of the vehicle.
Law enforcement agencies, especially those in Virginia, are currently using it to track down vehicles that are involved in unlawful practices.
How to Transfer License Plates in Virginia?
To transfer a standard license plate in Virginia, you will need to visit the customer service center closest to you, and obtain and complete the form VSA-10, for license plate application, any other information will be made available to you in the office.
How to Register and Transfer Car Title in Virginia?
To register or transfer a car title in Virginia, you will be required to visit a local Virginia Department of Motor Vehicle (DMV) or schedule an appointment with them. The following may be needed also:
An odometer disclosure document
The title
Payment of the registration fees and all applicable fees.
Virginia is considered to be the site of the first permanent English settlement and hence considered as the birthplace of the nation. The Old Dominion state considers it Illegal to tickle their women, the state is considered to be one of the few states with low criminal activities. The following are the top cars used in Virginia:
Honda CR-V
Toyota RAV4
Honda Civic
Frequently Ask Questions (FAQ)
License Plate By All State In the USA