Utah License Plate Lookup
Used car purchases can be a daunting challenge, especially in the past when it was difficult to know what might have transpired in the history of the vehicle. But nowadays with tools like the Utah license plate lookup, used vehicle history has been demystified. The Utah plate lookup service enables buyers to examine all possible factors surrounding the pre-owned vehicle, such as safety, accident records, theft data, and other information such as data from insurance companies and relevant government databases.
Importance of Utah License Plate Lookup
"Too many cooks spoil the broth," they say, Utah license plate lookup service provides insight into the number of previous owners, which will aid you in your buying decision, it also furnishes you with the different cities where the car has been used and what can of service the vehicle rendered during its usage.
How about buying a vehicle with a lien? This can also be avoided after running a Utah license plate check with Detailed Vehicle History. Recall issues are also pinpointed and avoided after a license plate lookup is completed. The sole objective of running a license plate lookup is to gather as much valid data as possible with respect to a used vehicle. Detailed Vehicle History has demonstrated unwavering support to used car buyers by providing all the historical information they will ever need.
In simple terms, the Utah license plate lookup tool is a sure bet for escaping all the pitfalls associated with used vehicles. Studies published by abc4 reports that Salt Lake City averaged 465 thefts per 100,000 people from 2017 to 2019, this increase in theft rate is a major reason to run a license plate lookup before buying a used vehicle.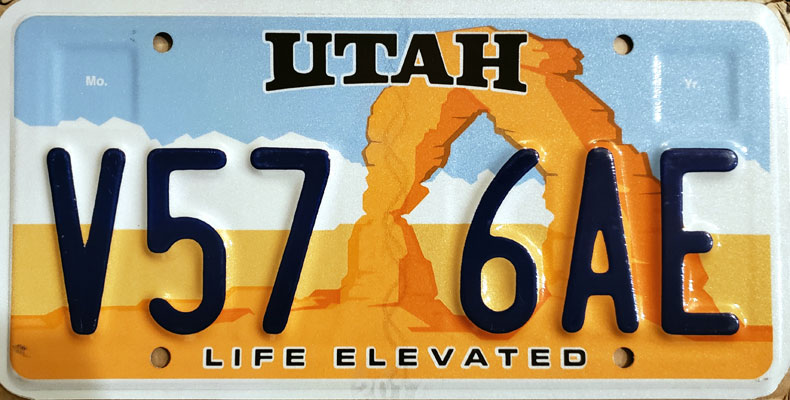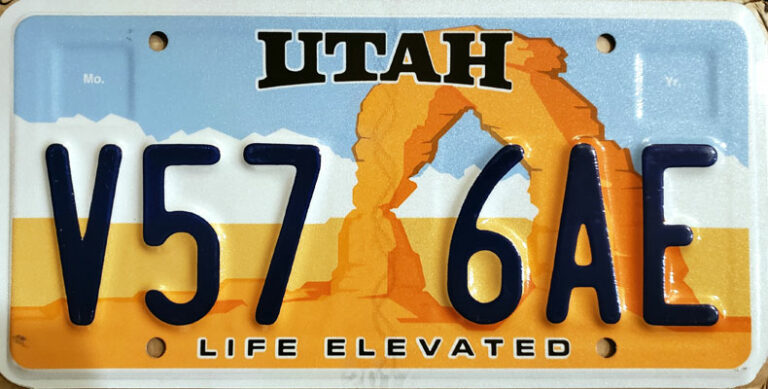 Types of License Plates in Utah
How many license plates are there in Utah? There are three major types of plates in Utah and they include:
Standard license plates
Special group plates
Exempt plates
The Information You Will Find by License Plate Check?
The license plate check or lookup usually gives enormous information about any vehicle in question, this information includes the following:
Title information
Ownership information
Theft data
Accident records
Mileage
Cities where the vehicle was used
Loan & lien records
Odometer readings
Service and maintenance records. etc
Why is Reverse License Plate Lookup Important in Utah?
A reverse license plate lookup provides insurance data, vehicle maintenance, and service records, traffic records, and ownership information. Simply put, a reverse license plate lookup provides all the information which otherwise will not be provided by a physical or mechanical inspection of a vehicle.
To law enforcement, it provides a means of monitoring and check-mating crimes and auto-assisted criminal activities.
To the used car owners it provides an assurance of safety for them and their loved ones because a license plate lookup usually reveals all there is to know about an open recall.
How to Transfer License Plates in Utah?
Wondering if it is possible to transfer license plates in Utah. Yes, it is, however, there are requirements you will need the following:
The old license plates
Valid means of Identification: preferably a Utah driver's license
The signed vehicle title
Auto insurance documents
How to Register and Transfer a Car Title in Utah?
Registering and transferring a vehicle title in Utah may require a vehicle title application form, below are other documents that are required;
Payment of all applicable fees, which may include: Title fee, Duplicate vehicle title, and correction of name, alongside the sales tax.
You can visit any nearby DMV in Utah.
Utah, a prominent state in the United States is known for its skiing activities, with an average of 500 inches of snow. The state is usually brought to life by the Sundance film festival, done every January. The Beehive state is landlocked in the Mountain West subregion of the USA. bordered by
Colorado
, and
Wyoming
to the east and northeast respectively. The most commonly used vehicle is the Ford F-150 other vehicles may include.
The Chevrolet Malibu
Honda Civic
Chevrolet Impala
Ford Focus
Toyota Corolla
Ford Explorer
Frequently Ask Questions (FAQ)
Yes, and instead of paying a visit to your local DMV you can use the Detailed Vehicle History's license plate lookup tool for Utah and get your reports in the shortest possible time frame.
You may not get this service for free, but you can find the ownership information of a Utah license plate by conducting a license plate lookup here with our tool.
With the exception of the "in God we trust" plate, all standard plates in Utah are usually seven characters long. Special Group license plates may have up five characters.
License Plate By All State In the USA