Massachusetts License Plate Lookup
The Massachusetts license plate lookup is a service provided by Detailed Vehicle History, to facilitate the retrieval of information with respect to any given vehicle registered and driven in Massachusetts or around the United States. This is the ultimate tool for running background checks on any used vehicle and getting insights for proper decision-making.
Importance of Massachusetts License Plate Lookup
License plates play a crucial role in identifying vehicles and ensuring compliance with state regulations. In the State, vehicle license plates are issued by the Massachusetts Registry of Motor Vehicles (RMV) and are required for all vehicles. Each plate consists of a combination of numbers and letters, with various formats representing different vehicle types and registrations. And, as you may know, the law mandates that vehicles must display two license plates: one on the front and one on the rear. With these license plates issued, car buyers and sellers can get detailed information about the vehicles they are interested – vehicle specifications, history and records.
Gain instant access to vehicle history reports, which can reveal valuable information about past accidents, odometer readings, the vehicle's owner records, and other relevant data. By obtaining a vehicle history report, you can make be sure that you're investing in a reliable and safe vehicle.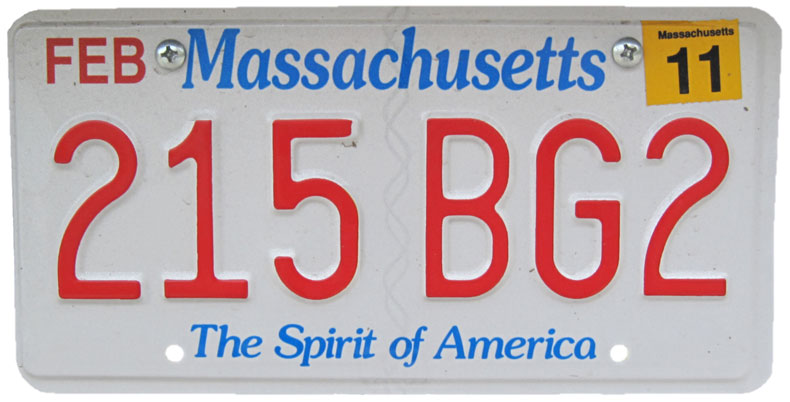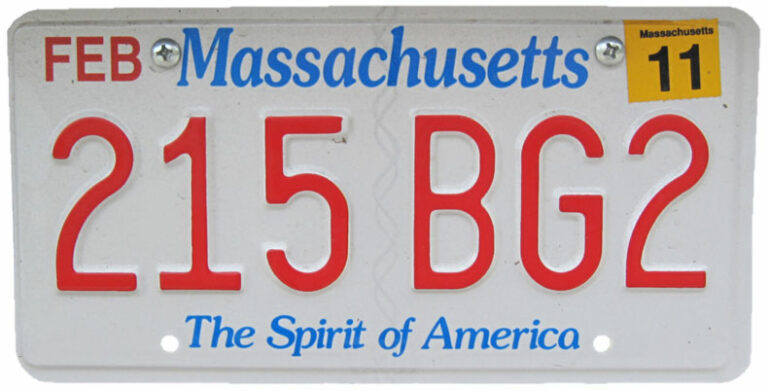 Types of License Plates in Massachusetts
Massachusetts offers various special plates and placards that allow vehicle owners to express their affiliations, support causes, or enjoy unique designs. These include military license plates, plates representing favorite sports teams, and plates associated with charitable organizations or environmental causes. The standard plate is white with blue lettering and includes the state's slogan "The Spirit of America".
There are also temporary license plates available for those who purchase a vehicle in the state of Massachusetts and need to drive it while they are waiting to receive their official license plate.
The Information You Will Find by License Plate Check
Like every other state, the license plate lookup Massachusetts tool has been designed to provide useful information that aids the decision-making process, especially when contemplating buying a used car. This information includes:
Title information
Liens and loan records
Mileage/odometer records
Flood, hail, and fire damage information
Maintenance records
Carjacking, theft, and robbery information
The number of previous owners
Note that personal information about the vehicle's owner is kept safely in line with the Driver's Privacy Protection Act (DPPA). This means that no one can lookup Massachusetts vehicle owners through our website.
Why is Reverse License Plate Lookup Important in Massachusetts?
Used cars are known to be advantageous economically, nonetheless, there are still some pitfalls associated with used cars. Some cars may be stolen, or involved in an accident that must have damaged the car significantly even after repairs, reverse license plate lookup helps to unravel these mysteries.
How to Transfer License Plates in Massachusetts?
License plates can be transferred from older vehicles to newer ones owned by the same person in Massachusetts, here are some tips on how it might be done.
Go to mass.gov and obtain an application form
Complete the application form
Keep your proof of ownership handy
You will also need a "Correct fee"
Keep in mind that you must be 18 years of age or older to apply, after the application the title will be mailed to you in 6 to 8 weeks.
How to Register and Transfer Car Title in Massachusetts?
You can also register and transfer title ownership in Massachusetts, however, there are certain documents that must be submitted in order to complete the transfer.
Complete and sign the application form for a vehicle title
Present the certificate of title from the previous owner
The bill of sale may also be needed
Receipt of payment for all vehicle registration fees
Previous owner's sales exemption form
Massachusetts is the home of the famous university; Harvard. It is located in the Northeastern part of the United States, and its capital city is Boston. Speaking in terms of the total area it is the second smallest state in the entire United States. The most common cars used in the city of Massachusetts include the following:
Frequently Ask Questions (FAQ)
License Plate By All State In the USA