Maryland License Plate Lookup: Get Detailed Vehicle Records
To look up a Maryland license plate means to conduct an inquiry or a search requesting information about a vehicle registered in Maryland by providing the license plate number. Detailed Vehicle History has developed a state-of-the-art tool that is easy to use that can enable car shoppers to conduct a successful license plate lookup.
Easily verify Maryland license plate records with our Maryland license plate lookup lookup tool and access vehicle history and owner information. These services serve multiple purposes, including verifying any vehicle's condition, confirming the registration status of a vehicle, enforcing parking laws, finding lost vehicles, and obtaining comprehensive vehicle history reports. License plate lookup becomes especially important when the Vehicle Identification Number (VIN) is not available or when specific details about a vehicle need to be verified.
Importance of Maryland License Plate Lookup
License plate lookup Maryland services can serve the following purpose:
Vehicle Registration: License plate lookup Maryland can be used to confirm the registration status of a vehicle
Enforcement of parking laws: it can be used to track illegal parking offenders
Finding a lost vehicle: A license plate lookup Maryland can help confirm if a vehicle has been stolen or not.
Vehicle History Reports: The MD license plate lookup can be used to obtain a detailed vehicle history in cases where the VIN is not available.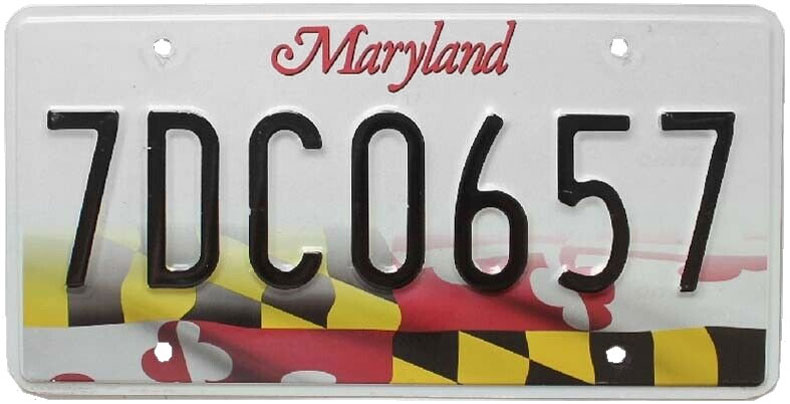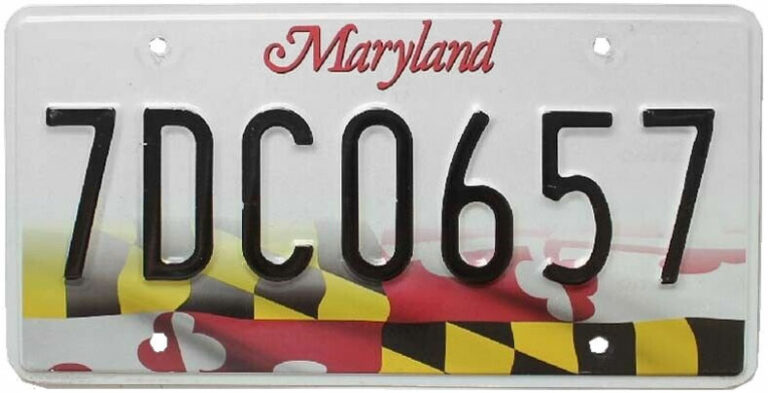 Types of License Plates in Maryland
There are two major types of license plates obtainable in Maryland:
General plates:
The Maryland general plates are the commonly used and seen license plate types in Maryland. It usually features a white background, with the state's name and flag. This type of plate has been in use since 2016.
Specialty plates:
The Maryland specialty plates which includes Chesapeake Bay plates are plate that require an initial and annual fee to procure. There is also the Maryland plate Veteran license plate. Generally, the Maryland specialty plates include the following:
Combat or military plates
Amateur radio operator plates
Agricultural plates
Gold star plates
Organizational plates
Vanity plates
The Information You Will Find by Maryland License Plate Lookup
The Maryland license plate lookup or check usually gives enormous information about any vehicle in question, this vehicle information obtained from a license plate includes the following:
Title information
Ownership information
Theft data
Accident records
Mileage
Cities where the vehicle was used
Loan & lien records
Odometer readings
Service and maintenance records. etc
Why is Reverse License Plate Lookup Important in Maryland?
Maryland reverse license plate lookup, just like every other state is mainly used to access owner information and records, it is utilized by car park security personnel in fishing out owners of wrongly parked vehicles.
Law enforcement agencies in Maryland also use it to keep law and order by tracking, and monitoring vehicles involved in traffic violations or some criminal offenses. Stolen vehicles are also easily identified through a reversed license plate lookup.
How to Transfer License Plates in Maryland?
Transferring license plates in Maryland is a straightforward process facilitated by the Maryland Motor Vehicle Administration. Individuals can apply for a Maryland title and registration when moving to Maryland or when transferring ownership within family members. Proper documentation, such as an application for certificate of title, insurance information, and the current vehicle's title, is necessary for a smooth transfer.
You can transfer your plate by visiting the MVA office in your locality.
How to Register and Transfer Car Title in Maryland?
To register and transfer your car title follow the following steps, please note that these steps might be subject to change.
Get the application form: If the vehicle was initially registered in Maryland the application can be found on the reverse side of the title. If it is titled outside of Maryland, the owner of the license plate may have to complete a form for the application for title and registration.
Insurance: Read and understand Maryland's minimum insurance liability requirements and follow the instructions. To register or transfer, you need to fulfil insurance requirements.
Registration card: This card should be submitted for the old vehicle
Maryland Safety Inspection cert: The Maryland Safety Inspection certification is usually issued by the state police to verify that your vehicle meets the requirements for safety as stipulated in the state rules.
License Plate Search: How To Lookup a Maryland License Plate
Do you want to purchase a used vehicle? Get a vehicle history report immediately. Our license plate check tool is the perfect solution for car buyers and enthusiasts seeking to discover the history of any vehicle and verify its condition. To get accurate information about a vehicle using the vehicle license plate, all you need to do is:
Get the License number of the vehicle you are interested in.
Navigate to our plate lookup tool and fill out the provided form,
Make sure to enter the vehicle's license plate number accurately (7 characters maximum).
Select "Check License Plate."
You will immediately get a Maryland license plate search and gain access to every information about a vehicle and also generate a complete vehicle history report. The Driver's Privacy Protection Act safeguards the privacy of individuals while providing necessary information about a vehicle's background, so you must know that personal information about the owner of a license plate will not be released. You can only get vehicle information.
Maryland is a beautiful state located in the Mid-Atlantic region of the USA. It is bordered by
Pennslyvania
,
Delaware
, and the Atlantic Ocean,
Virginia
& West Virginia, to the north, east, and west respectively. The most popular vehicles used in Maryland include:
The Ford-F series
Toyota Camry
Honda Accord
Ford Fusion
Honda CRV
Frequently Ask Questions (FAQ)
License Plate By All State In the USA