Georgia License Plate Lookup: Access Motor Vehicle Records
Are you curious about the history and records of a vehicle in Georgia? Do you want to know how to gain valuable information about a license plate? With our Georgia license plate lookup service, you can easily verify the condition of any GA vehicle. Whether you're buying or selling a used car, with accurate vehicle information, you can be sure to make better decisions. Georgia license plate lookup is a service that allows used car enthusiasts to access detailed information about a car and the owner by querying the Georgia license plate number.
What is a Georgia License Plate Lookup?
License plate lookup is the process of accessing information associated with a specific license plate number. When car buyers or sellers lookup Georgia license plates, individuals are given an opportunity to gather data about a vehicle, including its history, ownership details, and registration status and generate complete vehicle history reports. By performing a Georgia license plate search with our tool, you can unveil essential information that may aid you in various situations, such as buying a used car or reporting bad drivers. It provides an easy means to verify the accuracy of the information provided by sellers and make informed decisions regarding vehicle transactions.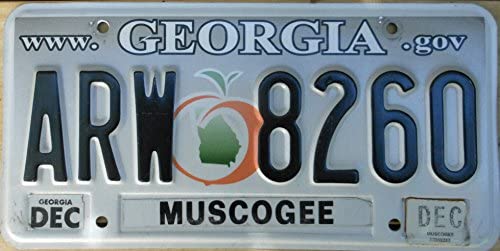 What are the Importance of a GA License Plate and VIN Lookup
A Georgia license plate lookup helps to verify the ownership and history of a car. It is also helpful in locating a stolen vehicle and monitoring suspicious activities related to automobiles. Since the tool is able to unravel the unknown about a car, used car buyers can easily make an informed decision whether to buy a used car or not.
The Types of License Plates in Georgia
In Georgia State, the following license plates are offered:
Standard License Plates
Alternative Fuel License Plates
Georgia Colleges and State Universities License Plates
Military Veteran License Plates
Motorcycle License Plates
National Guard and US Reserve License Plates
Special Interest License Plates
The Information You Will Find by License Plate Number Check
If you are in the market for a used car, without a vehicle report, you cannot confirm that information provided by a dealer concerning a vehicle. But with adequate license plate and VIN information, you can tell when a detail is false or true. A Georgia license plate check will provide the following vehicle data:
Vehicle specification (Year, make, model, engine information)
Vehicle Identification Number (VIN)
Previous owner's details
Title status
Market value
Lien records
Open recalls
Theft Records
Actual Odometer Verification
Service and Maintenance History
Accident history
We offer vehicle records and ownership information but please do not expect to see personal owner information such as social security numbers, addresses, etc. This is to protect the privacy of vehicle owners in the State of Georgia in accordance with the Driver's Privacy Protection Act (DPPA). Get a vehicle history report to access information about a vehicle today!
Why is Reverse License Plate Lookup Important in Georgia?
A reverse license plate lookup is a service that reveals the VIN number associated with a license plate of a vehicle. The VIN can be used to find out a lot of information about the past of a car, thereby making it easier to make a good judgment about the purchase of a used vehicle. The service is very instrumental in finding out if a license plate has been registered or not.
How to Transfer License Plates in Georgia
To carry out license plate registration and transfer of vehicle title in Georgia., go to the Motor Vehicle Division of the Georgia Department of Revenue with the required vehicle owner documents and complete the transfer application. Submit all the documents and pay the transfer fee and other necessary fees. Wait for a few days to about 2 weeks to finalize the license plate transfer process.
How to Register and Transfer Car Title in Georgia
A successful registration and transfer of vehicle title in Georgia will require you to follow these steps:
Go to your local Georgia DMV office with the vehicle title and registration.
Complete the title transfer form and submit with other relevant documents like a proof of vehicle odometer reading, vehicle insurance etc.
Payment of the title transfer fees and other applicable fees.
Georgia is located in the Southeastern region of the United States and it's bordered by Tennessee and North Carolina, South Carolina, Atlantic Ocean, Florida, and Alabama to the north, northeast, southeast, south and west respectively. It is the 8th most populous state in the United States. The Honda Accord ranks No. 1 of the most popular vehicles in Georgia.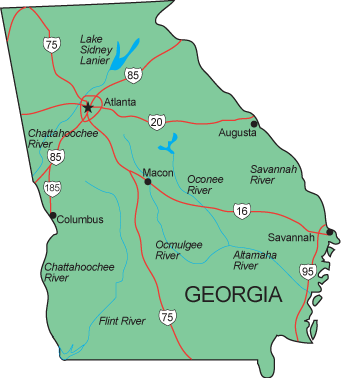 Frequently Ask Questions (FAQ)
It's very possible. Since the license plate of a car is linked to its VIN number, you can perform a VIN lookup to get vital information about the vehicle.
A license plate lookup is a service offered by Detailed Vehicle History to retrieve past records of a used car. The records include but are not limited to the accident history, number of previous owner(s), recall information, lien records,damages and titles, odometer records. etc.
A lot of websites claim to offer a free Georgia license plate lookup but the information obtained is not usually enough to make a sound decision about the purchase of a used car. At Detailed Vehicle History, you will not get a free license plate lookup, but you can check a Georgia license plate and get completed access to the history and records of a vehicle for only $15.
License Plate By All State In the USA