Arizona License Plate Lookup
Running an Arizona license plate lookup is the gateway to unraveling important information about a vehicle and its history. By providing the AZ license plate, the AZ license plate lookup tool from Detailed Vehicle History is able to answer all your questions about the history and status of a used car.
Importance of Arizona License Plate Lookup
AZ license plate lookup is an important tool for Law enforcement agencies and companies like insurance and financial institutions because it can help to verify the owner and history of a vehicle. The tool also aids in the tracking of missing or stolen vehicles. Since a vehicle's history can badly affect its value, you can easily know if buying any used car is a better option, simply by running a license plate lookup.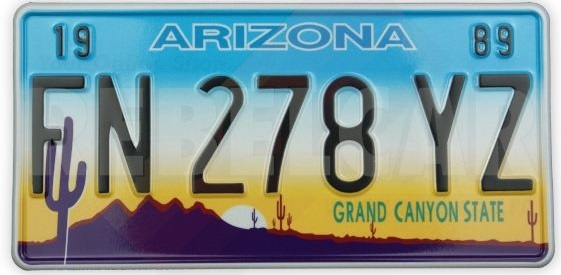 The Types of License Plates in Arizona
Just like in some US States, you can apply for any of these seven plates in the state of Arizona. Please note that the conditions for each plate may vary.
Standard license plate
Education license plate
Military license plate
Government license plate
Organization license plate
The special Causes license plate
Other personalized license Plate
The Information You Will Find by AZ Plate Lookup
An AZ plate lookup will provide the following information:
Vehicle specification (Year, make, model, engine information)
Previous owner's details
Title status
Lien records
Open recalls
Theft Records
Actual Odometer Verification
Service and Maintenance History
Accident history
Auction records and photos
Why is Reverse License Plate Lookup Important in Arizona?
The importance of a reverse license plate lookup in Arizona cannot be underestimated as it makes it possible and easy to identify a car and the owner(s) – current and previous. This will ensure that used car shoppers don't buy crime-bound vehicles. The ability to verify any open safety recall helps to know if a vehicle is safe to buy or not.
How to Transfer License Plates in Arizona?
You must prepare the following documents in order to transfer plates in Arizona
A valid registration or title
Complete a license plate application at your local Department of Motor Vehicle office.
Pay the applicable fee and taxes. The fee varies by type of license plate.
Proof of ownership will be required if the transfer is between two vehicles.
After submitting every document, your application will be processed for the transfer of the license plate.
How to Register and Transfer Car Title in Arizona?
Before you can register and transfer your car title in Arizona, You will need to get the following documents ready:
A signed title by the seller
Complete Form 96-0236 – the title and registration form.
A valid proof of insurance and identification (License card or government-issued ID).
The odometer information (if requested).
Payment of fees
Submit all details and make payment to be issued a new title and registration.
Arizona is located in the Southwestern United States. It's the sixth largest city in the United States, characterized by an amazing desert landscape and it serves as a home to major cities like Flagstaff and Phoenix, etc. Across the state, the Ford F-150 is currently the most popular vehicle while the best-selling vehicle currently is the Ram Pickup.
Frequently Ask Questions (FAQ)
Arizona license plate lookup is a very important part of the used car buying process. It gives information about the history of a vehicle and the owner. You will also get other information like the service and maintenance history, title history, any theft records, recalls, true mileage, etc.
Yes. Running an Arizona license plate lookup online attracts a small fee. At Detailed Vehicle History, the service is affordable and you can do a US plate number lookup for as low as $15. This is not expected to be true all the time. Please contact your service provider for more information.
You don't need to take a tea break to get the result of an Arizona license plate lookup. The result comes up within some seconds to a minute, depending on your internet connection.
License Plate By All State In the USA