Missouri License Plate Lookup
Unlock the hidden history of Missouri vehicles with our comprehensive License Plate Lookup. Get detailed vehicle records, including accidents, odometer reading, ownership, recalls and more. Make informed decisions and ensure peace of mind. Detailed Vehicle History retrieve its data from several public and private motor vehicle records in North America. Try our service now!
Importance of Missouri License Plate Lookup
According to a recent statistic, AAA reports a 22% increase in car theft in parts of St. Louis. This increase is alarming and the only way to find out the true owner of a vehicle is to run a license plate lookup.
Some of the importance include:
Vehicle History: Missouri License Plate search allows you to access the details about the vehicle history, including accidents, ownership records, and mileage. This information helps you make informed decisions when buying a used car.

Fraud Prevention: By conducting a Mo License Plate Lookup, you can verify if the vehicle's registration details align with the provided information, helping you avoid potential fraud or misrepresented vehicles.

Safety and Security: License Plate Lookup can contribute to safety and security by enabling you to report suspicious or unlawful activities associated with a specific vehicle based on its license plate number. It helps in identifying vehicles involved in criminal activities or to report bad drivers.

Legal Matters: License Plate Lookup can provide valuable information for legal purposes, such as accident investigations or resolving disputes involving vehicle identification.

Peace of Mind: License Plate Lookup offers peace of mind by allowing you to gather important license plate information about a vehicle's history before making a purchase or dealing with a vehicle-related matter, ensuring you have all the relevant facts at your disposal.
Please be aware that license plate lookup services generally do not reveal personal details or owner information due to privacy laws and restrictions.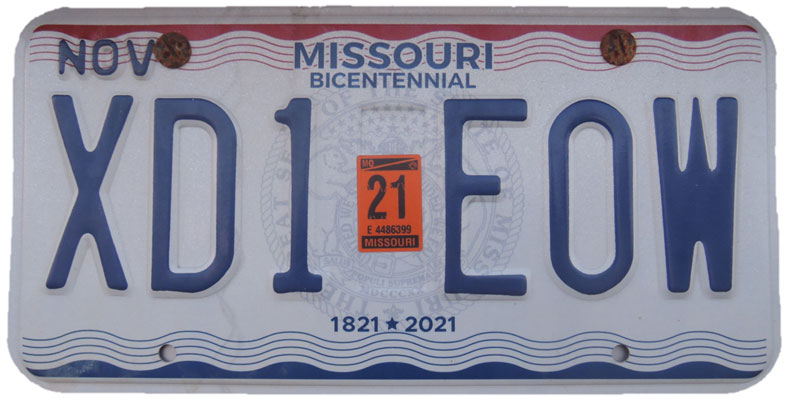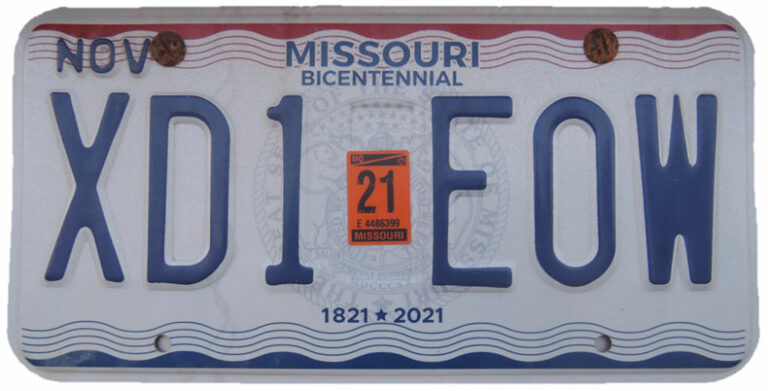 Types of License Plates in Missouri
In Missouri, there are several types of plates available to meet different needs and interests. Some common plate types available include:
Standard License Plates: Standard plates are the regular license plates issued to most vehicles in Missouri. They feature a combination of letters and numbers, typically with a blue background and white characters.

Personalized License Plates: Individuals can apply for personalized plates, also known as vanity plates. These allow them to choose a specific combination of letters and numbers or a personalized message for their plates.

Specialty License Plates: Missouri offers various specialty plates that support specific causes, organizations, or interests. These plates often feature unique designs, logos, or slogans related to the specific theme they represent.

Collegiate License Plates: Missouri residents can show support for their favorite colleges or universities by obtaining license plates featuring the school's name, logo, or mascot.

Special Design License Plates: Missouri offers special design license plates for organizations, charities, and military service members, featuring specific emblems or symbols representing those groups.
Please note that specific designs and availability of license plate types may vary over time, so it's best to check with the Missouri Department of Revenue or your local license office for the most up-to-date information regarding license plate types in Missouri.
The Information You Will Find by License Plate Check
After conducting a license plate lookup, the following or more information about the vehicle will be made available:
The vehicle ownership information
Service and maintenance records
Auction records and images (when available)
Loan and lien information
Accident records
Insurance information
Title records
Theft records and more.
Why is Reverse License Plate Lookup Important in Missouri?
Recent statistics are showing an increase in the number of car thefts, reversed license plate lookup helps in ascertaining the real owner of any given vehicle.
Missouri reverse plate lookup is a tool utilized by car park attendants for tracking and monitoring wrongly parked vehicles. The tool works by revealing the Vehicle Identification Number (VIN) associated with the Mo plate of the car. The retrieved VIN can be used to perform a VIN lookup to obtain the vehicle information such as the specifications and history. Before you buy a vehicle that has been used in Missouri, it's always best to lookup the license plate to access the vehicle data and records.
The law enforcement agency's work is also made easy through the reverse license plate search, they now are now able to track criminals more efficiently using the reverse license plate lookup system.
How to Transfer License Plates in Missouri?
It is possible to transfer ownership of license plates from an old vehicle to a newly purchased vehicle, to do this simply take the following documents to the Missouri license plate office:
Certificate of Title signed over to the buyer/ Manufacturer's statement of origin
A properly signed application to the Missouri Title and License
How to Register and Transfer Car Title in Missouri?
To register or transfer a car title in Missouri, you will need to do the following:

Obtain, fill and submit Form 108
This application may be submitted by mail or at any Missouri license plate office
You may also include a TOD beneficiary
Please note that if there is an outstanding lien then there will be a need to obtain permission before the removal or addition of any name to the title.
How to Obtain and Renew License Plates in Missouri
To obtain and renew license plates in Missouri, follow these steps:
To Obtain License Plates:
Vehicle Registration: Registering your vehicle involves you to provide the necessary documents, including a completed Application for Missouri Title and License (Form 108).

Safety Inspection: Ensure your vehicle passes a safety inspection at an authorized inspection station.

Proof of Insurance: Provide proof of insurance that meets the minimum requirements set by the Missouri Department of Revenue.

Visit the License Office: Take the required documents and visit your local Missouri license office. Submit the documents, pay the registration fees and other required fees, and obtain your license plates.
To Renew License Plates:
Renewal Notice: Approximately 60 days before the license plate expiration month or date, you should receive a renewal notice in the mail.

Vehicle Emissions Inspection (if applicable): Some areas in Missouri require a vehicle emissions inspection as part of the renewal process. If applicable, ensure your vehicle passes the inspection.

Proof of Insurance: Have proof of insurance that meets the state's minimum requirements available for renewal.

Visit the License Office or Renew Online: Visit your local Missouri license office with the required documents and pay the renewal fees, or renew your license plates online through the Missouri Department of Revenue's online renewal system.

Receive Renewed License Plates: Once you have completed the renewal process and paid the necessary fees, your renewed license plates are issued including the registration sticker.
Please note that the Missouri Department of motor vehicles handles vehicle registration, driver's licenses, tests, fees, records, and enforcement to promote safe and responsible driving. It's also important to note that specific requirements and procedures may vary, so it is advisable to contact your local Missouri license office or visit the Missouri Department of Revenue's official website for the most up-to-date and accurate information regarding obtaining and renewing license plates in Missouri.
Missouri is a state that is bordered by eight different states! It is in the mid-western area of the United States. They are known for barbecue, the Gateway Arch, and more. Missouri was named after the Missouri river.
Missouri requires two license plates – both front and rear license plates on vehicles. The front plate typically features a red background with white characters, while the rear plate has a white background with red characters. Missouri license plates design typically feature a white background with red special characters and the state name or slogan
According to iSeeCars, the Chevrolet Silverado and the Ford F-150 are the two most commonly used vehicles in the state of Missouri.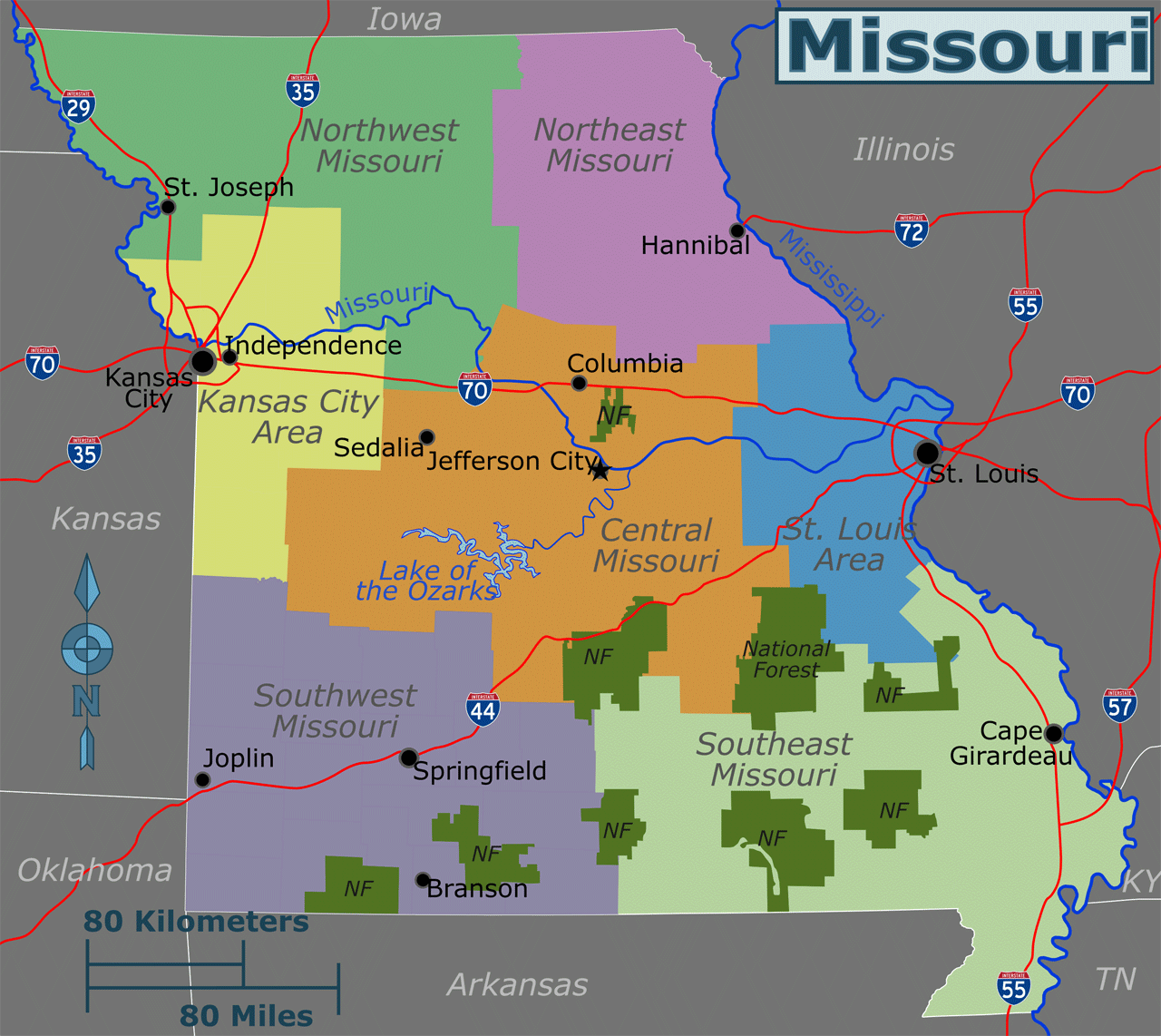 Frequently Ask Questions (FAQ)
License Plate By All State In the USA