Maine License Plate Lookup
By Main license plate lookup, we mean a search conducted to obtain some pieces of information about a car registered in the US state of Maine using the license plate number. To conduct a license plate search, you are welcome to use the detailed vehicle history tool.
Importance of Maine License Plate Lookup
Vehicle History: The Maine license plate lookup can be used to access the vehicle history report
Finding a Lost Vehicle: Since license plates are tied to the owner's biodata, it is possible to find the owner of a lost vehicle using a license plate search
Law Enforcement: The police and other law enforcement agencies can leverage the license plate information for tracking and record-keeping purposes.
Repossession: When there is a change of ownership, new license plates are assigned to the vehicle
Traffic Violations: License plates are used to better track and mark cars that violate traffic laws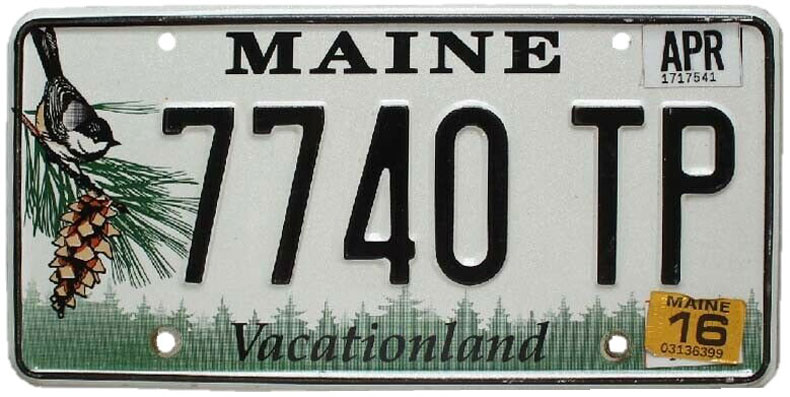 Types of License Plates in Maine
The following are the various types of license plates obtainable in Maine:
Antique Auto license plate
Commercial license plate
Combination license plate
The commercial Tractor license plate
Disability Motor Home license plate
Farm license plate
Hire license plate
The horseless Carriage license plate
The special equipment license plate
The Information You Will Find by License Plate Check
After a license plate lookup has been completed, the following information will be made available, please note that due to privacy laws, the bio-data of previous owners may not be displayed:
Number of previous owners of the vehicle
Usage timeline
Cities where the car was used
Accident reports
Title information
Loans and lien records
Odometer reading
Service and maintenance history, etc.
Why is Reverse License Plate Lookup Important in Maine?
Apart from the identification of the owner of any given vehicle, a reverse license plate search can be used by law enforcement agencies to identify the owner of a car that might have been stolen, or involved in criminal activity.
It can also be used by private investigators to figure out who was behind the steering of a vehicle involved in a hit-and-run.
The towing companies also utilize it to identify the owner of a vehicle involved in illegal parking or causing nuisance.
How to Transfer License Plates in Maine?
To do this you must ensure that the vehicle being transferred is no longer yours.
You will need the following items, The blue title application from the new vehicle, your insurance card, and the bill of sale.
Visit the Town Office
Then pay the excise tax based on the difference between your old registration and the new one, and as of the time of writing this, you will pay a $3.00 transfer fee. You will be advised to transfer or not to transfer.
How to Register and Transfer Car Title in Maine?
In Maine, you may have to follow the following steps to register or transfer car title or ownership. These steps should be completed within 30 days of purchase, please note that these steps are not absolute and hence they are subject to change:
Sign over the vehicle title from the previous owner
Find and read other documents such as driver's license, proof of insurance, etc
Visit your local Bureau of Motor Vehicle, this is because the MV-T2 forms are not online, (both parties should be present)
At the Bureau of Motor Vehicles, all necessary documentation will be done and the transfer will be made.
Maine is bordered by the New Hemisphere, the Atlantic Ocean, and Canada to the west, east, north, and northwest respectively. The capital of Maine is Portland. It is renowned for its economy which is primarily based on agriculture, fishing, and manufacturing.
The most commonly used vehicles in Maine include the Ford f-150, Honda CR-V, Toyota RAV4, and RAM pickup.
Frequently Ask Questions (FAQ)
Yes, you can use the detailedvehiclehistory.com license plate lookup service.
The information is highly accurate because detailedvehiclehistory.com culls its information from reputable sources only.
Our Detailed Vehicle History license plate lookup model has been trained to return data in split seconds.
License Plate By All State In the USA