Louisiana License Plate Lookup
Louisiana License Plate Lookup is a service that allows individuals to access information about a vehicle's history and ownership through its license plate. For the best license plate lookup services in Louisiana, Detailed Vehicle History offers a comprehensive and reliable data that are enough to make informed decisions. 
In Louisiana, the license plate must be securely fastened and attached to the rear of the vehicle for clear visibility.
What is the Importance of Louisiana License Plate Search
Law enforcement agencies usually exploit this license plate lookup tool to verify the owner of a vehicle. The tool is becoming popular in locating a stolen vehicle for the possibility of recovering it. Car shoppers also use the  plate search to obtain the history of a vehicle, thereby helping them to make an accurate decision on the purchase of a used car with a Louisiana plate.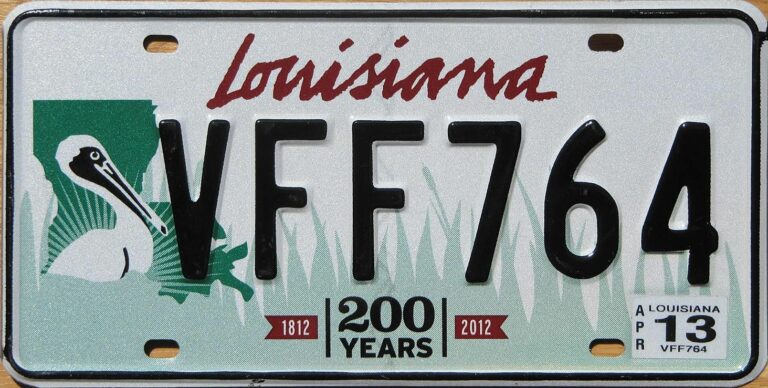 The Types of License Plates in Louisiana
The license plate Different types of plates are offered in Louisiana and each is specific in its qualifications and requirements. The main plates include:
Standard license Plates
Personalized license Plates
Special license Plates
The Information You Will Find by License Plate Check
Check a Louisiana license plate and get the following information:
Vehicle specification (Year, make, model, engine information)
Vehicle Identification Number (VIN)
Previous owner's details
Title status
Lien records
Open recalls
Theft Records
Actual Odometer Verification
Service and Maintenance History
Accident history
Odometer statement
Top 4 Reasons For Conducting a license plate lookup in Louisiana
Are you purchasing a used vehicle in Louisiana? Avoid costly errors by performing a plate search to obtain the license plate information for your car registered in Louisiana. This process helps you:
Verify and investigate accidents: Each year, the National Highway Traffic Safety Administration records roughly 6.0 million car accidents.
Identify title brands: Crucial title brands include flood, hail-damage, and salvage titles.
Verify special purpose designations, such as taxi-use, rental-use, or police-use.
Check for thefts: Lookup the VIN to uncover active theft or previously recovered theft records.
Buying a used car can be risky without performing a Louisiana license plate lookup to unveil the complete history of the Louisiana-registered motor vehicle.
Why is Reverse License Plate Lookup Important in Louisiana?
If you are looking to buy a used car, reverse plate lookup is a legitimate service that reveals more about the used vehicle and the owner. You can retrieve the VIN number of any used car in the US to perform a VIN lookup or VIN check to obtain the vehicle records of the car you plan to purchase. A vehicle report helps car buyers to make a brilliant decision on a car before parting ways with their hard-earned money. Used car dealers also use the service to selectively buy cars that will sell quickly and generate more profits.
How to Transfer License Plates in Louisiana?
To transfer license plates of a car registered in the state, visit your local Louisiana DMV Office to obtain and complete a registration application form. Once you submit the form and other relevant documents, pay the transfer fee and other applicable fees to complete the transfer process.
How to Register and Transfer Car Title in Louisiana?
Do this to register and transfer a car title in Louisiana:
– The seller must complete the title transfer application.
– A bill of sale must be created between the seller and buyer.
– The seller must terminate their registration and detach their Louisiana license plate from the vehicle.
– Once the transfer fees in addition to the regular registration fees, have been made, the buyer can go ahead to register the car and apply for a new title.
Steps to Obtain License Plate in Louisiana?
Typically, license plates are issued in Louisiana typically by following these steps:
Vehicle Purchase: A vehicle must be purchased either from a dealer or in a private sale.
Proof of Ownership: Contact the specialized vehicle unit to obtain the vehicle's title, which serves as proof of ownership.
Vehicle Insurance: Acquire valid automobile insurance coverage for the vehicle.
Vehicle Inspection: Ensure the vehicle passes a safety and emissions inspection at a designated inspection station.
Visit the OMV Office: Visit a Louisiana Office of Motor Vehicles (OMV) office with the necessary documents, including the title, proof of insurance, identification, and any applicable fees.
Application and Forms: Complete the appropriate application forms provided by the OMV. This may include an application for title and registration.
Submit Documents: Provide the completed application, proof of insurance, certificate of title, identification, and any other required documents like your driver's license to the OMV representative.
Pay Fees: Pay the required fees, which can include regular registration fees, taxes, and any specialty plate handling fees.
License Plate Issuance: Once all documents and information collected are processed, the OMV will issue a titled and registered license plate and registration sticker for your vehicle.
It's important to note that specific requirements and processes may vary, so it is advisable to consult the Louisiana OMV or their official website for accurate and up-to-date information regarding license plate issuance in the state.
Louisiana
state is situated in the southeastern United States. The state is famous for its lovely delicacies and sparkling drinks. It also represents a perfect place to explore nature in its beauty. Just like in many States in the U.S., the Ford F-150 tops the table of the most popular car in the state. The Louisiana license plate design comes with the state's iconic pelican and cypress swamp motif. The plates incorporate bold colors, such as blue, white, and gold, along with unique elements that reflect the state's culture and natural beauty. The Louisiana Department of Public Safety oversees law enforcement, driver's licensing, vehicle registration, highway safety, and emergency management in the state.
Frequently Ask Questions (FAQ)
License Plate By All State In the USA